Classic iced tea recipes are perfect for summer dining, and homemade iced tea is the only way to enjoy this refreshing drink.
15 Classic Iced Tea Recipes
Iced tea recipes are plentiful because everyone loves a refreshing glass of home-brewed iced tea on a hot summer day. Invite your family and friends over for great food and drinks with these easy iced tea recipes.
The Best Simple and Fresh Homemade Peach Iced Tea
A simple southern peach iced tea recipe that's not too sweet and perfectly peachy. Easy to make and very refreshing on hot summer days! Along with the summer season comes fresh fruits.
Iced Tea Recipe Tips:
Always use premium loose leaf tea instead of supermarket-grade teabags. You will definitely notice a difference in the quality of your iced tea. It just adds more flavor!
Everyone has their signature drink - pick one of these easy recipes and make it your own iced tea.
Most tea bags weigh about 2 - 3 grams. That should give you a guide as to how much loose leaf tea to use.
The leaf in loose tea is larger than the tiny cuts of leaf in a teabag, so you may need to use more loose tea and infuse it a bit longer.
The small cuts of leaf in tea bags infuse fast and can turn bitter very quickly.
Anytime you want to add a fruity flavor to your iced tea it tastes so much better when you use your own fresh fruit juice.
Always brew a strong tea when making iced teas because cold temperatures suppress the sensitivity of taste buds and the sense of sweetness.
To make a strong brew use more tea leaves not more brewing time.
How to Make The Best Blueberry Iced Tea
Blueberry iced tea is healthy and refreshing. Blueberry tea is jam-packed with flavor and free-radical fighting antioxidants. This blueberry iced tea recipe shows you how to make delicious healthy iced tea with fresh fruit.
Earl Grey Lavender Tea and Lemonade
Not just another Earl Grey. This Earl Grey lavender tea simple syrup can be added to lemon juice and water for a refreshing cold drink full of flavor!
The base for this drink is an earl grey lavender tea simple syrup. Organic dried lavender flowers for baking can be found at most natural food stores or online.
You can use this simple syrup to flavor just about anything you'd like, from cocktails to a London Fog!
The possibilities are endless. Bergamot and lavender mix perfectly with vodka, and lemonade adds just the right amount of citrus!
Best Iced Tea Recipes
6 Steps to Make the Best Iced Tea
Making iced tea seems simple enough, but the art of brewing tea takes a bit of knowledge. An award-winning iced tea maker, I reveal some of my secrets (but not all of them) behind making the best iced tea. A lemon-flavored iced tea brewed from black tea leaves and garnished with lemon slices is one of my summer favorites.
How to Cold Brew Tea Easily and Safely
Cold brew tea is a major trend in tea because it's simple to brew with cold water and creates smooth subtle flavors. Plus it's much safer than sun tea and there's no need to start with hot tea.
If you're looking for a way to easily make the best tasting iced tea - this is it! This cold brew recipe with white tea, rosebud, and jasmine pearl tea creates smooth and subtle flavors. Herbal teas always make healthy iced teas.
Lemon Iced Tea Recipes
Ginger Lemon Iced Tea with Honey
How to make ginger tea with black loose-leaf tea quickly and easily. This one ingredient transforms a good cup of tea into the BEST GINGER TEA!
This Ginger Lemon Tea recipe can be enjoyed hot or iced. A cup of ginger lemon black tea provides many health benefits. Add a sprig of mint and you're set!
Iced Green Tea Recipes
How to Make Authentic Moroccan Mint Tea
Moroccan mint tea is a blend of Chinese gunpowder green tea with fresh mint to create this famously delicious tea. Easy tips to make this Moroccan Mint Tea recipe hot or iced!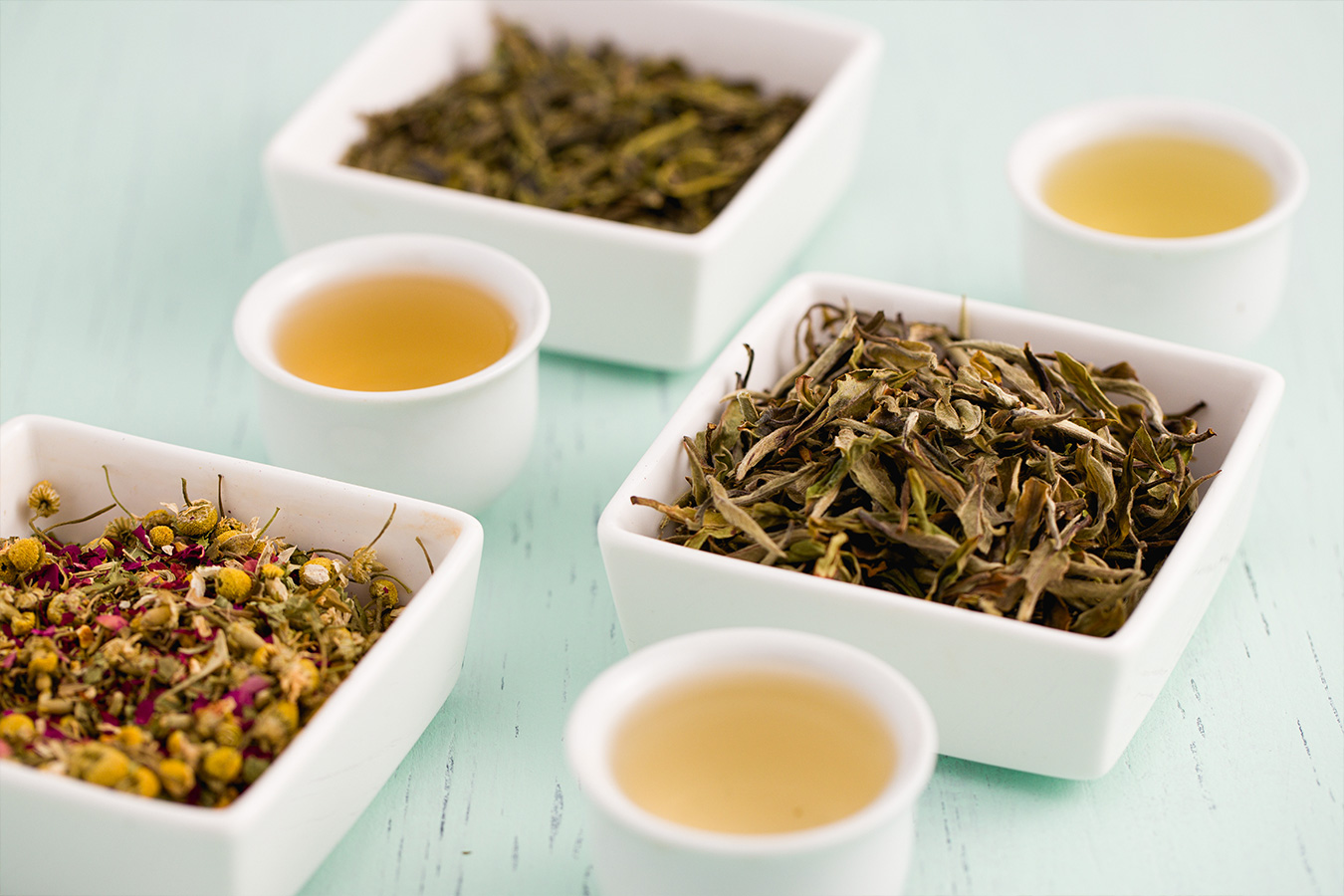 Ask any Moroccan and they'll tell you that drinking mint tea is a national occupation. It is not only served at set times but enjoyed throughout the day and is the foundation of Moroccan hospitality. This is no ordinary green tea but is made specifically with a type of green tea called gunpowder tea and fresh mint leaves.
Iced Matcha Green Tea Latte
You can make this iced matcha green tea latte in two minutes with mason jars! Maybe even less. I can't think of a better way to get matcha tea benefits. Simply delicious!
How to Make The Best Matcha Green Tea Breakfast Drink
Matcha green tea can be cold brewed for an instant breakfast drink. This is a fast and easy way to get a quick dose of healthy green tea catechins. It's time to ditch the artificial powdered breakfast drinks!
Herbal Iced Tea Recipes
Are you having a stressful day? Delicious iced or hot, this classic recipe for chamomile tea is the perfect drink for reducing stress. The golden herb is a favorite for promoting calm and relieving anxiety. For the best chamomile tea use the whole flower.
Adagio Tea chamomile tea comes from Egypt and is made from the whole chamomile flower.
Strawberry Iced Tea Recipes
Insanely Delicious Strawberry Iced Tea
Cold and refreshing with only four ingredients this strawberry iced tea recipe is bursting with flavor!
This insanely delicious strawberry iced tea is one of my favorite tea flavors and most popular fruit-flavored iced teas. It's perfect for spring or summer gatherings, brunches, and mimosas!
Iced Tea Cocktails Recipes
Green Tea Gimlet Cocktail
The classic gimlet with a twist. A crisp and refreshing green tea gimlet made with vodka-infused Dragon Well Green Tea. Simply delicious served in a coupe glass with a lime garnish.
This fresh green tea gimlet cocktail recipe is sure to wow your guests!
Easy Sangria Recipe with Sweet Tea
My Easy Sangria recipe makes the perfect beverage to serve at a gathering on a hot summer night. Made with red wine soaked in fruit, this recipe is made even more flavorful and thirst-quenching with the addition of sweet tea, lemonade, and Limoncello.
This is sooo good!! Your guests will love you for this one!
Enchanting Earl Grey Cocktail
Earl Grey tea is a true classic. The beauty of Earl Grey is that it makes a wonderful mixer for cocktails, lattes, and cooking. This is a simple and sophisticated Earl Grey Tea cocktail made with Grand Marnier garnished with an orange slice.
Orange Cranberry Sangria with Earl Grey
Cranberry sangria filled with fall's best flavors like oranges, cranberries, and Earl Grey black tea makes a simple and irresistible red wine sangria.
The thing I love most about making sangria is that it's one of the easiest big-batch cocktails you can make. It's the ultimate make-ahead cocktail and it always impresses. You just throw everything into a pitcher and you're done. It's hard to mess up and always tastes amazing.
---
NEW TO TEA? START HERE >>