You can buy tea online from hundreds of online tea stores. Who can you trust? I've made it easy — here are 15 sources from a tea expert. I independently research and recommend the best tea products and accessories—learn more about my process here.
Over 700 tea brands sell tea online. My experience and recommendations for the best tea shops selling quality loose leaf tea are here. I often shop online for my tea because I don't have a specialty shop nearby. 
The Best Tea Stores
My criteria:
Every tea store specializes in something different: single estate tea, flavored, herbal, green, black, Puerh, matcha, or origin-specific tea. The types of tea available are pretty varied and well-represented on this list.
The websites listed here all sell premium tea. I've categorized them by tea specialty so you can get to know each shop.
The online tea shops I've listed carry the best loose leaf tea, sell at the retail level, plus ship internationally. They are all trustworthy tea brands I shop for

when I buy tea online.
This list is an excellent place to get acquainted with specialty tea. As you refine your tea palate, you might become a little fussier! Fortunately, there are many choices in online tea stores.
Read on for details and why I selected each of my favorite 15 tea stores.
Best Tea Online: Editor's Choice
1. Adagio Tea
Adagio Teas specializes in an expansive variety of loose-leaf teas and teaware. They source directly from the artisan grower. The teas I have tried are always fresh and have a superb flavor. You can find almost any tea, from herbal tea blends to premium single estate teas, in their Masters' Collections. Adagio is one of my favorite shops to buy tea online.
Adagio depends heavily on reviews, which are very helpful when buying their teas. They also include information about the origin of the tea and brewing guides. Adagio is a New Jersey-based company owned by a mother-and-son team. Adagio is strictly an online tea shop with international shipping.
The Masters' Collections from Adagio Teas offers the best loose leaf tea - which I highly recommend. Premium loose tea is sourced directly from the artisan farmers who tender them.
---
2. Harney & Sons
Harney and Sons is a popular New York-based tea store specializing in single-estate, flavored, and herbal teas. They have a wide variety of quality fresh teas from tea estates worldwide. In addition to my superb loose-leaf teas, Harney & Sons have a Wellness Division, including nootropic teas (substances to boost brain performance) and hemp teas infused with CBD to diversify your tea selections further.
John Harney founded Harney and Sons in 1983. Today sons Michael and Paul Harney continue the traditions of the company founded by their father. I love their teas and how they're packaged. I highly recommend them.
---
3. The Tea Spot
The Tea Spot is an online and retail tea shop in Colorado, selling handcrafted teas and original Steepware, offering some of the best tea I've had from online shops. The Tea Spot specializes in loose gourmet tea, signature blends, single-estate whole leaf teas, and wellness teas.
You will find many health-focused unique tea blends on their tea website. Every order comes with a loose tea sampler. The company was founded in 2004 by Maria Uspenski, a cancer survivor drawn to the health benefits of whole leaf tea during her recovery.
The Tea Spot message is simple and powerful: tea in its freshest form renders premium flavor and unmatched health benefits. With a steadfast mission to foster health and wellness through tea, The Tea Spot donates ten percent of all sales in-kind to cancer and community wellness programs. The Tea Spot is a Colorado-based Certified B Corp, woman-owned and operated philanthropic. Another one of my favorite shops to buy tea online.
---
Best Herbal Tea Shops
4. Mountain Rose Herbs
Mountain Rose Herbs are one of the best sources of herbal tisanes. Their quality control is excellent, sourcing sustainable herbs. Mountain Rose is impeccable about what they do. I especially enjoy their Valerian root tea and their Chamomile tea.
The philosophy of Mountain Rose Herbs is "people, plants, and the planet before profit." They follow the ancient traditions of the botanical world's natural gifts and the healing beauty of nature. I've received some excellent herbs from Mountain Rose Herbs online tea shop.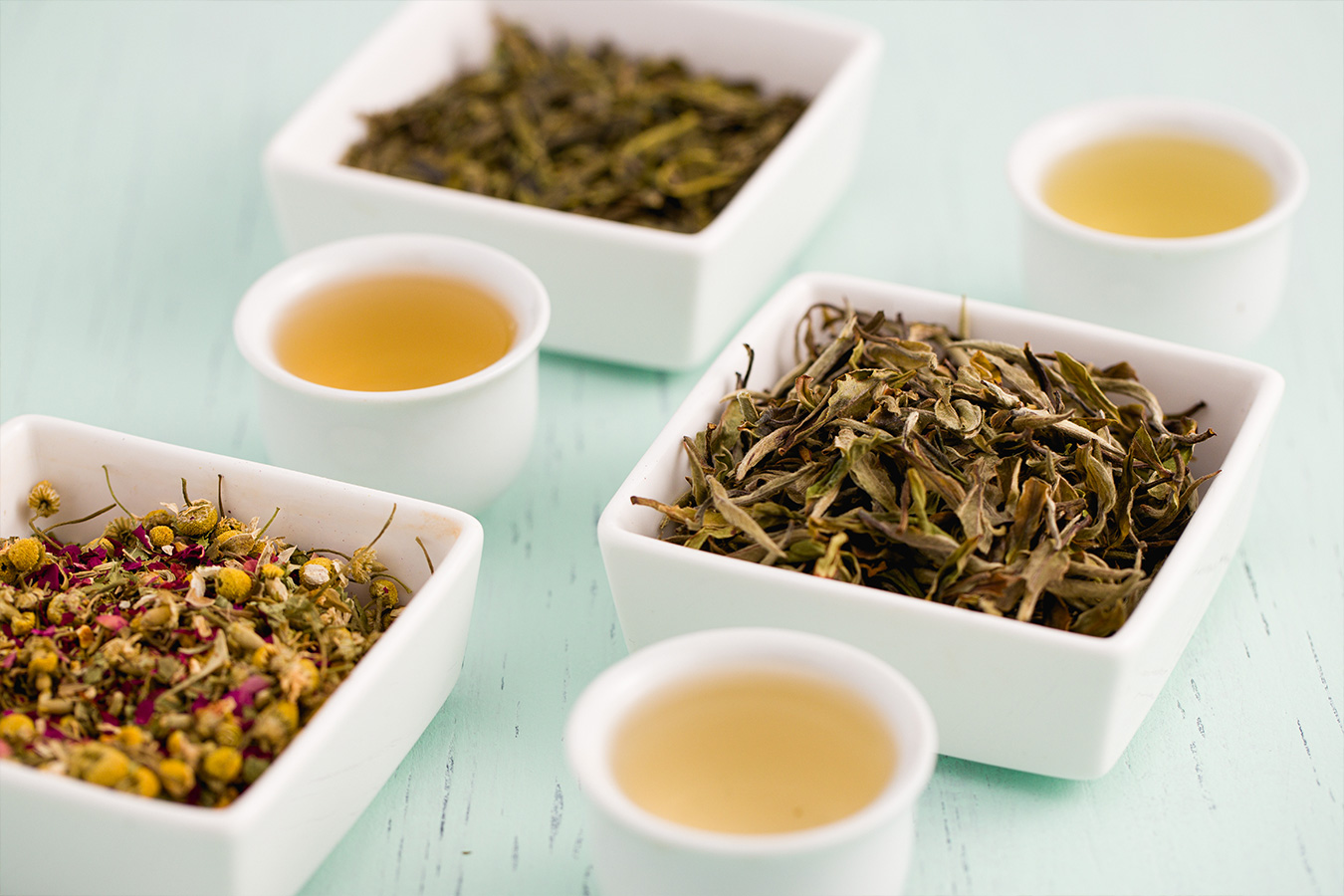 5. Rishi Tea & Botanicals
Rishi Tea & Botanicals was founded in 1997 by Joshua Kaiser and remains independently owned today. Rishi imports directly from organic artisan growers and specialist producers. Ancient herbal traditions are the inspiration for many botanical blends.
The Rishi team travels worldwide to source and study rare tea and botanicals. Rishi works with farmers to verify how their organic teas are grown and trace each lot back to the farm. Rishi Tea was among the first to earn organic certification under the USDA's Natural Organic Program in 2002.
Chamomile Medley is one of my favorites from Rishi, among other botanicals. Their chamomile blend highlights golden chamomile blossoms sourced from Croatia in the Mediterranean.
---
Best Matcha Tea Stores
6. Matcha Source
Matcha Source tea comes in different grades. Alissa White is the Founder of Matcha Source, an online retailer offering premium matcha tea and specialty utensils to prepare and enjoy matcha. This unique tea shop focuses strictly on matcha, from ceremony grade to kitchen grade and everything in between.
Young leaves plucked early in the harvest produce delicate and vegetal flavors. Mature leaves contain coarser matter from stems and veins and taste more astringent. MatchSource teas are hand-picked by the Yahagi River in Japan. Matcha Source ships internationally.
---
7. Pique Tea
Pique Tea offers ceremonial-grade matcha wholly pure and free of toxins. Not only is it certified pure, but it's also the highest ceremonial grade matcha.
Pique Tea screens its matcha for specific microbes, heavy metals, radioactivity, and mycotoxins. This is what I like most about their matcha.
It is well-known that high-quality matcha comes from Japan. Mostly from Uji, Japan. But there is another matcha from Japan to consider. The Pique brand matcha sources its matcha from Kagoshima, Japan. Soil and local weather conditions affect the flavor of tea as much as the varietal and processing methods.
Pique Tea Sun Goddess matcha may seem a little expensive, but if you're drinking tea daily, it's well worth the peace of mind of knowing it's clean matcha. It's less costly than other organic ceremonial-grade matcha I've seen, and the taste is smooth and delicious. It's not bitter like some lower-grade matchas.
8. Naoki Matcha Uji
Naoki Matcha Uji crafts the highest quality matcha green tea. Naoki Matcha sources authentic Japanese first harvest ceremonial grade matcha green tea powder from Uji, Kyoto. If you love matcha, this is one of the best shops to buy matcha tea online. Naoki Matcha works directly with local farmers, tea estates, and tea blenders.
Naoki Matcha teas are one-of-a-kind and extremely rare: less than 100kg are produced yearly. Spring grade matcha from the first harvest is the highest quality matcha.,
Their product range offers several products that meet all needs, from beginner to expert. They have Matcha and accessories.
---
Best Indian Tea Stores
9. Vahdam Tea
Vahdam Tea specializes in garden-fresh Indian teas. Vahdam is another one of my favorite places to buy tea online. All their teas are procured directly from plantations and tea growers within 24-48 hours of production, packaged garden fresh, and shipped directly from India's source.
Vahdam Tea eliminates all intermediaries sourcing fresh, high-quality teas and selling directly to consumers. Vahdam ensures that the growers can retain all earnings in the region where these divine teas are grown. This process helps every farmer get a better product price—a truly ethical, fair-trade tea shop to buy tea online.
---
10. Teabox
Teabox is an Indian-based online tea company specializing in high-quality single estate Indian grown loose leaf black tea. Teabox sources the freshest teas from Indian tea estates in Darjeeling, Assam, and the Nilgiris and the freshest teas from Nepal.
Teabox Darjeeling and Nilgiri black teas are some of my personal favorites. And you can't make a good English Breakfast tea without a good Assam. Try the Margaret's Hope Moonlight Spring White Tea! Ships internationally.
---
11. Teatulia
Teatulia specializes in Indian teas. A Denver-based tea company co-founded by Dr. Kazi Anis, and Linda Appel Lipsius focuses on sustainability. Teatulia is one of the few 100% organic tea brands produced by the women of Bangladesh. Teatulia teas are single-garden teas grown and hand-plucked in the Kazi & Kazi Tea Estate's beautiful tea gardens in Northern Bangladesh and then delivered directly to the consumer.
As tea gardens go, this one is relatively new. The gardens were cultivated from virgin land nestled against the Himalayas in 2000. They offer various teas and have won many North American Tea Championships awards.
Teatulia has cooperative programs they developed for the people's economic prosperity in the region—international shipping.
---
Best Chinese Tea
12. Tea Drunk
Tea Drunk is based in New York City and specializes in rare authentic Chinese Teas working directly with small tea farmers. Tea Drunk runs the Tea Drunk Academy, offering online and in-person education. This is the place to go if you want to learn the art of gongfu-style tea.
Shunan Teng founded Tea Drunk. You can learn directly from her in her New York tea studio.
All of Tea Drunk's teas and philosophy are sourced by Shunan Teng. She is known for her work preserving Chinese tea traditions and sourcing traditional fine Chinese tea. Tea Drunk sells excellent whole leaf tea online and in the shop.
13. TeaVivre
TeaVivre specializes in authentic Chinese teas, carrying a wide variety of unflavored teas, loose-leaf green tea, and teaware. TeaVivre is a group of tea lovers and aficionados from China, Canada, and France. All living in China frequently visit China's tea plantations tracking down only exceptional teas.
TeaVivre means Tea for Life. I buy a lot of my Chinese tea online from TeaVivre. They are known for their green teas, some rare green teas such as Ming Qian Long Jing. TeaVivre is an excellent source to buy green tea online.
China also produces some of the best black teas, many of which are here. Samples are available. It complies with the European Union, which has much more stringent allowances for residues than the United States. High-quality teas - ship from China internationally.
---
14. Verdant Tea
Verdant Tea is a marketplace for small family tea farmers, directly from their farm to your cup. This Minnesota tea shop has a unique approach to tea shopping. You don't shop by the tea type or country - you shop by the farmer.
The estates are listed, and you virtually meet the family growing the tea. Verdant Tea specializes in Chinese oolong, black, green, white, Puerh, and herbals.
Their teas have gotten some outstanding ratings. Verdant Tea provides steeping instructions for the Western brewing and gong fu style. They also have some beautiful gaiwan teaware.
Best White Tea
15. Rare Tea Co.
Rare Tea Company was founded by Henreitta Lovell "The Tea Lady" in London in 2004. She buys directly from the tea farmers for some of the freshest and finest tea specialty teas. Her White Silver Tip Tea is superb.
---
Of course, this is purely a representative list. I hope you find it helpful and enjoy some of the best tea brands I've recommended. If so, please share this list with your tea-loving friends.
What tea shops have you tried? What are your favorite tea brands? Share in the comments. I'd love to hear from you!
---
Tea for Beginners Start Here >>