A tea infuser is the best way to brew loose-leaf tea. But with so many choices, which one is best for you? I independently research, analyze and recommend the best tea products and accessories—learn more about my recommendation process here.
Yes, I have all of these tea infusers and more!
Many people ask me how to transition from tea bags to loose-leaf tea for the perfect cup. The trick is to get the right tea accessories.
When selecting a tea infuser, the type of tea doesn't matter as much as the size of the tea leaf. You can use the same infuser for herbal, green, oolong, and black tea. As long as the infuser is hard-glazed pottery or food-grade stainless steel. Even a glass infuser will work if it is made from borosilicate glass.
The exception is when you use an unglazed Yixing teapot. Unglazed pots tend to absorb and hold onto the tea flavor. Tea lovers dedicate one pure tea to a specific unglazed teapot.
In this post, I review infusers designed for Western or English-style tea brewing. This excludes Gungfu or Eastern-style brewing, which frequently uses a gaiwan or Yixing teapot. For more on unglazed clay pots, you can read my post here.
Different Types of Tea Infuser
Tea drinkers know the right tea infuser makes all the difference in the flavor of the tea.
Best Tea Infuser Pot: Editors Choice
My pick for the best all-around tea infuser is the one I use daily. It is a hard-glazed porcelain teapot with ten holes at the base of the spout for holding back large tea leaves.
It holds enough tea for two cups (16 ounces). I can brew just about any tea in this porcelain china teapot without worrying about residual tea flavors or cracking from boiling hot water. The size is perfect for one or two cups of tea.
This teapot is from Tea Masters. They have a nice variety of tea accessories. Good porcelain teapots with holes at the base of the spout and a clean pour are very hard to find. But if you want something to last for years and years, bone china or porcelain is the way to go.
TEA INFUSER TEA POT
This is the Tea Master porcelain teapot. Royal Copenhagen has a similar fine-bone china teapot in blue and white.
Stainless Steel Infuser
For a single cup of tea, a quick and easy way to brew is to use an infuser that you can fit into your favorite tea mug or cup. I always use this cup tea infuser, which nicely fits a 6-ounce tea cup or an 8-ounce mug.
STAINLESS STEEL TEA INFUSER
Amazon has many choices. You can purchase a similar stainless steel infuser with a stand on Firebelly Tea.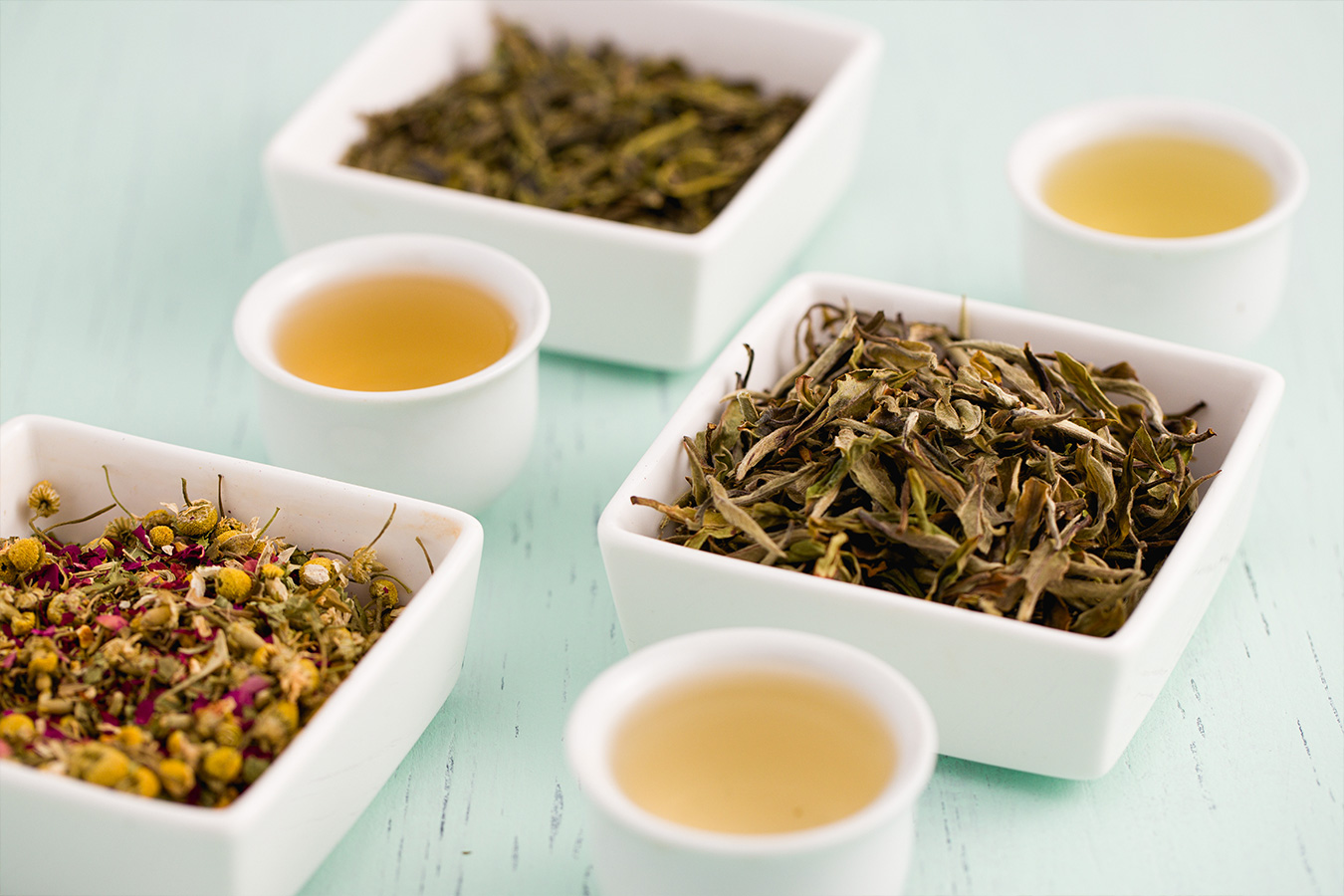 Related:
Tea Balls
A tea ball infuser is fine for small cut pieces of tea. An infuser ball will not brew large loose tea leaves very well since there is no room for the tea leaves to open and expand. However, using a tea ball makes sense in some infusing situations. You can also use them in cooking.
TEA BALLS
Tea balls are easy to come by and come in all shapes and sizes. Some are very whimsical, with little charms attached to them. Pictured is a stainless steel tea ball that comes in 3 different sizes, from 2 to 3.5 inches.
Tea Pot With Infuser Basket
This little glass teapot for two comes with a stainless steel removable infuser basket. It has a nice clean pour from the spout at a very affordable price.
You will find hundreds of glass pots available on Amazon and other sites. Make sure it is made from borosilicate-safe glass to withstand boiling water and temperature differences. The nice thing about glass teapots is you can see your tea brewing.
TEA POT WITH INFUSER BASKET
Small glass teapot with removable infuser and lid, 22-ounce borosilicate glass teapot.
Adagio Tea also sells a similar petite glass teapot for two.
Cup Infuser
A teacup infuser with a holder is another quick and easy way to make a single cup. The holder keeps wet tea leaves to use for a second steep. Firebelly Tea makes this handsome infuser holder and matching stainless steel infuser basket.
CUP INFUSER
The stylish and simple stainless tea strainer has a holder to catch drippings. The strainer fits inside the holder, which fits inside a mug. The strainer is plenty large to allow loose-leaf tea to unfurl completely.
The Set fits almost any 8-ounce mug, or you can buy the matching mug!
Traditional Tea Pot
If you are looking for a larger infuser to accommodate more people, traditional teapots are perfect for tea time. I use this classic Wedgwood Ivy House teapot handed down from my mother. This china teapot is perfectly proportioned for brewing, and the pour is exceptionally clean. There are 10 holes at the base of the spout.
The design form is so perfect Wedgwood still makes this shaped teapot today with modern patterns, almost 75 years later. It's simply beautiful!
TRADITIONAL TEA POT
The design is so perfect Wedgwood still makes this teapot today with modern patterns, almost 75 years later. It's simply beautiful!
The fine bone china holds 34 ounces.
Tea Infuser Mugs
The double-walled porcelain cup with a removable infuser is perfect for infusing a single cup of tea. The insulated wall and lid keep the tea warm. You can also use the lid to set the stainless steel strainer.
I like these mugs because they're whimsical and practical at the same time. I don't see the flip-flop design anymore that I have, but Adagio and Tea Forte have a nice selection of these mugs.
TEA INFUSER MUG
Double-wall porcelain mug and infuser with lid. Tea Forte has a large selection of steeping cup designs.
French Press
I love a good french press. This borosilicate glass design from Bodum is perfect with a stainless steel basket and plunger. You can buy them in many sizes. This particular style holds 4 cups and has a clean pour. I've even used it for french press coffee.
Don't worry if you do use the french press interchangeably. Small particles can't slip through the fine mesh basket. And the stainless steel basket and glass body don't hold any residual oils from the coffee, so it's all good!
TEA FRENCH PRESS
Bodum glass tea press uses the same brewing system as the French press, which is perfect for loose teas. Large selection of tea press designs and sizes.
Tea Basket
The Tea Spot has this delightful little food-grade silicone tea steeper. You can use the steeper in just about any mug. The best part is that it's collapsible and has a lid for keeping the tea warm while steeping and to use as a rest for the infuser to catch drippings. Great for taking your loose-leaf tea on the go.
TEA BASKET SILICONE INFUSER
The Tea Spot has a beautiful line of custom Steepware. Included is the "Tuffy Steeper" shown here. The collapsible steeper makes it so easy to make tea at home or on the go.
Affordable and portable!
Travel Mug Infuser
Tea travel infuser mugs are becoming more popular. The trick is how to adequately steep tea in a travel mug while stopping the steeping at the right time without making a mess. The travel mug also needs to be spill-proof and keep the tea hot, or cold. Most infuser baskets that come with travel tumblers are too small to let the tea leaves properly unfurl and infuse. The Firebelly travel mug infuser solves these issues.
TRAVEL MUG INFUSER
Firebelly Tea makes a "Stop-Infusion Travel Mug" that allows you to stop the tea infusion in the same way a french press stops the infusion. You can start or stop your iced or hot tea infusion anytime.
I like that it comes in a rainbow of colors!
---
New to Tea? Start Here >>