How to relieve stress with two of the best adaptogenic herbs. A simple tea made with tulsi or ashwagandha can help to naturally reduce stress.
Ways to Reduce Stress With Adaptogenic Teas
Adaptogenic tea blends are becoming more common as people seek natural substances to reduce stress and provide health benefits. Adaptogens are botanical substances, including tulsi, ashwagandha, rhodiola, and maca.
You may be more familiar with some more common adaptogens such as turmeric and ginger. The herbs balance, restore and protect the body from physical, biochemical, and mental stress.
And of course, my favorite adaptogen is tea from the Camellia Sinensis plant. Tea is mildly stimulating with the balance of energizing caffeine and the calming amino acid L-theanine, which produces a state of well-being in the body and mind.
What Is Ayurveda?
To understand adaptogens, you should first understand Ayurveda. The term adaptogen is relatively new compared to Ayurveda, which has practiced adaptogenic healing for centuries.
Ayurveda is one of the world's oldest healing systems. For centuries ayurvedic herbs have been used to promote overall health and wellness. Ayurveda is a traditional medicine native to India and part of the Indian Philosophy dating to 700 BCE. It includes the use of herbal blends in beverages and cooking with the addition of spice combinations.
Related:
Ayurvedic herbs can heal you from the inside out. Many wonderful Ayurvedic herbs are revered for their nourishing effect on the body and mind.
A significant cause of mortality is lifestyle-related chronic diseases, many of which can be addressed through Ayurveda. Focusing on a healthy lifestyle and regular consumption of adaptogenic herbs may help reduce morbidity.
Ayurvedic healing is dedicated to practices and herbs that counter the aging effects and invigorate the body. The healing effects of herbs have long been recognized as a means to a healthier body.
What Are Adaptogens?
Adaptogens are components of herbal medicines that help the body's resilience in dealing with physical and emotional stresses.
The hypothalamus, pituitary, and adrenal glands are part of the endocrine system that controls hormonal and physiological responses to stress. Adaptogens may help break the cycle of stress through their action on hormones and the endocrine system.
Herbs with adaptogen properties increase stamina and help the body adapt to stress, balancing endocrine hormones. This responsive quality of adaptogens means they can help restore homeostasis within the body.
Specific adaptogens can also be helpful if you're struggling with persistent stress. Two of the most recognized adaptogens for stress reduction are ashwagandha and tulsi.
These adaptogens are unique in that they help the body adapt to stress, regulate hormones, and improve immune function.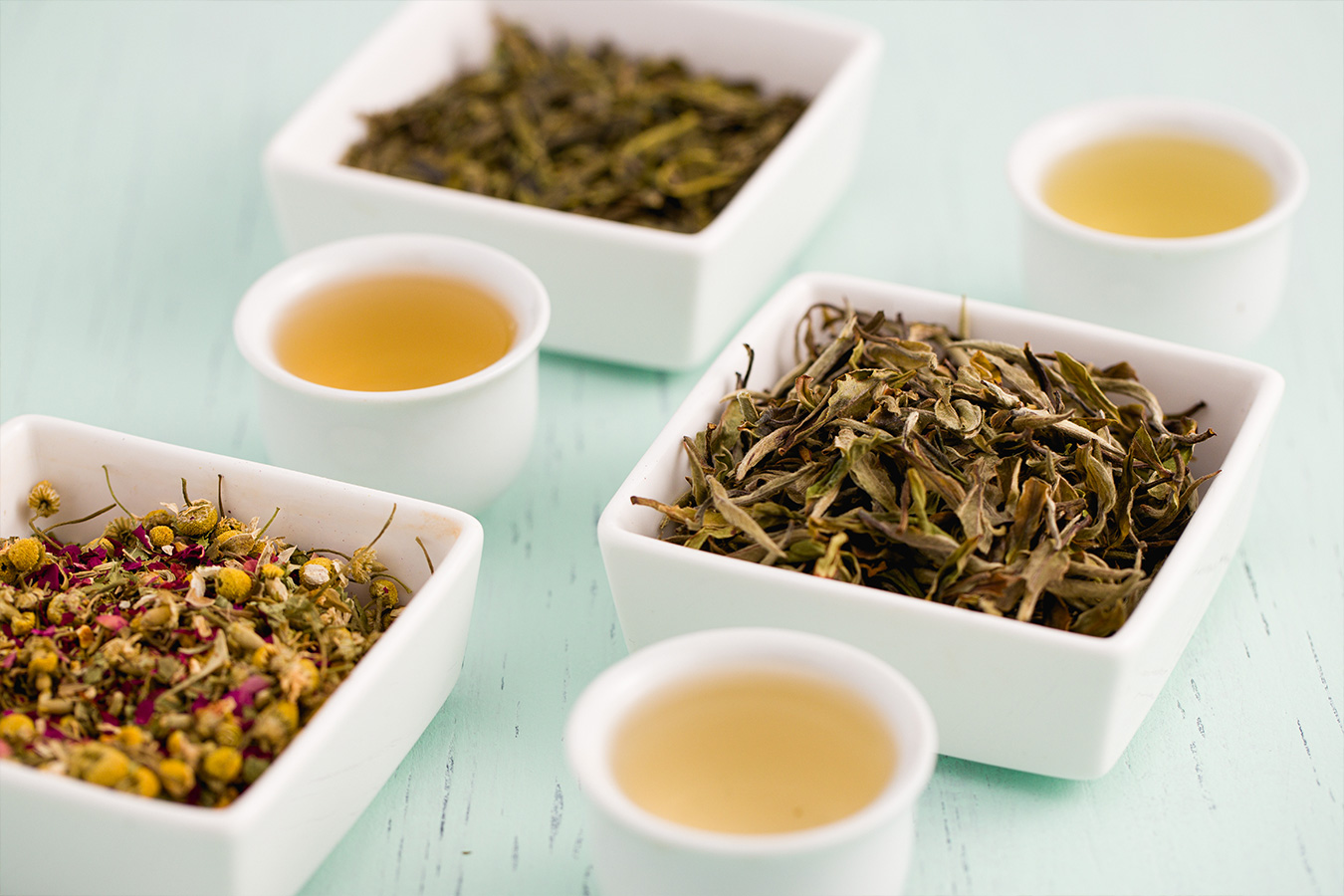 Ashwagandha and Tulsi are the two ayurvedic herbs you should include in your daily life.
Ashwagandha
Ashwagandha is probably the most revered and well-known of Ayurveda's adaptogens. Also known as Indian ginseng, it promotes energy and stamina.
An evergreen shrub native to Asia and India, ashwagandha (Withania somnifera) has been a powerful tool in Ayurvedic medicine for thousands of years. In the last 50 years, this nightshade family member of plants has emerged as a potent healing herb in the West.
For centuries, people have taken ashwagandha as a sedative to calm tension and combat insomnia. It's also used as a diuretic, anti-inflammatory, and medicine to increase strength and longevity.
The roots and fruits are prepared as an extract, tonic, or tea and used to treat respiratory conditions, tumors, and high blood pressure and have long been considered an aphrodisiac.
Ashwagandha is an adrenal adaptogen and medicinal herb. The adrenal glands sit on top of the kidneys and secrete many hormones, including aldosterone, cortisol, and adrenaline. Aldosterone helps regulate blood pressure and blood volume, while cortisol and adrenaline are stress regulating hormones.
Ashwagandha is reported to have a calming effect on the nervous system and is associated with increased immunity.
Therapeutic Uses:
Reproductive health
Sleep
Hormone balance
Protect bones from oxidative stress
Anti-inflammatory
Anti-anxiety
Immune system support
Neuroprotective
Studies show ashwagandha root is promising, safe, and effective for managing stress, anxiety, and insomnia. The root has the highest concentration of active ingredients and supports hormone balances, including thyroid hormone, estrogen, and progesterone, in women and testosterone in men.
I see more and more adaptogenic tea blends on the market to reduce stress, provide a sense of calm, and reap various health benefits. Ashwagandha tea blends and other adaptogen teas are available from many higher-end tea stores. Sometimes they are called "functional teas".
How to Make Ashwagandha Tea
1 teaspoon powdered ashwagandha root.
Boil 1 cup of filtered water.
Add powder to boiled water.
Simmer powder in water for 10 minutes.
Strain.
Add lemon or honey to taste.
Tulsi (Holy Basil) Tea
Tulsi is also known as Holy Basil. Tulsi (Ocimum sanctum Linn) is one of the essential herbs in Ayurvedic healing and is revered as a sacred plant in Ayurveda.
Scientific research confirms its benefits. Evidence shows tulsi can address physical, chemical, metabolic, and psychological stress through a unique combination of pharmacological actions.
Tulsi has a particular affinity with the respiratory system, clearing congestion and nourishing the lungs. Tulsi also has strong antioxidant properties, a sweet flavor, and a fragrant aroma. It has been used to relieve headaches, colds, flu, anxiety and boost concentration and memory.
The tulsi plant can absorb toxic chromium from the soil, so try to purchase from an organic source.
Tulsi contains hundreds of beneficial phytochemicals — non-nutritive plant compounds with protective and health-promoting properties. Together these compounds have adaptogenic and immune-enhancing properties that combat stress, boost the immune system, and promote healthy metabolism, including helping your body maintain blood sugar.
Therapeutic Uses:
Immune function
Skin
Liver
Nervous system
Scientific research into tulsi demonstrates the many psychological and physiological benefits of consuming tulsi. Tulsi leaves can be used for consumption as tea.
Research provides a testament to the wisdom inherent in Ayurveda, which celebrates tulsi as a plant that can be worshiped and ingested, made into a tea, and used for medicinal and spiritual purposes within daily life.
Tulsi tea is an antioxidant-rich beverage with complex and unique chemistry.
Daily consumption of its leaves is considered to prevent diseases, promote health, longevity, well-being and help to reduce the physical and mental stresses of everyday life.
Ayurvedic medicine uses Tulsi for controlling coughs and enhancing immunity. Holy Basil is an essential tonic in Ayurveda, supporting general health.
Five clinical trials indicate tulsi may support healthy immune function or support the body's natural antiviral capabilities.
These studies document the anti-inflammatory effects of tulsi. Tulsi has multiple bioactive metabolites that act alone or synergistically to inhibit inflammatory pathways.
Tulsi is cherished for its protective and uplifting nature. Numerous tulsi products are available today, including tulsi tablets, tea, powder, and tulsi essential oil.
How to Make Tulsi Tea
Boil 1 cup of filtered water.
Pour it over 1 teaspoon of fresh tulsi leaves (or ½ teaspoon of dried tulsi leaves, or ⅓ teaspoon of tulsi powder.)
Simmer for 15 minutes.
Strain into a mug.
Add lemon or honey to taste.
Where to Buy Adaptogen Teas
The Tea Spot and Vahdam Teas both have a nice selection of adaptogen teas including ashwagandha and tulsi tea. Mountain Rose Herbs has a wide selection including tinctures and extracts.
Healthy adrenal functioning is essential for optimal health in general. Adaptogenic herbs help protect and support the adrenal glands and can be helpful during times of stress. Sometimes they are referred to as functional teas.
References:
---
Tea for Beginners Start Here >>