Immune support is critical today. Herbal teas are the precursors to modern medicines, and some herbs help support a robust immune system.
Your immune system is constantly working to protect you, defending your body against foreign substances like bacteria, viruses, chemicals, or toxins. A foreign substance could be from an external threat, such as a virus, or an internal threat from damaged cancerous cells.
Botanicals are just some of the many ways you can boost your immune system.
How to Boost Your Immune System With Immune Support
A well-functioning immune system is the foundation of a healthy body. Botanical remedies are a nutritional source of immune support. Hippocrates emphasized dietary and lifestyle measures as part of the original Hippocratic oath.
Let food be thy medicine, and let medicine be thy food.

Hippocrates
Your immune system includes cells, tissues, and organs that fight infection and disease. Your skin, mucous membranes, and white blood cells all fight to prevent or trap germs that enter the body.
A major part of your immune system lies within the intestines. This central body organ is responsible for 70 percent of your immune system. A healthy gut microbiome is vital for a healthy immune system.
Therapeutic & Healthy Teas
Your body thrives on the antioxidants in superplants known as polyphenols. Cells are frequently under attack by oxidative stress and free radicals from environmental toxins.
Antioxidants bind to those free radicals, preventing them from causing damage. Getting a variety of antioxidants and polyphenols is critical for immune support and function.
Most herbs used as tea are not as concentrated in strength as herbs in a tincture for medicinal purposes, but herbal teas still have the same benefits. Herbal tinctures are more concentrated than teas. In general, 30 drops of tincture are the equivalent of 1 cup of therapeutic-strength tea.
Pro Tip:
To make a therapeutic strength tea add approximately 2 tablespoons (or 2 teabags) of dried herb per cup of water and steep for 10 minutes. source
Different immune-boosting tea types provide unique polyphenols:
Green teas are prized for their catechins. Catechins are potent antioxidants that support cellular health, especially when exposed to environmental toxins and other invasive threats.
Black teas feature theaflavins, potent plant compounds that support gut health. Theanine in tea promotes antiviral activity.
Herbal teas are botanical powerhouses of polyphenols, often not found elsewhere in nature.
Traditionally, tea from the Camellia sinensis plant is tea, and herbal infusions are called tisanes. However, the term tea is often used when referring to herbal infusions.
Do Herbal Teas Have Caffeine?
Herbal teas have supported healthy immunity for centuries. Most herbal teas are brewed from dried flowers, leaves, seeds, berries, or generally caffeine-free roots—however, Yerba Mate is one herb that contains caffeine.
8 Best Herbal Teas for Immune Support
Traditional herbs are consumed daily in many cultures worldwide for their powerful phytonutrients. Herbs are brimming with antioxidants, essential vitamins and minerals, and other immune-supportive plant compounds.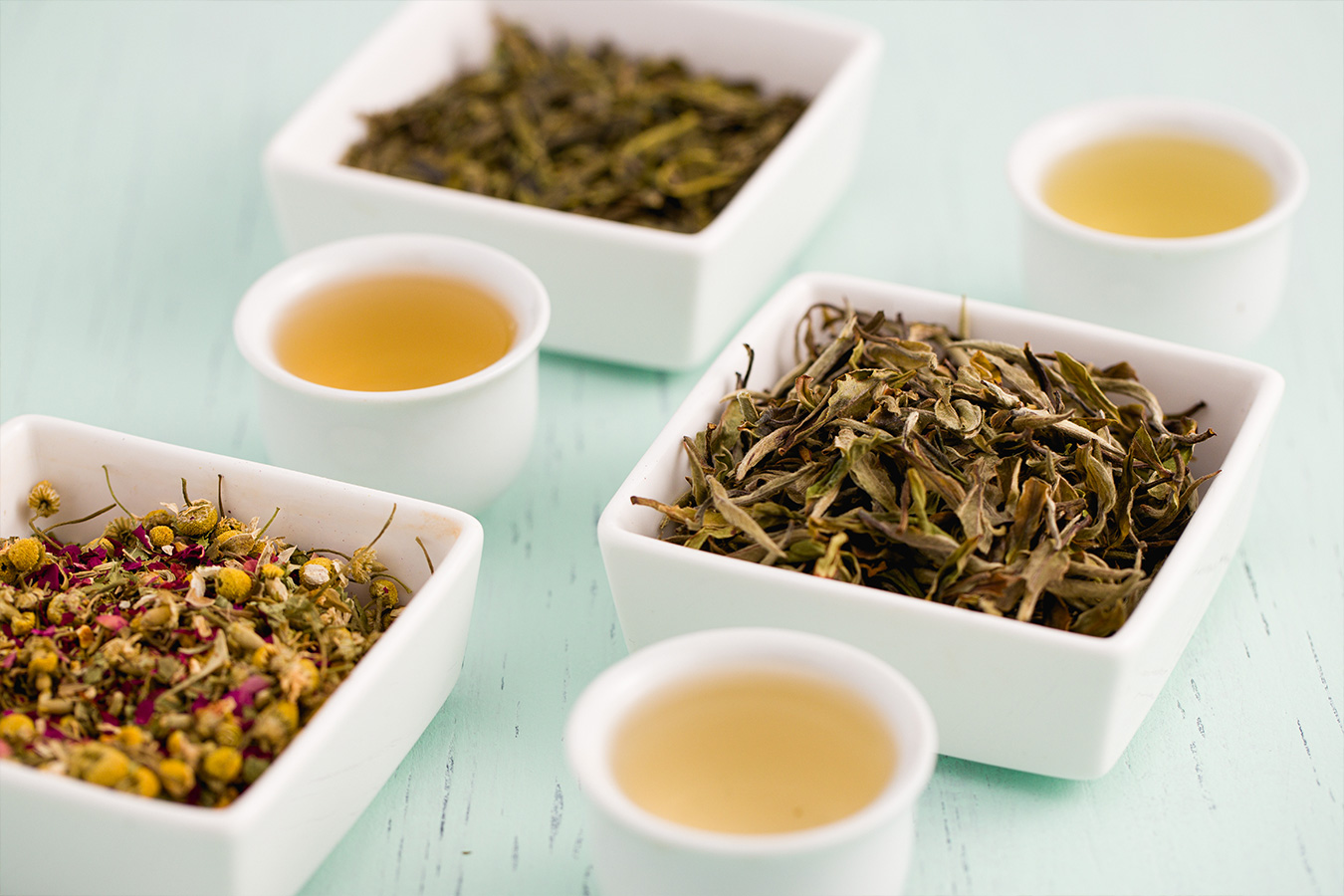 Here are my top eight immune-boosting herbal tea picks to complement the potent health benefits of Camellia sinensis teas. It's best to consume herbs when they are fresh for maximum benefit.
Echinacea Tea
Echinacea is one of the most well-studied herbs in herbal medicine. It has numerous effects on the immune system, from increased antibody response to elevated interferon levels for fighting viruses to stimulating white blood cells.
Polysaccharides, glycoproteins, and alkylamides have medicinal effects that boost the immune system and inhibit viruses and bacteria. source
Echinacea will not prevent a cold, but some studies show daily use can shorten the length of a cold.
How to Make Echinacea Tea
1 to 2 teaspoons of echinacea leaf/flower 
Steep in 1 cup of boiling water.
Or boil 1 teaspoon of echinacea root in 1 to 2 cups of water for 10 minutes.
Elderberry Immune Support Tea
Ripe elderberries are famous for making elderberry wine. However, cold and flu treatments made from elderberries contain antioxidants with anti-inflammatory properties beneficial to the immune system.
Laboratory studies have shown that elder extracts act as antivirals, inhibiting the replication of flu and other viruses. source
In one study, elderberry led to a faster resolution of flu symptoms in 15 people taking four tablespoons of elder syrup, raspberry, glucose, honey, and citric acid (brand name Sambucol) when compared to 12 people taking a placebo. source
Studies show that elderberry syrup administered at the first sign of illness shortens the severity and length of colds and flu. Elderberries contain high levels of vitamins A and C and flavonoids with antioxidant properties that outrank other berries. source
It doesn't have to be European Elderberry. European elderberry and North American Elderberry are very closely related. Sambucus nigra is European, and the American is Sambucus nigra variety Canadensis, also called Canadensis.
How to Make Elderberry Tea
2 tablespoons dried elderberries 
2 cups of boiled, filtered water
Simmer for 15 minutes.
Strain into mugs, add honey to taste, and enjoy.
Ginger Tea
Ginger and Tumeric are Ayurvedic staples used for digestion and to decrease inflammation. Ginger is a common spice and a widely used medicinal plant, particularly as a broad-spectrum anti-emetic agent.  
Research suggests the compounds in ginger support healthy immune function and cellular health. source
Drink fresh ginger tea throughout the day. Research shows that ginger root has antiviral and antibacterial properties. source
How to Make Fresh Ginger Tea
Turmeric Tea
Turmeric is often added to Ayurvedic practitioners' ginger tea to assist with circulation, the liver, and healthy joints. New research confirms turmeric can support cellular health, keep your body's natural anti-inflammatory response, and support your immune cells. source
Curcumin is a highly active compound in turmeric. Studies show curcumin reduces inflammation in the body, particularly in the gastrointestinal tract. source
How to Make Turmeric Tea
Pour 2 cups of boiling water over
1 teaspoon powdered turmeric.
Steep for 10 minutes.
Strain into a cup. Add honey or lemon to taste.
Peppermint Tea
Mint leaves are best known as a digestive remedy, but studies also point to possible immune support benefits. Peppermint has significant antimicrobial and antiviral activities, a potent antioxidant and antitumor actions, and some antiallergenic potential. source
Peppermint and its active constituent, menthol, benefit the respiratory system. A cup of warm peppermint tea thins mucous and loosens phlegm relieving a stuffy nose. 
Peppermint tea, brewed from plant leaves, and the essential oil of peppermint are used in traditional medicines.
How to Make Peppermint Tea
Pour one cup of boiling water over 1 teaspoon of dried mint leaves or 6 to 8 fresh mint leaves.
Steep for 10 minutes and strain into a mug.
Hibiscus Tea
Hibiscus is valued as a diuretic and mild laxative and is used to treat colds, coughs, and heart disorders, making it ideal as a general health tonic.
A refreshing drink, hibiscus tea contains Vitamin C, mucilage, pectins, and anthocyanins, antioxidant compounds. The mucilage and Vitamin C are beneficial for treating colds and sore throats.
Hibiscus may help support balanced immune function and support the immune system's natural response against pathogens throughout the body. Although more studies are needed to prove the antiviral effects of hibiscus tea. source
How to Make Hibiscus Tea
Pour 1 cup of boiling water over 2 teaspoons of chopped hibiscus.
Steep for 15 minutes.
Strain and serve with honey chilled or hot.
Tulsi (Holy Basil) Tea
Ayurvedic medicine uses Tulsi for controlling coughs and enhancing immunity. Holy Basil is an incredibly important tonic in Ayurveda, used to support general health.
Five clinical trials indicate tulsi may support healthy immune function or support the body's natural antiviral capabilities. source
These studies document the anti-inflammatory effects of tulsi. Tulsi has multiple bioactive metabolites that act alone or synergistically to inhibit inflammatory pathways. source
How to Make Tulsi Tea
Boil 1 cup of filtered water.
Pour it over 1 teaspoon of fresh tulsi leaves (or ½ teaspoon of dried tulsi leaves, or ⅓ teaspoon of tulsi powder.)
Simmer for 15 minutes.
Strain into a mug.
Add lemon or honey to taste.
Buckwheat Tea or Sobacha
Soba is Japanese for buckwheat. Sobacha is roasted buckwheat tea, a traditional Japanese specialty prepared as an herbal tisane. It is naturally caffeine-free, with a toasty flavor and nutty undertones.
Buckwheat tea has a large amount of quercetin, a plant flavonoid with antiviral properties. Few tea vendors sell buckwheat tea in the United States. It's primarily found in Asian markets. I found Harney & Sons selling a nice Soba Buckwheat Tea.
How to Make Buckwheat Tea
Boil 1 cup of filtered water.
Pour it over 1 - 1/12 teaspoon roasted buckwheat
Steep for 5 minutes.
Strain into a mug.
Add honey to taste.
Best Place to Buy Herbs
Vahdam Teas makes a fabulous line of immune-boosting turmeric lattes.
It is adapted from the 5,000-year-old Ayurvedic Golden Milk healing recipe to boost immunity. These are especially good if you don't like drinking ginger or turmeric tea alone.
Professional Herbalist
Roy Upton, RH, DipAyu, is a professional herbalist since 1981. He is trained in Ayurvedic, Traditional Chinese, and Western herbal medicine and has worked extensively with Native American and Caribbean ethnobotanical traditions. He is the founder, Executive Director, and editor of the American Herbal Pharmacopoeia (AHP). 
At a recent tea conference, I asked him where the best place to buy herbs is, and he recommended Mountain Rose Herbs. He said they are a "great source for quality herbs." 
Upton said, "Mountain Rose is probably the best source for most consumers. The quality control people there are great. They source their herbs from sustainable sources. They're just impeccable with regards to what they do."
I can also highly recommend Rishi Tea and botanicals. Rishi specializes in organic, direct-trade tea and carries a select line of immune-boosting botanical teas. 
You can purchase some of the teas mentioned in this article from Rishi or Mountain Rose Herbs.
Can You Mix Herbs With Black or Green tea?
According to Upton, one of the challenges of mixing any tea from Camellia sinensis is that Camellia's astringent qualities will bind with other herbs' constituents, making them somewhat unavailable.
"Typically in the world and particularly Asia, they're not mixing herbs with tea from Camellia sinensis. They don't do that. You drink green tea separately, chrysanthemum tea separately, and immune-supportive herbal teas separately. The tannins in Camellia sinensis bind with other compounds in the herbs rendering them less effective."
Related:
Where to Learn About Herbs Online
Mountain Rose Herbs has many educational resources and recommendations if you want to learn more about herbs. The online course Mountain Rose Herbs recommends is the Herbal Academy.
The Herbal Academy offers an impressive variety of in-depth herbal courses, path packages, and intensive short courses. Their herbarium library is a beautiful collection of recourses for cooking and essential oils.
Immune Support Protocol
A perfect way to get all of your immune-supporting teas is to drink them in a rotation rather than mixing them.
Morning tea: drink one to two cups of black tea. 
Afternoon tea: drink one to two cups of green tea, such as Sencha or Dragon Well. An oolong is lovely to drink in the afternoons too. 
Evening tea: drink one to two cups of caffeine-free herbal teas such as ginger, hibiscus, or elderberry.
Supplements for Immune Support
And don't forget your Vitamin C, Vitamin D, zinc, and quercetin. Quercetin is a flavonoid and well-known antioxidant, anti-inflammatory, and antiviral bioactive found in many plants, including tea. Other foods containing flavonoids include red wine, onions, apples, cherries, berries, and citrus fruits, and they are the main sources of quercetin.
Some studies have shown the effectiveness of high doses of micronutrients in supporting immunity:
Vitamin D3 - 1,000–3,000 IU/day
Vitamin C - 500–1,000 mg 2 x daily
Quercetin - 250 - 400 mg/day
Zinc - 30–40 mg/day (elemental zinc)
Melatonin - 6 mg before bedtime (causes drowsiness) source
Get outside and get some sun and fresh air. Walk. Walking is the easiest way to stay active and help support your immune system.
---
NEW TO TEA? START HERE >>