Drinking tea every day is common throughout the world. Tea is the beverage of choice except in America. If you're not drinking tea, you should be, and here's why.

Twenty percent of our daily diet consists of the beverages we drink. Beverages play a vital role in nutrition and health. Our beverage choice matters and choosing tea for its well-known benefits is a smart choice.
Drinking Tea Every Day
The best reason to drink tea every day is that it's so delicious. The tea varieties made from the Camellia sinensis plant - green, black, oolong, white, or Pu Erh contribute to its wide appeal. Second, you should drink tea because of its benefits to health.
Tea is a calorie-free beverage rich in antioxidants, flavonoids, and other biologically active substances beneficial to health. Up to three or four cups of tea per day are optimum.
Benefits of Tea for The Immune System
Decreasing stress and maintaining a robust, healthy immune system is more essential than ever.
Tea has been used to support healthy immunity for centuries. It's the go-to tonic in traditional herbalism and is consumed daily in many cultures around the world and for a good reason. Tea is brimming with antioxidants, essential vitamins and minerals, and other immune-supportive plant compounds.
The polyphenol antioxidants found in tea, like epigallocatechin gallate (EGCG), are among the most well-proven immune support compounds. Of all superfoods, tea has some of the highest polyphenols, which is essential for maintaining a healthy immune system.
You've probably heard that stress is the enemy of a healthy immune system. With everything that's going on today, we need all the help we can get to stay calm.
Tea contains a unique amino acid called l-theanine, which is best known for its powerful relaxing effect. It works to balance the effect of caffeine to give you calm, sustained energy.
Drinking tea every day is a great way to get the energy boost you need without the added anxiousness or jitters that you might get from coffee.
Tea and Human Health
In September 2012, the U.S. Department of Agriculture in Washington DC held the Fifth International Scientific Symposium on Tea and Human Health. The symposium consisted of eleven presentations from world-renowned scientists who studied the effects of tea on human health.
The research suggests that tea provides health benefits to virtually every organ and system in the human body, from the heart, brain, and bones to the total body with advantages that may even promote a healthy weight.
Tea is one of the most ancient beverages, but it's also one of the most researched.
Over the past several decades, thousands of published peer-reviewed studies have identified thousands of bioactive compounds in the Camellia sinensis plant's leaves.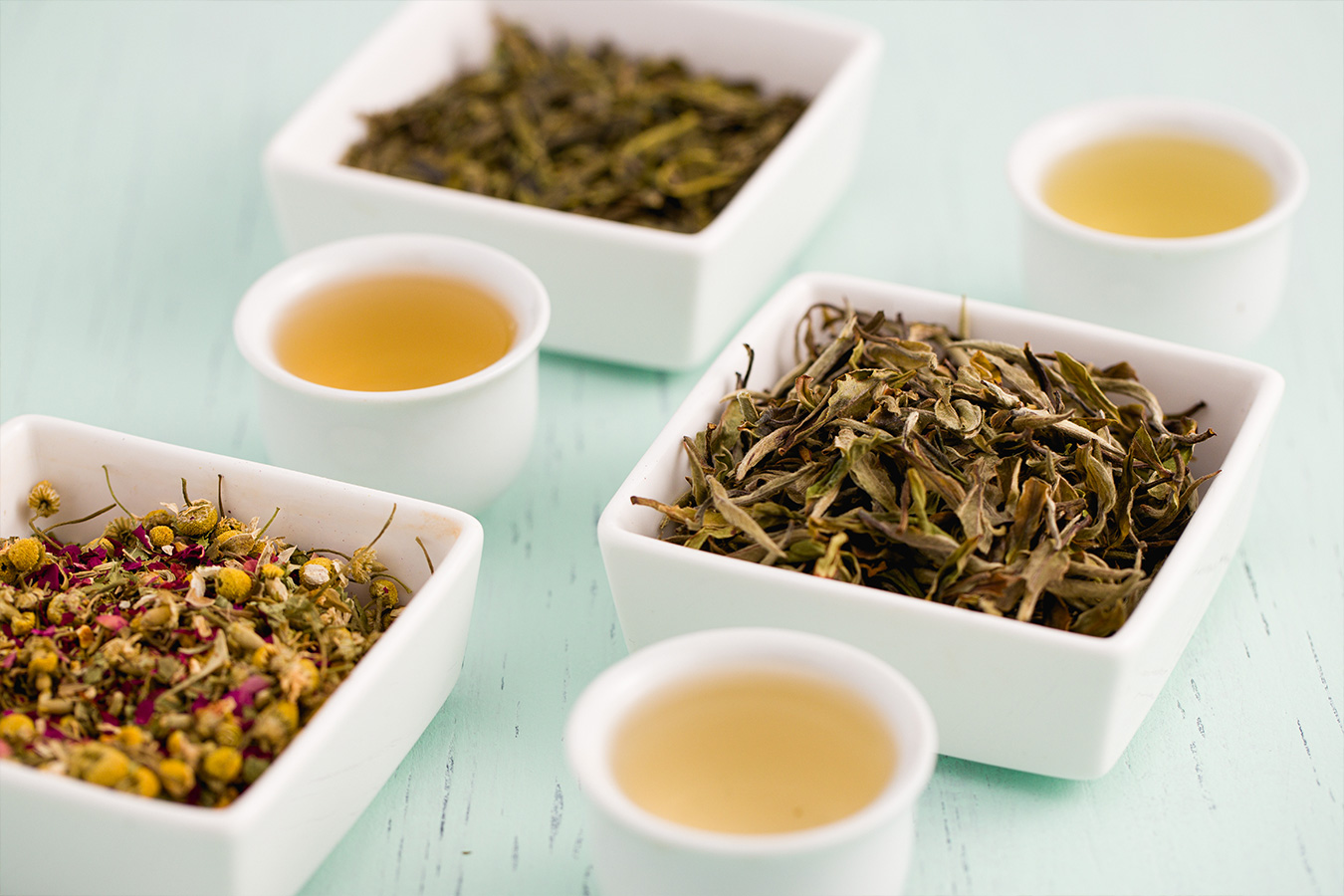 Studies reveal the specific ways tea compounds elicit health benefits and show how these diverse elements in tea work synergistically to promote health when consumed as a plant-based beverage.
The benefits of tea come from phenolic compounds, some of which act as antioxidants. By definition, an antioxidant inhibits the oxidation of molecules. Oxidation is a chemical reaction that can produce free radicals. Simply stated, free radicals can cause cell damage.
The major catechins in tea, namely epicatechins (EGCg) in green tea and the theaflavins and thearubinigins in black tea, create many bioactive molecules providing health benefits at the cellular level.
Taking a tea supplement instead of drinking tea does not provide the same benefit.
Hundreds of thousands of bioactive elements are in tea leaves. Together, they work synergistically to impact virtually every cell in the human body—from the heart, bones, brain, skin, and gastrointestinal tract.
Research suggests tea can help reduce the risk of the most common chronic diseases associated with aging, including heart disease, cancer, obesity, neurological decline, cognition, and osteoporosis.
Tea Consumption in The United States
160 million Americans are drinking tea on any given day.

85% of tea consumed in America is iced.

80% of households in the US have tea in their kitchen.

In 2011, Americans consumed over 65 billion servings of tea.
What are the Benefits of Drinking Tea?
Every day, new medical evidence from the international community lends credibility to tea's healthy properties. Tea tastes delicious and is easy to make, but it's also useful for smaller waistlines, sharper minds, stronger bones, and healthier hearts.
Another fantastic study by a 7th-grader's science project found cancer-fighting chemicals in green tea. The experiment proved the antioxidant EGCg might help fight cancer growth.
In another recent study published in the British Journal of Ophthalmology, scientists from Brown University in Providence, RI, and the University of California in Los Angeles discovered that the risk of glaucoma was lower in people who drank hot tea every day.
The study reports the reason for this is that "tea contains phytochemicals and flavonoids [types of active chemical compounds found in plants], which have anti-inflammatory, anticarcinogenic, antioxidant, and neuroprotective properties associated with the prevention of cardiovascular disease, cancer, and diabetes."
Scientific Research Supports The Role of Tea for Health
Only one cup of black tea per day may improve blood vessel function, lower blood pressure, and reduce stroke, heart attack, and other cardiovascular diseases by 10%.

Drinking tea may help mitigate the adverse effects of high-fat meals on blood vessel function.

Drinking several cups of green tea daily may help burn 100 calories a day.

Drinking green tea and weight-bearing exercises like Tai Chi or Yoga is an effective way to improve muscle strength, reduce inflammation, and improve bone mass, which may reduce the risk of osteoporosis and fractures, especially among older Americans.

Tea has anticancer properties: Men who drank more than 1.5 cups of green tea per day had a 70% lower colon cancer risk.

Just one cup of tea may boost one's ability to solve difficult language/mathematical problems.

Drinking two cups of black tea per day enhance work performance, reduce tiredness, and improve clarity and energy.

Black tea also helps to improve cognitive functioning, in particular, attention.
Tea Research by Numbers
Results of PubMed online research published within the past five years:
 5,649 studies on tea

 2,878 tea and health studies

 1,000 + studies on tea and cancer

 800 + tea and human health studies

 300 + black or green tea and weight

 100 + studies on tea and heart health

36 studies on tea and bone health

4 studies on tea and microbiome
Benefits of Tea
Drink tea every day.

 It has a positive impact on the human body at the cellular level.

Drink 2-4 cups per day.

 The quantity of cup size varies in each study from 5 to 8 ounces. So drinking several cups per day of any size is beneficial.

Drink brewed tea.

 

The most recent research suggests that consuming tea as it was intended—as a beverage—was the best way to help ensure tea would impart the most health benefits.

Drink tea throughout the day.

 The benefits of the bioactive compounds remain consistent in the system rather than in peaks and troughs.

Drink a variety of tea.

 Studies conducted on all teas from the Camellia sinensis plant have specific benefits - black, green, oolong, white, and Pu Erh. No research singles out one type of tea over another for overall benefits to human health.
Sources: Linus Pauling Institute, Fifth International Scientific Symposium on Tea and Human Health, Teausa.com
Daily Tea Recommendations
The Harvard School of Public Health recommends up to 28 ounces of tea per day in their Healthy Beverages Guidelines.
And, Dr. Weil recommends two to four cups of tea per day in his anti-inflammatory food pyramid. Dr. Weil also recommends one to two glasses of red wine daily. Thank you, Dr. Weil.
There are many benefits to drinking tea every day.
Do you drink tea every day?
---