Health benefits of tea abound because flavonoids are found in very high concentrations. As a result, tea has amazing health benefits.
Need a good reason to drink tea every day? Personally, I drink tea every day because I love it. The health benefits of tea are just a bonus. But most people in the United States prefer coffee over tea. So, for all you coffee drinkers out there, here are a few reasons to switch it up.
Thousands of scientific studies show that regular tea drinking can have significant health benefits. After all, it is plant-based food. Flavonoids, the same compounds found in fruits and vegetables, are the major bioactive compounds found in tea.
Some of the health benefits of  tea:
1. Drinking tea reduces stress
We've all heard the saying "keep calm and drink tea", but is tea really relaxing?
Black tea contains an amino acid called l-theanine, found only in tea and has some very interesting effects on the brain. L-theanine increases alpha brain waves inducing a calm and deeply relaxed state.
Because of alpha waves' connection with relaxed mental states, an increase in alpha wave activity is a desirable outcome.
Combined with the caffeine in tea, which is about half the amount found in coffee, the overall effect is relaxed and focused calm.
2. Tea aids in meditation
The calm focus obtained from drinking tea is beneficial in the practice of meditation. Buddhist monks traditionally drink tea before their meditation practice. It keeps them awake, calm and focused.
Tea creates relaxed alertness which aids in contemplation and meditation because of the high concentration of the amino acid L-theanine.
L-theanine relieves mental and physical stress and enhances cognition and awareness. This unique mix of chemicals in tea delivers wakefulness, awareness, and relaxation all at the same time.
3. Tea helps to maintain heart health
Antioxidants have proven health benefits for cardiovascular health. Studies have shown that tea may help support healthy blood flow and circulation by improving blood vessel function.
Research associates tea drinking with a reduced risk of high blood pressure, stroke, and hardening of the arteries (atherosclerosis).
4. Certain teas may reduce cholesterol
Lovastatin is a beneficial statin for reducing cholesterol and is naturally present in small amounts in Pu'er tea.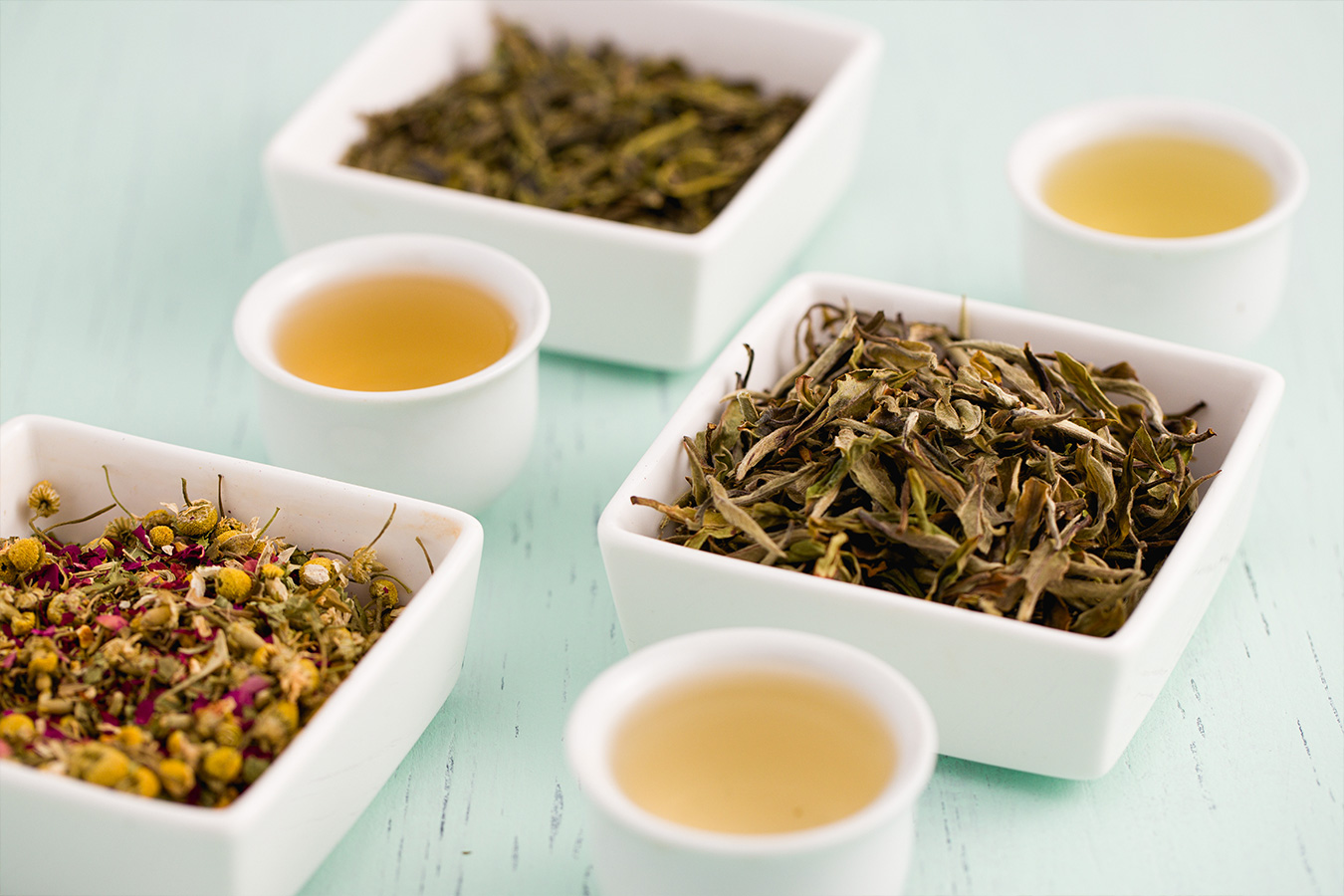 Pu'er is an aged tea from the town of Pu'er in the Yunnan Province of China.
The tea is processed and then pressed into cakes and aged for years. This aging process produces micro-enzymes, probiotic properties and a rich flavor profile that makes Pu'er so famous.
5. Green tea is known for cancer prevention
Studies suggest that tea may help reduce cancer risk in a variety of ways:
Boosting the immune system
Inhibition of uncontrolled cell growth
Reduction of free radicals
The majority of studies on tea and cancer have been done with green tea.
Green tea contains a compound called epigallocatechin gallate (EGCG). This compound is what scientists believe protects against various types of cancer.
Emerging research suggests black teas may provide similar benefits.
6. Tea helps with weight control
Tea flavonoids may help increase metabolism and fat oxidation and improve blood sugar control. It is the tea catechins, which are a type of flavonoid, that provide a modest shift in metabolism promoting weight loss and maintenance.
Green tea, in particular, is known for stimulating metabolism and burning calories.
7. Tea may improve oral health
Most people don't know that tea naturally contains fluoride, which is known for strengthening teeth. Tooth decay is inversely related to fluoride intake.
Tea polyphenols inhibit bacterial growth, further reducing tooth decay.
Oolongs are produced from a more mature leaf and contain higher levels of fluoride.
8. Tea could be beneficial to diabetes
Preliminary studies on the health benefits of tea suggest that people with Type 2 diabetes, non-insulin dependent diabetes, can benefit from the plant extracts found in tea.
The flavonoid, myricetin, which is in tea, is found to mimic insulin activity.
Insulin is a hormone in the body, released by the pancreas to regulate blood glucose levels.
9. Age gracefully with the health benefits of tea
Scientists believe our cells are genetically designed to deteriorate with age. Growing evidence suggests increases in antioxidants help reduce the cell damage that leads to disease.
Controlling cell damage and reducing the diseases of old age will improve the quality of life as you age.
We're still going to get old, there's no getting around it. But it's better to be old and healthy, so you can still do the things you love.
10. Tea helps to increase good intestinal bacteria
The intestines contain bacteria known as "normal flora" or healthy bacteria. This bacteria aids in the digestive process. Other microorganisms can secrete harmful bacteria in the intestines.
Drinking tea over a period of weeks have shown that the polyphenols in tea help to increase the beneficial Lacto-bacilli bacteria and Bifidobacteria, commonly referred to as probiotics.
The same polyphenols help to decrease the harmful Enterobacteriaceae bacteria in the intestines.
Some very serious Enterobacteriaceae, like e-Coli, can produce toxins that, when released into the bloodstream causing a systemic inflammatory and vasodilatory response. Not a good scenario.
Sources: Linus Pauling Institute, Fifth International Scientific Symposium on Tea and Human Health, Teausa.com
Cultivate your body and mind
It really doesn't matter which type of tea you drink - black, green, white, matcha, oolong or Pu-erh. As long as it's from the Camellia sinensis plant, studies are finding benefits from all of them.
The key is to select a quality tea and skip the tea bags full of dust and fannings, which are the remnants of processing whole leaf tea. High-end specialty teas are readily available now. Go out, experiment and find your favorite!
---
Tea for Beginners