Are you trying to quit coffee? Drink tea instead. By replacing coffee with tea, coffee drinkers get the best morning pick-me-up without the crazy caffeine jitters and subsequent crashes.
Tea for Coffee Drinkers
Many coffee drinkers become fatigued by the extreme caffeine highs followed by the inevitable crash. This gets tiresome, and eventually, quitting coffee becomes the only answer. Switching from coffee to tea is easy once you know where to start.
This review will help you find the best tea to replace coffee. Here's how to do it.
I finally quit my morning coffee routine after I had enough of the ups and downs of coffee and went back to drinking tea.
I've been a tea drinker my entire life. But I started drinking coffee in nursing school to help me power through the late-night studying and pre-dawn hours of morning clinical. After graduating, this pace continued as I worked 16-hour shifts in the intensive care unit.
Know Your Coffee Flavor Profile
If you're a coffee-lover, you can appreciate that different coffees produce different flavors. You could enjoy one type of coffee and not another. The same is true of tea.
Knowing your coffee taste profile will help you select a tea to your liking. For a better experience, I suggest you stay away from supermarket commodity tea bags and shop at the specialty tea market. The flavor profiles are in the description or tasting notes when you shop for better quality teas.
For example, if you're a coffee drinker who likes dark, chocolaty, earthy coffee but is trying to quit coffee, look for black teas such as Keemun, Ceylon, Assam, or Puerh. Even a heavily roasted oolong can give you the flavors you enjoy with that morning eye-opener you crave.
Realistically, you won't find a tea that tastes like coffee. However, fresh loose-leaf tea has more flavor than tea bags, so that's an excellent place to start when you're trying to quit coffee!
Strong Teas to Help You Quit Coffee
Try a tea latte if you like your coffee with milk, sugar, or a little froth. Most teas have a thinner mouthfeel than coffee, so a latte helps give tea that fullness coffee drinkers enjoy.
1. Tea with Coffee: Espresso Green Tea Latte
A Matcha espresso latte is a coffee-flavored tea. This is a great choice when you're not ready to go completely coffee-free. It's the best of both worlds. This is a blend of frothed milk, matcha green tea, and espresso. Kind of like a cappuccino but better. I guarantee this is the best green tea latte you've ever had.
Matcha green tea is a powdered Japanese green tea packed with health benefits.
2. London Fog (Earl Grey Latte)
A London Fog drink is made with earl grey tea, frothed or steamed milk, sugar, and vanilla extract. Sometimes you will see lavender added for a little extra flavor. At Starbucks, the London Fog drink is made with sweetened vanilla syrup. It's not always on the menu, but you can ask for it.
Since Earl Grey tea is the main ingredient in the London Fog tea latte, you can make a magnificent latte using the best Earl Grey tea. Earl Grey is a strong black tea flavored with bergamot. The secret to creating a fantastic London Fog tea latte is in the bergamot.
3. Chai Latte
Masala chai latte is a delicious and powerful blend of tea, herbs, and warming spices cherished for centuries in India.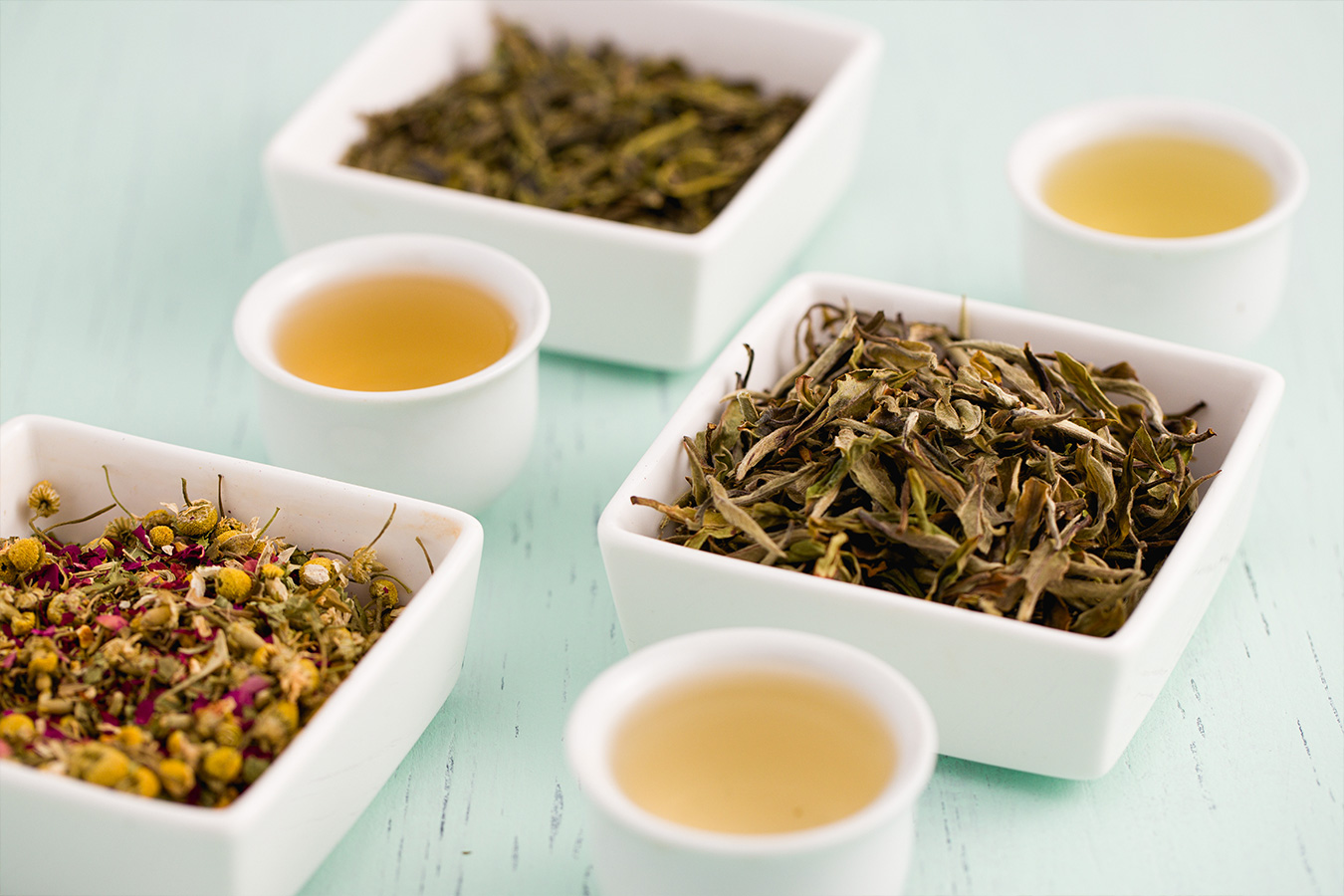 Chai spices are loaded with essential nutrition and without the extra calories. Nutmeg, cardamom, and ginger all have excellent health benefits, but as a bonus, chai also contains the single most antioxidant-packed substances on the planet—like cloves and cinnamon. Add the spice mix to a strong tea such as Assam tea, and you compound your antioxidants with a flavorful, delicious chai latte.
You can make a Chai latte from scratch quickly and easily with a homemade chai spice mix. A chai latte is perfect for cold winter days. You'll never go back to store-bought chai lattes with this authentic recipe! But if you don't know where to start, Starbucks sells chai lattes.
Oregon Chai originally introduced chai to America, and you can purchase their excellent chai concentrate in many stores. It's a beautiful and delicious convenience for making chai at home. I used it all the time before learning to make my chai from scratch.
4. Oolong
Oolong Tea is a semi-oxidized tea favored among many tea lovers. If you've never tried oolong, you will be amazed by the flavor. Lightly oxidized oolongs are shaped into small dark green pellets, while the more heavily oxidized oolongs get twisted into long dark wire-like leaves. They are in between green and black tea.
A dark roast oolong, or more heavily oxidized, gives a nice earthy flavor and often slightly sweet fruit flavors. Another heavily oxidized oolong, like oriental beauty, is one of my favorite oolongs. I love the aroma of the dried leaf. It has naturally sweet honey and a woody fragrance with a slight cocoa scent.
This tea has a robust taste and is super smooth. The layered cup is a delight. You may taste some summer fruits like peach and nectarine, with a soft sweetness of honey—one of the best morning teas to replace coffee.
5. Breakfast Tea Blends
Breakfast tea blends come in many versions, but the most popular is the English Breakfast Tea which usually features strong teas from Sri Lanka, Kenya and Assam. Irish Breakfast Tea uses Assam tea, providing a more robust tea.
English Breakfast Tea is a strong tea with a gentle dose of caffeine to get you going in the morning. It pairs well with the hearty cooked breakfast foods typical of an English breakfast. Buying the right blend can make all the difference.
English breakfast styles have a bold flavor and strong astringency. They are usually a blend of Indian teas such as Assam and Chinese teas such as Keemun. Breakfast teas are designed as strong tea brewed to stand up well to milk and sugar. They make an excellent morning brew.
Adagio tea sells a fantastic English Breakfast tea that I favor because they use Keemun in the blend.
6. Keemun
Qimen or Keemun is the most famous black tea from China. It is often used in blends for English Breakfast Tea. There are several varieties of Keemun tea that you may come across when buying premium Keemun black tea.
If you've never tried Keemun tea, you will never forget it once you do. Keemun has a distinct pleasant taste, unlike any black tea I've ever tasted. Keemun has a woodsy fragrance with a sweet maltiness that is unmistakable.
The dried tea leaves tend to be long and wiry thin with a classic copper liquor.
Chinese black tea is prized for its toasty, rich flavor and is often used in breakfast tea blends to create a smoky and slightly malty smooth tea. Try Adagio, or TeaVivre or Palais Des Thes for superb selections. Keemun is another tea that stands up well to milk and sugar.
7. Black Dragon
Black Dragon Pearl Tea is a rare tightly hand-rolled black tea from China's Yunnan province. Exquisite and naturally sweet, this is a strong tea that is simply divine with a touch of earthiness and a hint of cocoa.
Black Dragon is one of my favorite morning teas. This is the tea I used to replace my morning coffee when I quit coffee.
Although it is commonly sold as a rolled pearl, I have also had an excellent Black Dragon tea loose from Tea Runners. I've had outstanding quality Black Dragon Pearl from Adagio, Palais Des Thes, and TeaVivre.
8. Chestnut Flavored Black tea
Flavored teas such as Adagios chestnut flavored tea is popular with coffee drinkers. It's a roasty, full-bodied Ceylon tea flavored with chestnut. Adagio always makes fantastic nut-flavored teas, and this is no exception. It's so rich and hearty, with a slightly savory taste.
9. Lapsang Souchong
This is a strong black tea from the Fujian province of China, famous for its smoky aroma and a hint of pine flavor. This tea usually has a deep, rich liquor with a smooth taste—another excellent choice for coffee drinkers looking to quit. Again you can find some superb Lapsang Souchong from Adagio, The Tea Spot, and TeaVivre.
10. Genmaicha & Hojicha
Green teas toasted or pan-fried give a nutty flavor to the tea, mellowing out the grassiness. Green teas can be lovely, with nutty, fruity, vegetal, or herbal notes.
Hojicha and Genmaicha are examples of nutty flavor Japanese teas that may appeal to a coffee drinker. Genmaicha originated with the peasants who added roasted brown rice to bancha tea leaves to extend the tea infusion. The roasted rice gives the tea a rich nutty flavor.
Hojicha is a roasted Bancha or Sencha, and kukicha twig tea gives a savory nutty flavor. Hojicha typically has earthy and warm flavors.
Adagio Tea and The Tea Spot both have an excellent selection of these teas as the perfect replacement when quitting coffee.
11. Puerh
Puerh tea is a specially processed tea that allows microbial fermentation after the tea leaves are dried and rolled. It is a highly fermented tea that can be aged for decades and comes in loose or brick form. Puerh is a deep, dark, earthy, and woodsy tea. Sometimes it can be fruity but not bitter.
Puerh comes in two forms, "ripe" or "raw," depending on how it's aged. Usually, a beginner will appreciate a "ripe" Puerh tea more. Puerh is exclusive to the Yunnan Province in China. Try tea shops like TeaVivre that specialize in Chinese teas.
Benefits of Quitting Coffee
There are many benefits to quitting coffee and drinking tea instead. The caffeine in coffee vs. tea is one main benefit.
The exact amount of caffeine in a cup of tea varies depending on the type of tea brewed and the amount of infusion time. A cup of black tea, for example, contains about 40 milligrams of caffeine, which is almost half the amount of caffeine as a cup of coffee.
Tea also contains an amino acid called l-theanine, found only in tea and has interesting effects on the brain. L-theanine increases alpha brain waves inducing a calm and deeply relaxed state.
The l-theanine counterbalances the caffeine in tea, resulting in an overall effect of relaxation and a focused calm. This gives you a much smoother caffeine experience without all the caffeine jitters commonly associated with coffee.
An increase in alpha wave activity is desirable because of alpha waves' connection with relaxed mental states. Many people drink tea to relax, concentrate on tasks or meditate.
Realize Drinking Tea is Different
People drink coffee to get moving. They drink tea to get focused. It's a very different experience when you start your day with calmness.
I suggest you purchase some sampler packs from your chosen tea vendor and see what you like. You want a tea that tastes good, not a tea that tastes like coffee. You will eventually find your favorite coffee replacement tea.
Once you've transitioned from coffee to tea, I hope waking up in the morning will feel different somehow, in a good way. ♡
---
Tea for Beginners Start Here >>