Have you ever wondered why tea drinkers always seem so calm? Only found in tea, l-theanine may be the best-kept secret behind tea drinkers' happiness.
Can a cup of tea make you happy?
Two ingredients in tea have an extraordinarily calming effect on the brain, reducing anxiety.
WHAT IS L-THEANINE?
A cup of tea can lift mood, improve focus, reduce anxiety, and perhaps ward off dementia. That's because tea contains a unique combination of caffeine and a non-protein amino acid called l-theanine. Theanine has a very calming effect on the brain.
I'm referring to the Camellia sinensis plant's black, green, white, and oolong tea. This tea differs from herbal tea, an infusion made from any other plant called tisanes.
Of all the thousands of plants to choose from, why is this one tea plant the most popular beverage in the world?
It's not the caffeine. The coffee plant has more caffeine, but more people drink tea worldwide than coffee.
Why do we drink millions of cups of tea a day?
THEANINE IN TEA
It turns out there's something in the tea plant only found in two natural places, tea and a rare mushroom called the bay bolete. Scientists identified this rare and unique amino acid as l-theanine.
What does l-theanine do that has millions of people drinking tea?
Researchers sought to answer this very question. The Brain and Cognition Laboratory at Oxford University in the UK studied l-theanine ability to induce a relaxed, alert mental state.
Participants were connected to an electroencephalogram (EEG) to measure their brain wave activity—specifically their alpha wave production. Human beings have four mental states as measured on an EEG.
Two sleeping states:
Delta waves are when the entire electrical brain activity cycles slowly at about a wave per second and occurs during deep sleep.
Theta waves occur during dream sleep and deep relaxation and cycle at about five waves per second.
And two waking states:
Alpha waves are present in a relaxed, aware, and attentive state. Similar to a meditative state.
Beta waves dominate during the stimulated hustle and bustle state, where we spend most of our waking lives.
But the alpha state is where you want to be - fully alert and calm.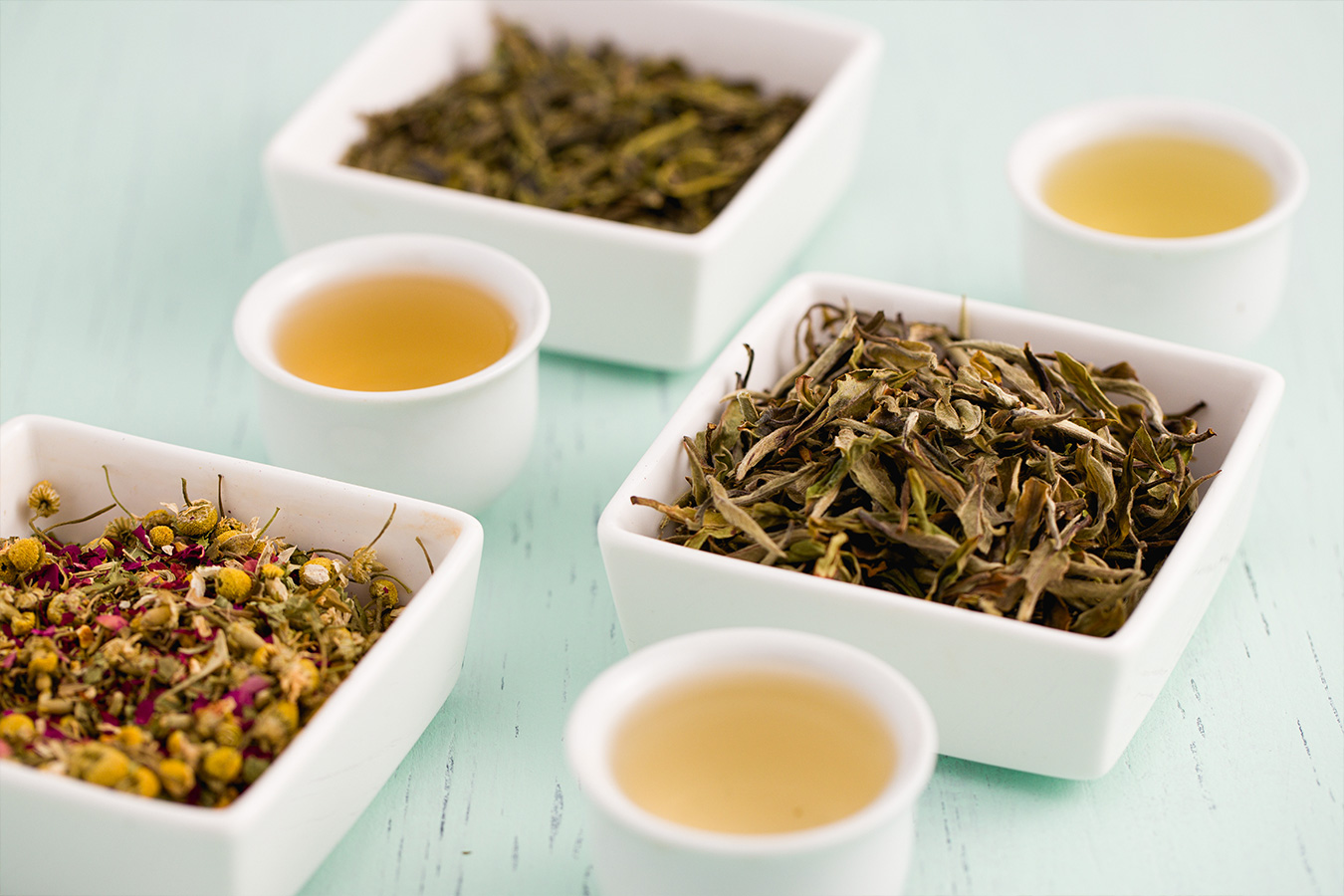 How do you get there?
If you relax in a lovely peaceful place, after about 90 minutes, you can see a significant increase in alpha brain waves. Think of a quiet afternoon at your favorite beach or a nice long nature walk at sunrise.
Meditating Buddhist monks can achieve this state sooner and maintain it with open eyes. So you can meditate daily for a few years or drink some tea.
RELATED:
YOUR BRAIN ON TEA
The Oxford study participants rested with their eyes closed during EEG recordings of their alpha brain wave activity.
The amount of theanine that enters your brain, crossing the blood-brain barrier after drinking two cups of tea, is about 50 mg. Look at the effects of l-theanine after drinking the equivalent of two cups of tea.
The orange area is the presence of alpha wave activity. See the difference?
Source: L-theanine, a natural constituent in tea, and its effect on mental state.
TEA FOR ANXIETY DISORDER
This increase in alpha activity supports theanine's role in achieving a relaxed mental state by directly influencing the central nervous system.
Combining theanine with caffeine makes tea a unique beverage that promotes mental focus, increases energy, and reduces anxiety and stress.
Clinical trials have shown that theanine reduces anxiety and induces calm because it increases the neurotransmitters that balance our moods and controls serotonin and dopamine, making us feel good.
HEALTH BENEFITS OF L-THEANINE IN TEA
Scientific evidence in studies suggests that drinking tea provides many l-theanine benefits:
MATCHA GREEN TEA HAS HIGHER L-THEANINE
Certain teas have higher amounts of theanine than others. Green teas are grown in the shade for three weeks before harvest and have some of the highest theanine levels.
The shading increases the plants' chlorophyll levels and increases the production of L-theanine at the same time.
Shade-grown green teas include matcha, gyokuro, and tencha.
According to scientific studies, there are many benefits to green tea consumption:
HOW MUCH L-THEANINE IS IN A CUP OF TEA?
Brewing time is a significant factor in the amount of theanine extracted. Also, the type of tea leaves used may provide different amounts of l-theanine and caffeine content. The addition of small amounts of milk and sugar makes no significant difference. source
Theanine in Black tea: A standard 6-ounce cup of black tea contains 24.2 milligrams of l-theanine. source
Theanine in Green tea: A cup of green tea contains the least 7.9 milligrams of l-theanine. source
Theanine in Shade-grown green tea: Matcha and Gyokuro may have as much as 46 milligrams of l-theanine per cup. source
THEANINE DIETARY SUPPLEMENTS
You can also purchase a natural l-theanine supplement if you're feeling stressed. Sometimes a cup or two of tea isn't enough when experiencing sudden high anxiety levels.
My favorite supplement form for that type of situation is called Suntheanine. Most health food stores carry it or purchase it on Amazon.
Suntheanine contains 100 mg and is a chewable tablet for a little extra mental relaxation in a non-drowsy form. It works well for anxiety attacks, stress relief, and overactive minds. Higher doses of l-theanine have sedative effects, and some sleep medications add l-theanine for a more restful sleep.
L-THEANINE HIGH
Drinking green tea may help reduce anxiety due to the calming effects of l-theanine on the brain. You may have heard some tea drinkers call the extreme calm experienced from drinking tea with high l-theanine concentrations as tea drunkenness or a theanine high.
Reaching that super calm alpha state of mind is what they're describing. It doesn't matter if you drink green tea for anxiety or happiness; the positive effects are many. There are many reasons to drink tea as part of a healthy diet.
No wonder tea has been used as a restorative beverage in traditional Chinese medicine for thousands of years.
---
New to Tea? Start Here >>