Drink green tea every day for the most benefits. Green tea is full of health-promoting polyphenols, and three to five cups of green tea every day provides the most health benefits. Discover the best Chinese and Japanese green teas and how to prepare them.
Green tea, especially matcha green tea, is a healthy beverage. If you are looking for a simple and more healthful diet, green tea is the perfect answer as part of a plant-based diet.
Tea is a vegetable infusion, and learning to leverage plant power through plant-based diets is vital to a healthy lifestyle. The tea plant wins the gold when harnessing the nutritional power of functional botanicals.
Green Tea Benefits
The benefits of drinking green tea resides in its plethora of catechins. Catechins are potent antioxidants that support cellular health, especially when exposed to environmental toxins and other invasive threats.
A study published in the Journal of Food Science in February 2018 showed the harmful effects of a high-fat diet on your intestinal (gut) flora can be negated by the polyphenols in green tea.
The same study suggests obesity and metabolic disorder associated with high-fat diets may be helped by green tea.
In 2014 an analysis of 13 studies indicated that green tea consumption significantly lowers blood pressure. Source.
Studies show drinking 6 cups of green tea per day leverages the antiviral effects of catechins in green tea on the influenza virus by increasing the immune system response of T cell production. Source, Source.
Quercetin is a powerful antioxidant with antiviral properties found abundantly in fruits and vegetables, including black and green tea. Source.
EGCg (epigallocatechin-3-gallate) is a key phytochemical in green tea with anti-inlammatory, anti-allergic and anti-proliferative activities shown to prevent carcinogenesis. Source.
This doesn't mean you should go out and binge on junk food and then have a cup of green tea. It just means there's more proof that plant-based foods do help. So it might just be a good idea to learn how to drink green tea every day.
How Much Green Tea Should You Drink a Day?
Studies show that three to five cups of green tea every day provides the most health benefits. Many studies show the polyphenols in green tea may help you lose weight and reduce your risk of several diseases, including diabetes, heart disease, and cancer.
What Is Green Tea?
Green tea is made from the leaves of the Camellia sinensis plant. The Camellia sinensis plant produces white, yellow, oolong, black, and Puerh teas.
There are six main categories of tea. How the tea leaves are processed determines the type of tea they will become.
China and Japan produce the most green tea with over 1,500 varieties. The complexity and uniqueness of green tea are as boundless as the tea producers themselves, making the choices of green tea quite plentiful.
China is the historical birthplace of tea and is famed for its green teas. Although China produces excellent black tea, 70% of its tea production is green tea.
There are so many tea artisans making green tea in these countries that it becomes challenging to describe green tea in any one way. The best way to learn about green tea is to drink it. Because truthfully, tea is a culinary art. It helps if you taste it to appreciate it.
Black tea is usually preferred in western countries, but as green tea becomes more popular, so do the opportunities for trying different types. The quest to drink green tea every day becomes more accessible and effortless.
If you think you don't like green tea, try a different variety. If you are new to green tea, read on for some recommendations to get you started.
How is Green Tea Made?
Once the tea leaves are harvested, the fresh leaves are spread out to air-dry, known as withering. This withering reduces the moisture content of the leaf and prevents oxidation.
Green tea is not oxidized. Green tea leaves are harvested, withered, and then heated to "fix" the leaf. The heat prevents oxidation by deactivating the enzymes in the leaf that produce oxidization.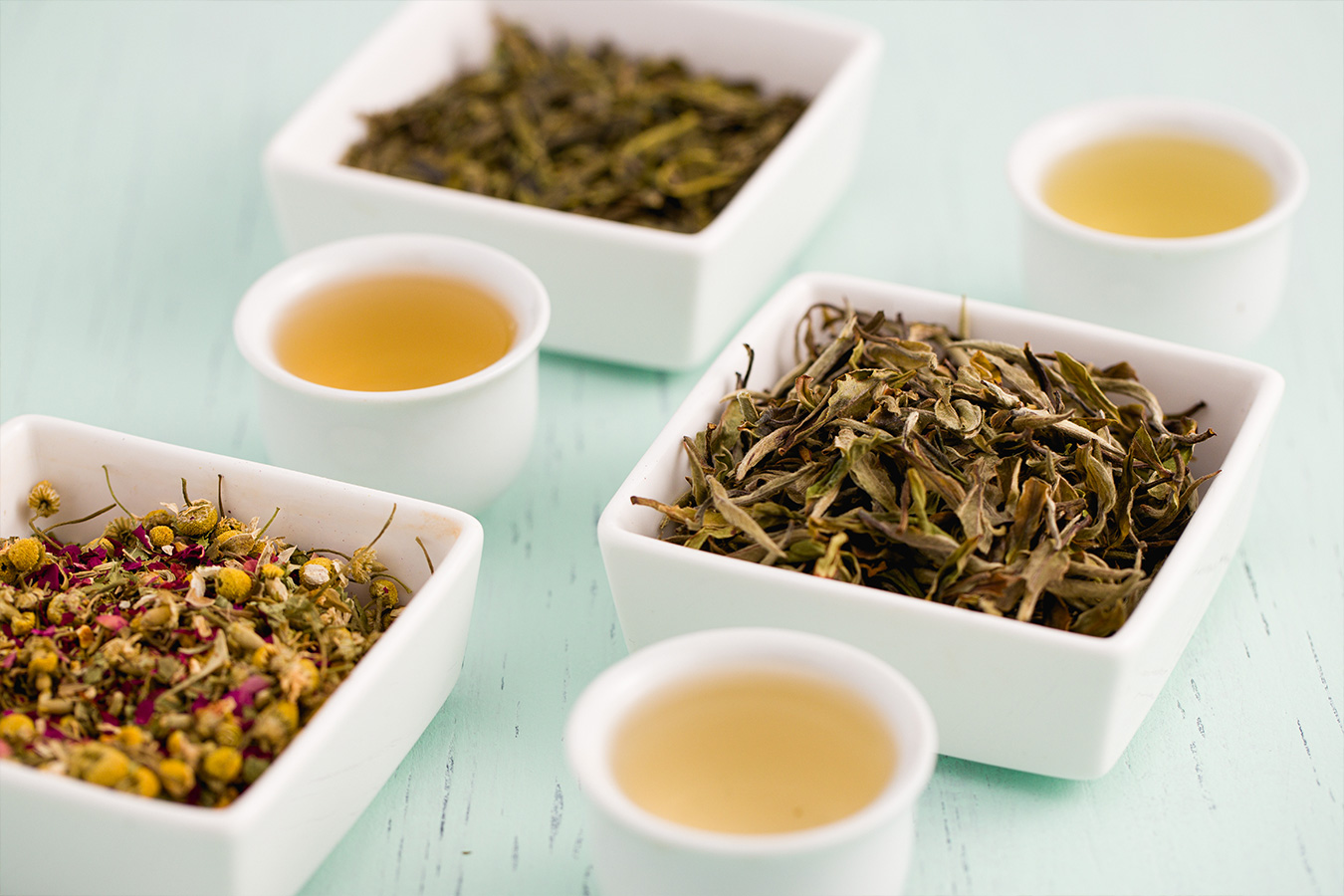 The primary types of heat used in the manufacture of green tea vary. Artisanal methods include pan-firing or charcoal firing the sun-dried leaf. Modern methods heat the leaves by either tumbling or steaming the oven-dried leaf.
Gunpowder green tea is one of the oldest manufactured green teas processed by tumble-drying.
Steamed green tea is most prevalent in Japanese-style green teas, where the leaf is mechanically harvested instead of plucked by hand.
How Does Green Tea Get Its Different Flavors?
Since all tea comes from the same plant, you may wonder how they all taste so different. The different flavors come from several factors.
It starts with the type of heat applied in processing to how the leaf is rolled. One of the most significant factors is where the tea is grown, known as terroir. The soil and its mineral content are key factors affecting the flavor.
What Are The Best Green Teas?
The best green teas are from China and Japan. Although other countries traditionally known for making black tea are also beginning to produce green teas, listed here are the most famous.
Following is a list of the seven most famous Chinese green teas and the seven most famous Japanese green teas.
7 Famous Chinese Green Teas:
Dragon Well or Long Jing - One of China's best known of all China green teas. It is praised for its jade color, vegetative aroma, mellow chestnut-like flavor, and singular shape.
Green Snail Spring or Bi Luo Chun - Also known as Pi Lo Chun, meaning "Green Spring Spiral" from the Jiangsu province. A delicate leaf to brew the leaf is added to the glass rather than pouring hot water over the leaves.
Gunpowder or Zhu Cha - Chinese gunpowder green tea is an even rolled, pellet-shaped leaf with a smooth, nutty flavor. It is the most common tea used to make the famous Moroccan Mint Tea.
Jasmine Pearl - One of the finest quality China Jasmines. High-quality green tea is scented with fresh Jasmine.
Fur Tip or Xin Yang Mao Jian - From Henan province. Seldom available outside of China although it is considered one of their most famous teas. Slender tightly rolled leaf.
Mountain Cloud Mist or Lu Shan Yun Wu - From Jiangxi province. Lu Shan Cloud Mist Green Tea is a legendary tea throughout China. The taste of the tea is sweet.
White Monkey or Bai Mao Hou - Grows along the slopes of the Taimu mountains in the Fujian province of China. The tea appears intricately woven with beautiful white tips looking like white-haired monkeys. Warm colored liquor with a fresh, almost wildflower sweet scent.
7 Famous Japanese Green Teas:
Hojicha - Roasted Bancha or Sencha with a savory nutty flavor.
Genmaicha - Literally, "Brown Rice Tea". Medium grade Sencha combined with well roasted and popped brown rice. The rice adds a nutty taste.
Gyokuro - Literally, "Pearl Dew". Japan's best and one of the world's costliest teas. The tea bushes are shaded for the first three weeks in May providing an intense and complex taste.
Kukicha - Literally "Stalk Tea". Consists of stems and stalks blended with Sencha or Gyokuro providing a clean taste and light fragrance.
Matcha - Powdered tea stone ground from the tea leaf after stems and veins are removed. Matcha completely dissolves in water so you are drinking the entire leaf. The tea shrubs are shaded for three weeks prior to harvesting increasing the chlorophyll which increases the sweetness. There are three grades of matcha, ceremonial, premium, and cooking.
Sencha - Japan's most popular tea refers to the first pickings of the tea bush in the spring. Delicately sweet to mildly astringent.
Tencha - The pre-cursor to matcha made once a year and saved under refrigeration until powdered into matcha.
How To Drink Green Tea Tips
I recommend buying from a local specialty tea store to taste the tea first when you start. If you do not have that opportunity, I recommend these 10 Best Online Tea Shops.
Adagio Tea and The Tea Spot have a nice variety of the teas I mentioned. They also have green tea samplers with various green teas in them so you can try them out. Perfect for tasting and deciding what you like and how you like to brew it.
Buy as fresh as possible. Green tea has a short shelf life.
Read the country and region of origin.
Always buy Chinese teas from Chinese origins and Japanese teas from Japanese origins.
Do not over-steep – use short steep times as recommended.
Use below boiling point water between 165 - 190° F (74 - 88° C) depending on the tea.
Always use quality freshly drawn water. Filtered is best.
Steep loose in a teapot, Gawain or teacup with or without an infuser.
Most green teas can infuse for multiple infusions.
When learning how to drink green tea, people's biggest mistake is using too hot water and steeping too long.
Does Green Tea Have Caffeine?
Green tea has approximately 35 - 70 mg of caffeine per 8 ounces cup. The amount of caffeine varies depending on the steeping time and the amount of tea leaves used per cup.
Small changes can produce big results - but the areas of highest leverage are often the least obvious.

Peter Senge
Tea contains zero calories. And when you look at all of the studies showing that drinking green tea every day may increase bone strength or decrease blood pressure across an entire population, these small changes make a big difference. It's the effect of an accumulative advantage over time.
When repeated over and over, small habits, like drinking green tea every day, can result in significant health gains.
---
Tea for Beginners Start Here >>