The best green tea does not have a bitter taste. Shocking, I know! My guide shows you how to start drinking better green tea today from a selection of my favorites at an affordable price.
Beginner tea drinkers mistakenly make green tea the same as black tea. Bitter and tasteless tea will often result. Low-quality tea leaves, incorrect brewing temperatures, and steeping for too long all contribute to a poor cup of tea.
But experienced tea lovers know better. Once you learn how to select and brew higher-quality loose-leaf tea, it will transform your tea-drinking experience. You don't have to settle for a bad cup of tea.
BEST GREEN TEA
When deciding which tea is best, consider the types of food you enjoy. Japanese green teas tend to be more vegetal than Chinese green teas. You also want to look for the best tea. Generally, you won't find the best quality in tea bags. It's usually the lowest-grade tea with the least flavor.
WHAT IS GREEN TEA?
There are six categories of teas. Green tea is a category of tea, much like white wine is a category of wine. Just as there are many different types of white wine, there are many types of green teas.
All green tea comes from the same Camellia sinensis plant as black, oolong, white, and Puerh. There are two primary varieties of the tea plant Camellia sinensis and Camellia asamica, with thousands of cultivars or subvarieties. How the tea leaves are processed determines the type of tea they will become.
Not all green tea tastes the same. The difference is in the way it's processed after it's picked, the terroir it's grown in, and the time of year it's picked. The first flush or new-growth tea harvested early in the growing season tends to be sweeter.
China and Japan produce some of the best green teas, with over 1,500 varieties. The complexity and uniqueness are as boundless as the tea producers, making the choices quite plentiful.
China is the historical birthplace of tea and is famed for its green teas. Although China produces excellent black tea, 70% of its production is green tea.
Many artisans are making green tea in these countries. The best way to learn about green tea is to drink it. Because truthfully, tea is a culinary art. It helps if you taste it to appreciate it.
HOW IS GREEN TEA MADE?
Once the tea leaves are harvested, they are withered to reduce the moisture content. Green teas do not go through the oxidation process.
Oxidation occurs when the enzymes in the tea leaves react with oxygen, and the leaves begin to turn brown. Similar to when a cut apple is left out. Halting oxidation is done by oven-roasting, pan-frying, or steaming the leaves. Heat fixes the flavors.
The heat prevents oxidation by deactivating the enzymes in the leaf that produce oxidization. The primary types of heat used in manufacturing vary. Artisanal methods include pan-firing or charcoal firing the sun-dried leaf. Modern methods heat the leaves by either tumbling or steaming the oven-dried leaf.
Gunpowder is one of the oldest manufactured green teas processed by tumble-drying. Steamed green tea is most prevalent in the Japanese style, where the leaf is mechanically harvested instead of plucked by hand.
HOW DOES GREEN TEA GET ITS DIFFERENT FLAVORS?
Since all tea comes from the same plant, you may wonder how they taste so different. The different flavors come from several factors.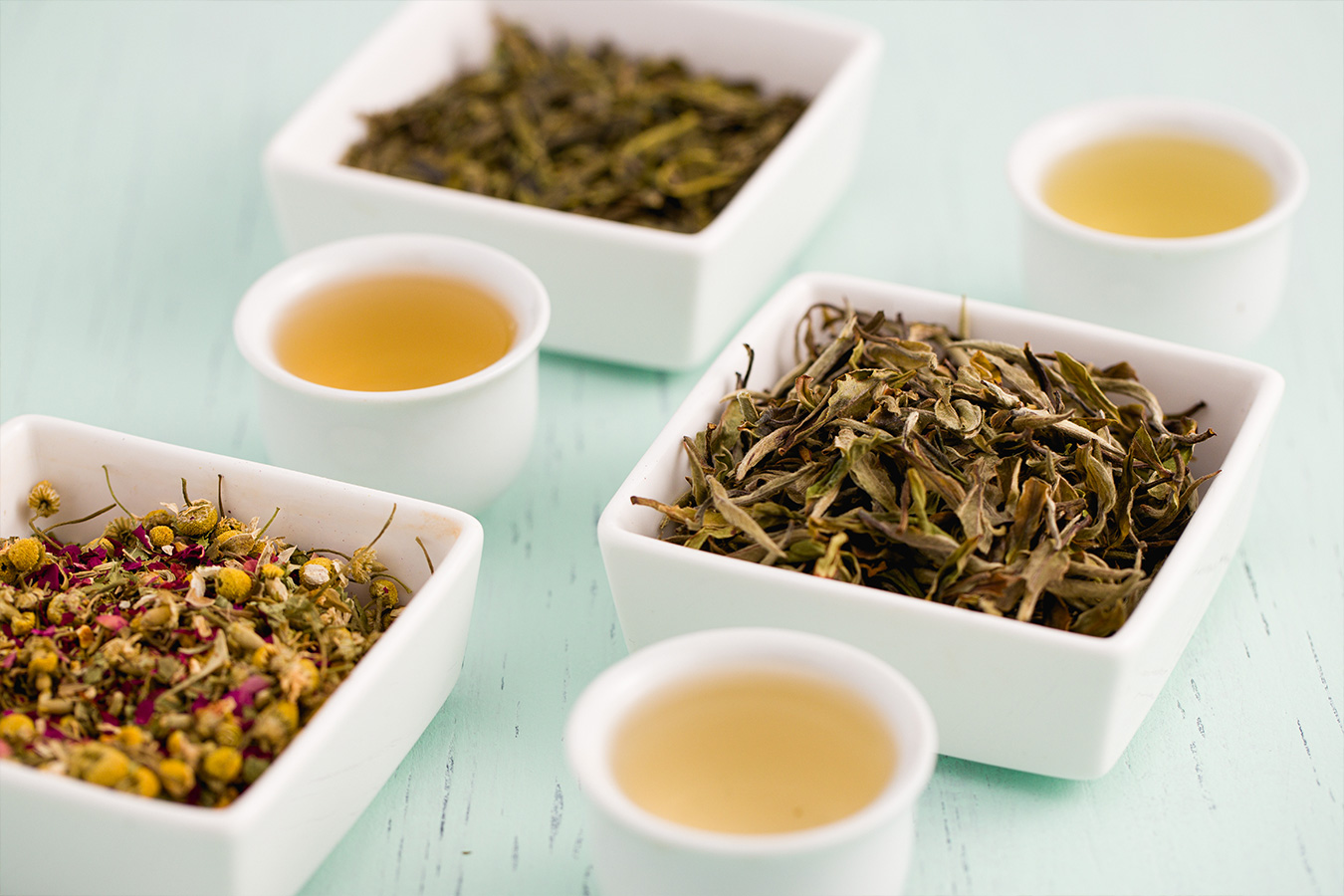 It starts with the type of heat applied in processing to how the leaf is rolled. One of the most significant factors is where the tea is grown, known as terroir. The soil and mineral contents are key factors affecting the flavor and the specific cultivar.
GREEN TEA LEAVES
Most Japanese tea leaves are steamed, producing a fresh, herbal, grassy flavor. Chinese green teas are usually roasted or pan-fried, creating a creamy, nutty, or melon-sweet flavor. Sometimes you may get a seaweed or pine scent.
WHICH GREEN TEA IS BEST?
The best green teas are from China and Japan. However, other countries traditionally known for making black tea are also beginning to produce green teas.
5 FAMOUS CHINESE GREEN TEAS:
China is the birthplace of tea and produces thousands of tea types. Typically small villages produce tea and sell it to local co-ops for processing. Chinese teas do not follow a standard protocol for naming their teas. This naming often gives way to romantic-sounding names, which confuse the consumer.
Dragonwell or Long Jing - One of China's best-known. It is praised for its jade color, vegetative aroma, mellow chestnut-like flavor, and distinct shape.
Gunpowder or Zhu Cha - Chinese gunpowder is an even rolled, pellet-shaped leaf with a smooth, nutty flavor. It is the most common tea used to make the famous Moroccan Mint Tea.
Jasmine Pearl - One of the finest quality China Jasmines. High-quality green tea is scented with fresh Jasmine.
Cloud & Mist or Yun Wu - From Jiangxi province. Cloud Mist is legendary throughout China. The taste of the tea is light and fruity.
White Monkey or Bai Mao Hou - Grows along the slopes of the Taimu mountains in the Fujian province of China. The tea appears intricately woven with beautiful white tips looking like white-haired monkeys —warm-colored liquor with a fresh, almost wildflower-sweet scent.
DRAGONWELL (LONG JING)
Long Jing is one of China's best and most well-known teas. Dragonwell is a roasted tea with a sweet and lightly toasted flavor of walnuts. The delicate, nutty tea is well worth seeking out. It is the type of tea you can drink all day long—one of my favorites.
There's no mistaking the buttery yellow liquor of this tea. Dragonwell (Long Jing) Chinese green tea with its flat spear-like leaves reveals two leaves when brewed. It tastes a little like toasted nuts with some vegetal notes.
If you think you don't like green tea, you haven't tried Dragonwell!
GUNPOWDER GREEN TEA
Gunpowder, or "pearl tea," is a Chinese green tea. Gunpowder refers to high-quality tea leaves rolled into small pellets resembling gunpowder. The pellets unfurl when added to water. The smaller the pellets, the costlier the tea. The highest grade is called "extra fine Pinhead Gunpowder."
A high-quality Chinese Gunpowder tea makes a refreshing yellow-green brew with a brisk taste. A Formosan Gunpowder green tea from Taiwan tends to be sweeter. Gunpowder green tea is the green tea used to make Moroccan mint tea.
JASMINE GREEN TEA
Jasmine tea is a scented (not flavored) tea. The tea leaves are placed near jasmine flowers for a short time while their aromatic oils gently penetrate the tea leaves. If you come across a Jasmine green tea that tastes very perfumey, it's been flavored, not scented, and is likely poorer quality.
Two popular types of jasmine green teas:
Yin Hao Jasmine is the classic Chinese jasmine green tea. 
Jasmine Pearls are tightly rolled little tea balls delicately laced with a jasmine scent.
In China, green tea for jasmine tea is harvested in the spring and held until August. When the jasmine flowers bloom, the flowers get layered in and around the tea. The scenting flower petals are removed from the final product.
Related:
5 FAMOUS JAPANESE GREEN TEAS:
There are four main kinds of Japanese green tea, classified according to the leaf, its age, and the method used for processing.
Matcha - Powdered tea stone ground from the tea leaf after removing stems and veins. Matcha completely dissolves in water, so you are drinking the entire leaf. The tea shrubs are shaded for three weeks before harvesting, increasing the chlorophyll, which increases the sweetness. There are three grades of matcha, ceremonial, premium, and cooking.
Gyokuro - Literally, "Pearl Dew" is Japan's best and one of the world's costliest teas. The tea bushes are shaded for the first three weeks in May, providing an intense and complex taste.
Sencha - Japan's most famous tea refers to the first pickings of the tea bush in the spring. Delicately sweet to mildly astringent.
Genmaicha - Literally, "Brown Rice Tea." Medium-grade Sencha combined with well-roasted and popped brown rice. The rice adds a nutty taste.
Hojicha - Roasted Bancha or Sencha with a savory nutty flavor.
MATCHA POWDER
Matcha is a powder made from ground Tencha. Tencha is the precursor to matcha and is made once a year and saved under refrigeration until powdered into matcha.
Tencha leaf is a shade-grown tea specifically for matcha. It is deveined and ground in slow-turning stone mills turning it into delicate tea powder.
Matcha is dissolved in hot water and whipped with a bamboo whisk into a froth. The practice of making whipped teas from powdered tea leaves originated during the Sung Dynasty and was later adopted by the Japanese. The frothing created by the whipping enhances the taste.
Today the best matcha comes from Japan. The Japanese tea ceremony uses high-grade matcha called ceremonial grade matcha.
Matcha means liquid jade in Japanese. Good matcha is smooth and sweet without bitterness. Matcha is a very nourishing drink high in Vitamin C and antioxidants.
GYOKURO
Gyokuro is Japanese for gem of dewdrop, this is a high-quality tea. It's costly and only served as a treat. Just when the spring buds are beginning to open, the tea bushes are shaded from the sun for three weeks. The shading increases chlorophyll, making the leaf a darker green.
Only the buds of the first flush are picked at harvest time - no leaves. Then they are carefully rolled by hand. Processed Gyokuro looks like fine pine needles, sharply pointed and flat. The resulting brew has a smooth sweet taste with a beautiful emerald-green color. Shading increases theanine levels giving it a brothy character (umami), making the tea less bitter, and giving it a mellow taste.
The unrolled leaves used to produce Gyokuro are air-dried and left unrolled, creating Tencha. The Tencha is then ground into fine powder to make matcha.
SENCHA
Sencha is the most popular tea in Japan and can vary significantly in price and quality. The Japanese use high-quality sencha only on special occasions, with average quality used daily. The top two tea leaves and bud are picked as soon as they are mature, then steamed and rolled until they resemble long needles. The resulting brew is light green with a mixture of bittersweetness and a scent that is fresh and "green."
Japanese Sencha varies from average to excellent. High-quality Sencha is labeled Ichiban cha, or number one tea, indicating the tea is from the first flush of the growing season. Ichiban Cha Sencha makes a smoother, sweeter, and less astringent brew.
Bancha is the lowest grade of Sencha. Hojicha is made from roasted Bancha leaves, resulting in a toasted, earthy aroma and a light golden-colored brew. Sencha
GENMAICHA
Genmaicha is a Japanese green tea that mixes Bancha leaves and fire-roasted rice. This light brown brew has a savory, grainy, slightly salty taste and is not only thirst-quenching but filling. The rice kernels sometimes pop open during roasting, giving Genmaicha the nickname popcorn tea.
The hearty flavors of Genmaicha make it a suitable alternative to coffee. I often recommend this to someone trying to switch from coffee to tea. Genmaicha is such a simple tea, but for some reason, it's one of my favorite rainy afternoon teas. The scent is a little reminiscent of Rice Krispies cereal.
HOW TO DRINK GREEN TEA
I recommend buying from a local specialty tea store to taste the tea when you start. If you do not have that opportunity, try these 15 Best Online Tea Shops.
Adagio Tea and The Tea Spot have a nice variety of quality teas, including those I mentioned here, and are affordable. They also have samplers with various green teas so that you can try them out. It is perfect for tasting and deciding what you like and how to brew it.
Pro Tips:
Buy as fresh as possible. Green tea has a short shelf life.
Read the country and region of origin.
Always buy Chinese teas of Chinese origins and Japanese teas of Japanese origins.
Do not over-steep – use short steep times as recommended.
Use below boiling point water between 165 - 190° F (74 - 88° C) depending on the tea.
Always use quality, freshly drawn water. Filtered is best.
Steep loose in a teapot, Gawain, or teacup with or without an infuser.
HOW TO MAKE GREEN TEA THAT TASTES GOOD
Brewing the perfect cup takes a little bit of knowledge. Following simple guidelines, you can make a delicious cup of tea every time!
Water: It's best to use filtered water, either municipal tap or bottled.
Measurement: For a 6-8 ounce cup, use one teaspoon or 2-3 grams. Sometimes it's best to weigh the tea when using larger tea leaves because a teaspoon won't equal 2-3 grams.
Temperature: Water that has barely reached a boil and cooled for a couple of minutes is ideal for green teas. Try to use 160 - 185ºF (71 - 85ºC).
Steeping Time: Timing is essential. Using a kitchen timer or the timer on your phone works excellently—steep for 1.5 to 3 minutes. You can vary this to your taste preference.
Brewing: Place the tea leaves freely in the cup or teapot before adding the hot water. Pour the water over the leaves and make sure there is enough room for the leaves to unfurl and infuse their flavor. Avoid "tea balls" and the like. Large stainless steel infusers work well, also.
No matter how high or low the quality of the tea leaves, a cup of tea can be significantly enhanced or ruined in the brewing process. Green tea is sensitive to water temperature and steeping time. No pressure here!
Pro Tips:
Allow the tea leaves to expand fully. This unfurling is called "the agony of the leaves" and is a crucial part of the brewing process.
Green tea has a shorter shelf life than black tea. The average freshness is one year when stored properly—store in a sealed, airtight container away from light and moisture.
High-quality green tea doesn't need milk or sugar.
DOES GREEN TEA HAVE CAFFEINE?
Green tea does not have as much caffeine as coffee, with approximately 35 - 70 mg of caffeine per 8-ounce cup. The amount of caffeine varies depending on the steeping time and the quantity of tea leaves used per cup. It's a myth that green tea has less caffeine -it also depends on the type of green tea. Shade-grown tea, such as matcha and gyokuro, have higher caffeine levels.
Tea contains zero calories and is full of antioxidants that counteract free radicals. And when you look at all the studies showing that drinking several cups of green tea daily may increase bone strength and brain health or decrease blood pressure across an entire population. These small changes make a big difference. It's the cumulative effect that gives you an advantage over time.
THE BEST GREEN TEA BRANDS
I continue to shop for my favorite teas from these major tea brands. Any one of them is an excellent choice.
Rare Tea Company: I absolutely love the Rare Tea Company. All of her teas are super fresh and delicious.
Adagio Teas: If you're starting with green tea or tea in general, I love Adagio Teas.
The Tea Spot: This is amazing for buying quality tea online at an affordable price.
Masters' Collections: by Adagio Teas - Excellent fresh specialty teas direct from the farmers.
Harney & Sons: Always have an excellent selection of tea for every tea lover.
Palais des Thés: This is a popular European tea store specializing in single-estate, flavored, and herbal teas. Excellent tea selections.
TeaVivre: This is my favorite shop for authentic Chinese teas.
Japanese Green Tea Company: Offers authentic Japanese green tea. For 10% OFF all purchases, use CODE: BETTER
Ippodo Tea: Specializes in Japanese green tea.
Tea Drunk: specializes in rare authentic Chinese teas.
---
Tea for Beginners Start Here >>