Oolong Tea is a semi-oxidized tea favored among many tea lovers. If you've never tried oolong, you will be amazed by the flavor.
What is Oolong Tea?
Oolong tea is some of the most prized due to its intricate processing. The complex flavors evolve with each sip. Oolongs are produced in southern China's Fujian province. The majority of oolong comes from the Wuyi Mountains of Southern China and the mountainsides of Taiwan.
Oolong teas are partially oxidized, within a range of 12 to 80 percent. The varying oxidation produces teas that are sometimes called green oolong or black oolong. The vast spectrum of flavors from light and floral to dark and mineral offers many variations.
Lightly oxidized oolongs are shaped into small dark green pellets while the more heavily oxidized oolongs get twisted into long dark wire-like leaves. But they are not green or black tea.
Oolong-style teas offer extreme variety and diversity of tea. The resulting taste often depends on the skills of the tea maker.
Types of Oolong Tea
Legend has it that trained monkeys picked the mountain-grown tea due to the rugged conditions making it challenging to navigate and pluck tea. Today a "monkey picked" oolong refers to high-quality tea.
Oolong tea production is labor-intensive. Sophisticated tea artisans are much like boutique winemakers. Most oolongs have simple trade names such as Ti Kuan Yin, Shui Xian, Dong Ding, or Dan Cong.
Experts categorize oolong by its region, varietal, and season of harvest, just like wine, resulting in hundreds of oolong types.
Many tea growing regions produce oolong tea. However, there are four main high mountain tea growing regions that produce traditional oolongs:
Taiwan
Taiwan is mostly known for its high mountain greener ball-rolled oolongs customarily named after the mountain area.
Famous Taiwan Oolong examples include:
Bi Hou or Oriental Beauty with flavors of apricot or nectarines and brown sugar. The sweetness comes from aphids attacking the tea plant during the summer months. The plant secretes an enzyme that fights off the insects, creating a sweetness like nectarines.
Jin Xuan or Milk Oolong or Golden Lily has milky cream and butter notes to sweet floral.
Dong Ding or Frozen Summit is traditionally a dark roasted oolong with a nutty taste. It's a very high mountain tea with more floral, sweet notes in the lighter roast.
Wuyi
The Fujian province's Wuyi Mountain region is famous for its twisted, roasted oolongs known for having the "rock taste" or yan wei. The rock taste comes from the thin layer of rockier soil they grow in, leading them to be known as "rock tea" or yan cha. 
Wuyi oolongs are a roasted style twisted leaf, tasting almost like a black tea with malty notes.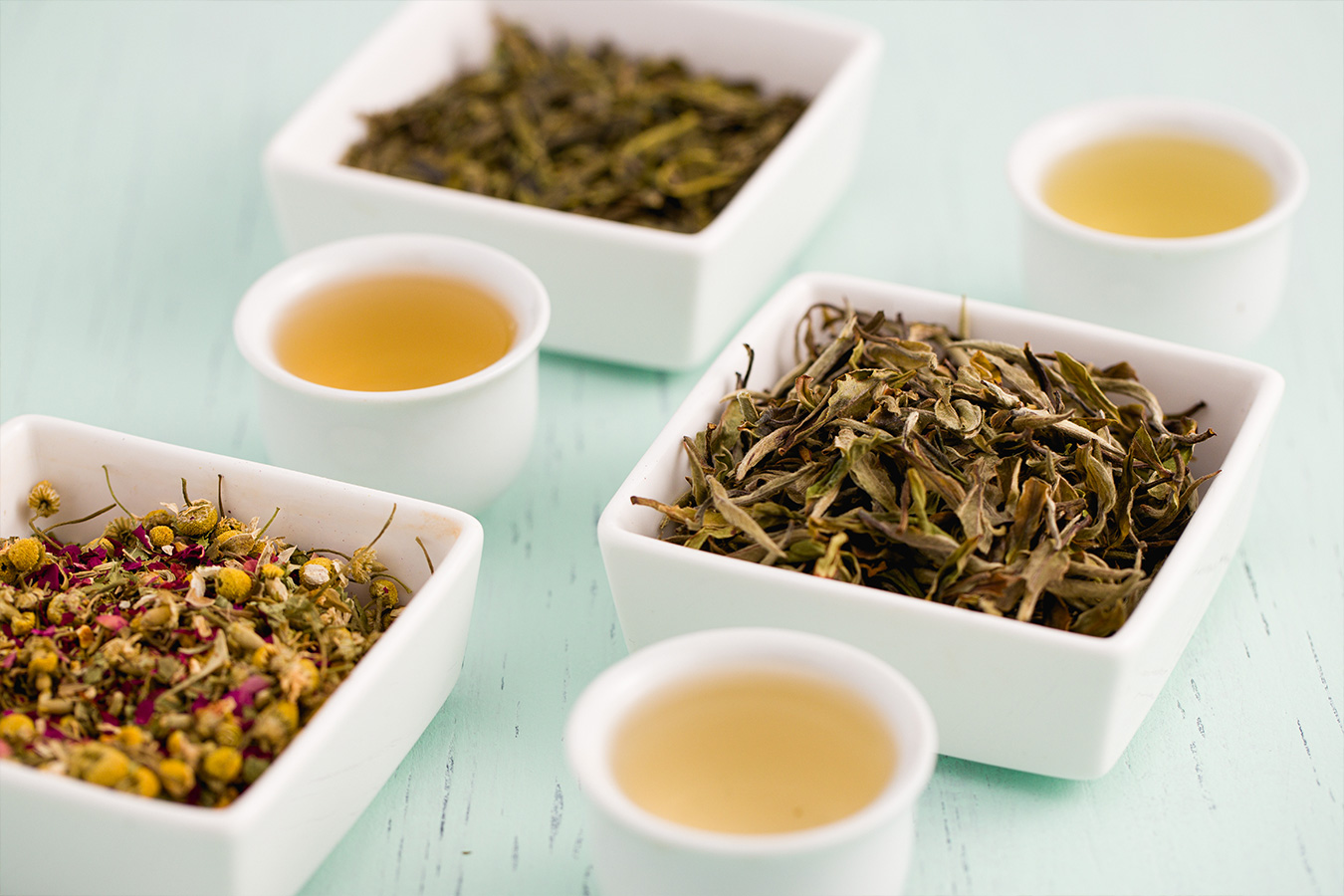 Two famous Rock Oolongs:
Da Hong Pao or Big Red Robe or Wuyi Rock Tea is a famous rock tea, with a robust mineral and roasted nuts flavor.
Shui Xian or Water Sprite or Fujian Rain with mostly peachy honey and mineral notes.
Anxi
The teas grown in Anxi county are a lot like Taiwanese oolong. The famous ones are greener, ball-rolled varieties. The most popular Anxi oolong, and maybe the most renowned oolong, is Ti Kuan Yin.
Ti Kuan Yin or Iron Goddess of Mercy is a medium roasted style oxidized tea, most famous for its orchid notes. Kuan Yin is the buddha goddess of compassion.
Spellings vary from Tieguanyin, Guanyin, Guan Yin, or Kuan Yin. Guanyin is a Buddhist associated with compassion. Jesuit missionaries in China gave her the title of Goddess of Mercy or the Mercy Goddess. You will also see Ti Kuan Yin called Iron Goddess.
The most exciting tea I ever tasted was Ti Kuan Yin. I couldn't get over the flavor! I never realized an unflavored tea could have so much flavor based on the cultivar and processing. That was a real revelation to me in the world of specialty teas.
Ti Kuan Yin tasted like no other tea I ever had. The aroma was incredible, and the subtle orchid fragrance was present throughout. Even though it had floral notes, it didn't taste perfumed at all. It's no wonder oolongs are a favorite among tea drinkers.
Dan Cong
Dan Cong oolong comes from the Phoenix Mountains in China. They are sometimes called "Phoenix Oolongs ." Dan Cong translates to "single bush," though that doesn't mean there is only one actual bush producing tea.
It is more of an origin story that gets applied to all the different varieties. They are twisted, light-to-medium roasted oolongs.
Two popular Phoenix Oolongs types are:
Mi Lan Xiang or Honey Orchid has a characteristic honey aroma and orchid flavor.
Ya Shi Xiang or Duck Shit is a honey-sweet aromatic tea that smells like gardenia flowers.
As with many Chinese teas, there is a story behind the name. Ya Shi Xiang doesn't smell or taste like duck droppings. As the story goes, to keep growing practices secret, the tea farmer told anyone who inquired that the secret to his winning tea cultivation was duck shit.
How Is Oolong Tea Made?
Oolong teas are among the most complicated teas to manufacture. The result is the leaves' presentation rolled into little semi-nuggets, for greener oolongs or the long twisted leaves of black oolongs—they are the product of an incredible multi-step process.
After plucking, the leaves wither in a tray and cool down.
The leaves are then "rocked" in their trays, causing the leaf cell to rupture and disperse its sweet sap within the leaf.
This action sets off the oxidation process and is the most critical step. It all depends on the synchronous adjustments and traditional experiences of the veteran tea maker. The tea master's experience decides the correct level of oxidation. This is where the art of the craft matters.
The leaves are then bruised and tumbled in a variety of ways. Here, the red-tipped edges of the bruised leaf appear.
After resting for a period, the leaves go through a series of oven firing and tumbling.
Benefits of Oolong Tea
Since oolong is a semi-oxidized tea, it is bursting with catechins and polyphenols. These naturally occurring antioxidants may help to boost metabolism and burn fat.
During the oxidation process (absorption of oxygen) that begins during withering, oolong tea progresses to a higher concentration of theaflavins with a lower concentration of thearubigens.
Theaflavins are antioxidants produced during this oxidation process. Theaflavin has antioxidant, antiviral, and anti-cancer effects shown in some studies.
Cholesterol
A 2003 clinical trial found that theaflavins reduce blood cholesterol levels, both total and LDL. source
Cancer
Laboratory investigations reported theaflavins to act on numerous points, regulating cancer cell growth, survival, and metastasis. source
Studies show the beneficial effects of oolong tea on human health. It can act as a natural antioxidant and a promising anti-cancer agent. source
Weight Loss
Oolong tea is famously known for weight loss due to findings that oolong can suppress appetite. source
Several studies show drinking oolong tea helps to metabolize a few more calories than green tea. The research points to a specific polyphenol, theasinensin, in oolong tea, which works in combination with EGCg, creating a boost in energy expenditure. source
A 1998 Chinese study reported weight loss after six weeks of drinking oolong tea. The US Agricultural Research Services researched in 2001, finding that oolong tea increases energy levels resulting in more physical activity with subsequent weight loss. source
Does Oolong Tea Have Caffeine?
All tea from the Camellia sinensis plant, including oolong, contains caffeine. The amount of caffeine per cup depends on the brewing process and can range from 60 to 100 mg of caffeine per 8-ounce cup. source
The most significant factor in drawing out caffeine from the tea leaf is water temperature—the higher the temperature, the higher the caffeine concentration in the infusion.
Other contributing factors determining the amount of caffeine in tea are the number of steeps per leaf and the leaf-to-water ratio used for the infusion. The first steep contains the most caffeine, while subsequent infusions contain less caffeine.
Related:
How to Brew Oolong
The flavors of oolong are incredibly complex. Oolong is very forgiving and can be brewed many times from the same leaves creating a new flavor. A high-quality oolong can be re-steeped 5 to 7 times, opening up new flavors each time.
You can purchase oolong in a pouch or loose-leaf form. Loose-leaf oolong is becoming more readily available, making high-quality leaves more accessible.
Traditionally, oolong is made in a gaiwan or small teapot. Gongfu-style brewing works exceptionally well for multiple infusions. But you can brew oolong in a mug with an infuser for western-style brewing.
Use very hot to boiling water to bring out the flavor and open up the leaves, anywhere from 185°F and 212°F.
For gong fu style brewing:
Steep 1 to 2 tablespoons of tea for roughly 30 - 60 seconds.
For western-style brewing:
Fill the infuser with 1 or 2 teaspoons of tea leaves.
1 cup of water.
Steep for about three minutes.
Oolong Tea Sampler
If you've never tried oolong, I highly recommend starting with a tea sampler. Each oolong is entirely different from the next, so a sampler is an excellent introduction.
TeaVivre and Adagio Teas have some exciting and fresh tea samplers.
Where to Buy Oolong Tea
I have had many beautiful oolongs from the following tea shops:
---
NEW TO TEA? START HERE >>