Oolong tea is a favorite among many tea drinkers. Due to its unique production methods, oolongs take on a wide variety of flavors and aromas resulting in truly exquisite tea!
If you're not really convinced tea is your beverage of choice, then you haven't tried oolong tea. Oolong is not quite a green tea and not quite a black tea, but processed somewhere in between. Oolong is a classic tea not to be overlooked. So what makes oolong so special?
Thousands of tea estates around the world produce tea. China, Japan, Taiwan, India, and Sri Lanka are the major tea producing countries. Each estate masterfully crafts a unique tea all originating from the Camellia Sinensis plant. It is the process for picking and drying that determines the type of tea, white, green, yellow, oolong, black or Puerh.
Much like wine, the region in which the tea is grown and subsequently processed, gives its own distinctive flavor. Because each tea estate processes their oolong tea a little differently, there are many varieties of oolongs.
The first time I tasted oolong tea I was so impressed with the flavor - it tasted like no other tea I had ever had. It's amazing to me how one plant can produce so many different varieties of tea.
What Is Oolong Tea?
Oolong or Wulong is produced in the Wuyi Mountains of the Fujian province in China. You may see them referred to as Wuyi oolong tea. Some oolongs are produced from old growth tea trees over a thousand years old. Taiwan also produces oolong tea with Oriental Beauty, also known as Formosa oolong, among its most famous oolong.
Oolongs are partially oxidized, within a range of 12 to 80 percent. The varying oxidation produces oolongs that are sometimes called green oolong tea or oolong black tea. But they are really not green or black tea.
Oolongs are some of the most prized teas due to their intricate processing, which provides a complex flavor that evolves with each sip. The resulting oolong tea taste all depends on the skills of the tea maker.
Ti Kuan Yin Oolong
There are many varieties of oolong tea, depending on the cultivar. I will focus here on one of the best oolong tea of all the oolongs, the Tieguanyin cultivar from Anxi County, Quanzhou in the southern Fujian province of China.
Also commonly known as Ti Kuan Yin or the Iron Goddess of Mercy. It is a full leaf China oolong tea and is legendary among oolong tea lovers. It is also one of my favorites. Since it's on the lighter side, it's perfect for an afternoon or evening cup of tea.
Ti Kuan Yin Oolong Tea Taste
The Ti Kuan Yin Oolong tea from Anxi comes with the distinguished fragrance of orchid.
Traditionally, Ti Kuan Yin is brewed in a Gaiwan. A Gaiwan consists of a porcelain teacup with a lid and saucer.
The Gaiwan is designed to be used with green and oolong teas of delicate flavor. The tea leaves are placed directly in the cup with the lid in place for infusing the tea leaves.
The underside of the Gaiwan lid captures the aroma and is shared with guests before pouring the tea from the Gaiwan into separate porcelain teacups.
You don't absolutely need a Gaiwan to enjoy oolong tea. I don't have one (I know) and simply use my lidded porcelain teapot and 6-ounce cups.
I am still able to enjoy the incredible sweet aroma. This oolong tea is made so well, the sweet and subtle fragrance of orchid is present from dry leaf to infusion. Although it's floral, it doesn't taste perfumey at all.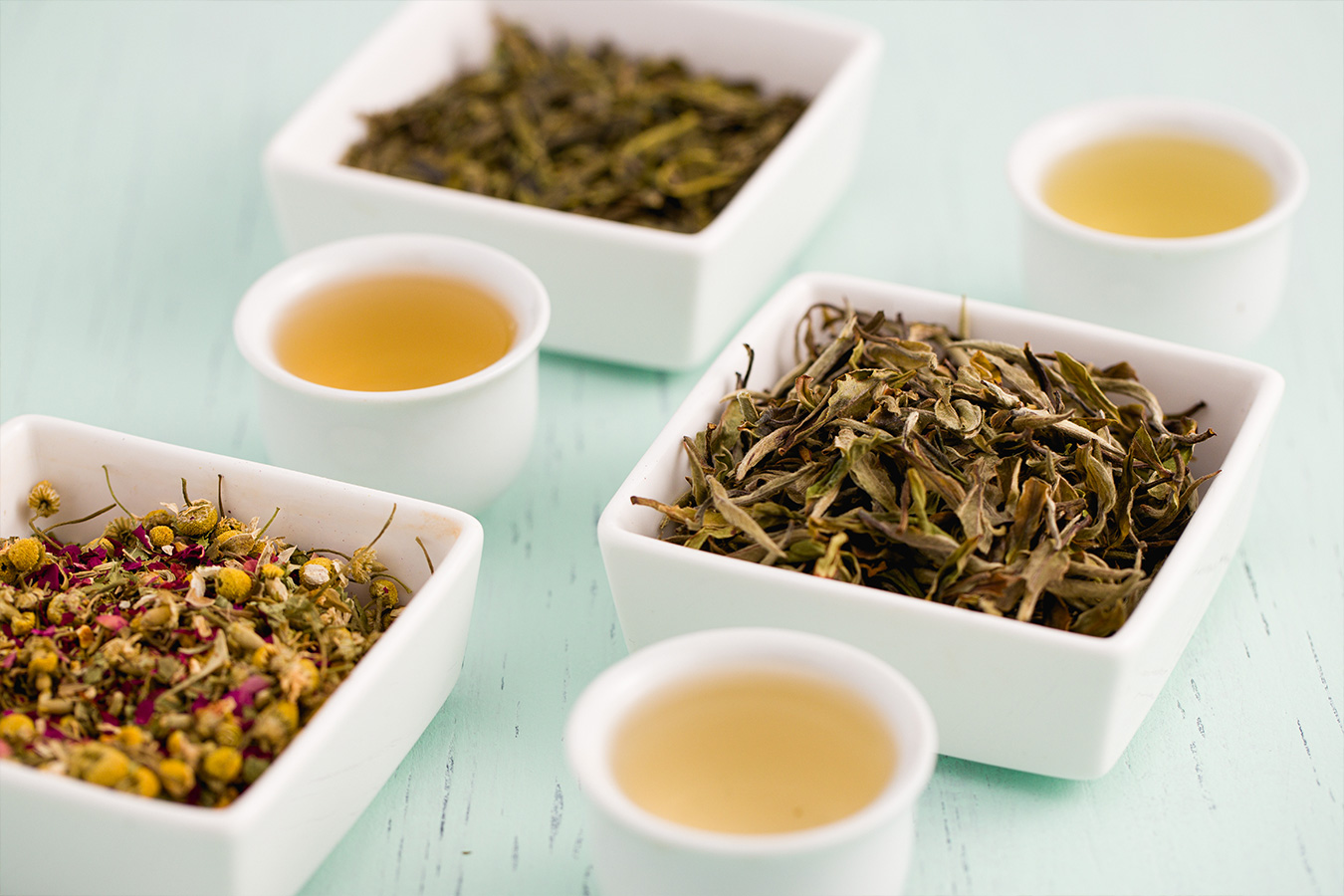 I had a jasmine pearl tea once that was so obviously artificially flavored it tasted like I was drinking straight from a bottle of perfume. Simply awful. You won't get that with this tea.
That's because the fragrance is the natural essence of the processed leaf. It is not artificially flavored. It needs nothing added to it – nothing. No sugar, no milk – nothing. It is to be enjoyed as is.
The lightly colored golden sweet brew is just that good.
How Oolong Tea Is Made
Oolong teas are among the most complicated teas to manufacture. The end result is the presentation of leaves rolled into little semi-nuggets, the product of an incredible multi-step process.
After the leaves are plucked, they are left out to wither in a tray and cool down.
The leaves are then "rocked" in their trays, causing the leaf cell to rupture and disperse its sweet sap within the leaf.
This action sets off the oxidation process and is the most critical step. It all depends on the synchronous adjustments and traditional experiences of the veteran tea maker. This is where the art of the craft matters.
The leaves are then bruised and tumbled in a variety of ways. Here, the red-tipped edges of the bruised leaf appear.
After resting for a period, the leaves go through a series of oven firing and tumbling.
I can describe to you how this oolong tea is made, but the best description is in the viewing. I found this beautiful 8-minute video that gives you a much better idea of what goes into the making of oolong tea.
If you have a few minutes, it's definitely worth watching. The tea farmers are more than farmers, they are true artisans and craftsmen, lavishing special attention on their tea.
Go ahead and brew a cup, then sit back and watch this miracle of tea unfold. After watching you will feel the undying sense of pride and purpose that exists for the tea producing people of Anxi.
Brewing Oolong Tea
Although oolong tea is very complex in processing, it is very easy to brew. Generally, use 190°F water and 2 teaspoons per cup, steeping for 1-2 minutes.
Oolong tea is very forgiving in the brewing process and can be steeped several times, with each infusion imparting new flavors.
The infused tea liquor should be golden and crystal clear in color with a sweet orchid fragrance.
Oolong Tea Benefits
Since oolong is a semi-oxidized tea, it is bursting with catechins and polyphenols. These naturally occurring antioxidants may help to boost metabolism and burn fat.
During the oxidation process (absorption of oxygen) that begins during withering, oolong tea progresses to a higher concentration of theaflavins with a lower concentration of thearubigens.
Theaflavins are antioxidants produced during this oxidation process.
In a 2003 clinical trial, it was found that theaflavins reduce blood cholesterol levels, both total and LDL.
Laboratory investigations reported theaflavins act on numerous points, regulating cancer cell growth, survival, and metastasis.
A Chinese study in 1998 reported weight loss after six weeks of drinking oolong tea. The US Agricultural Research Services conducted research in 2001, finding that oolong tea increases energy levels resulting in more physical activity with subsequent weight loss.
Oolong tea weight loss is due to findings that find oolong can suppress appetite.
Oolong tea has caffeine, although the caffeine content in the tea will vary based on the production processes.
In the above video, we are told that "Lady Lin Mei is the grandmother of Mr. Lin, the tea farmer. She is 102 years old, which she shows no evidence of by her appearance."
Mr. Lin says it is not uncommon in Anxi to witness senior citizens with such longevity. Lady Lin Mei's longevity is attributed to the practice of tea-drinking in Anxi.
I think lifestyle may also contribute to this longevity. It appears all members of the Anxi society are active participants in the life and production of tea.
And what an incredible and rewarding lifestyle it must be.
The essence of Tieguanyin Tea comes from a heritage of the land combined with craftsmanship and creative ingenuity."
Oolong Tea Health Benefits Research
If you'd like to read more about the scientific research that's been done on oolong tea, Wulong for Life lists 37 published scientific studies from well-known medical researchers.
The research covers how oolong benefits health, everything from how oolong tea helps to clear up acne to fighting cancer and diabetes. Reading these studies, you would really think oolong is a miracle tea.
I don't drink oolong tea for those reasons, though. I drink it because it's so delicious. It's one of my favorite teas.
Where to Buy Oolong Tea
I usually recommend going to your local specialty tea shop so you can taste the oolong tea flavor for yourself before you buy it. But that's not always an option. The next best place where you can buy oolong tea is online.
MoriMa Tea is a Chinese tea company that ships tea internationally. They carry many varieties of exceptional oolong teas.
Tea is a remarkable story when you think about it. The production of a simple cup of tea is really not so simple. And we have the amazing opportunity to experience this tea along with the tea makers' incredible sense of place and purpose in this world.
The tea farmers and producers have a deep connection and reverence for the earth that is shared with us in every cup.
---
Tea for Beginners