Brewing tea is a guide for beginners and experienced tea makers alike. Learn how to make tea properly and brew the best cup of loose leaf tea every time. 
If you're transitioning from tea bags to making tea with loose leaf tea, this guide is for you.
I'm still learning how to make tea, and I've been brewing tea my entire life. I'm not saying exactly how many years that is, but it's safe to say it's many!
It may be heartening for you to know that tea masters in some Asian cultures study for years to perfect the art of brewing tea. And there's a reason they study for a lifetime. Tea mastery is a revered art form.
But honestly, it won't take you a lifetime to learn how to make a perfect cup of tea from fresh tea leaves. You need to know a few basics.
The Benefits of a Beginner's Mind
Poor tea preparation techniques and preconceived notions of making tea properly are the most common causes of tea brewing disappointments.
An ancient Chinese Zen saying asserts that to learn, you must "first empty your cup." The story is attributed to a conversation between a student and a Zen master.
The lesson begins with the master pouring tea into the student's cup. Instead of stopping when the cup was full, he continued to pour as tea spilled over the teacup and all over the table.
The student shouted, "Stop! The cup is full!"
"Exactly," said the Zen master. "Like this cup, you are full of your own opinions. You ask for teaching, but your cup is full. Before I can teach you, first you must empty your cup."
If you truly seek understanding, then first, empty your cup.
Brewing loose leaf tea is an entirely different experience than brewing tea from tea bags. So even if you think you know how to brew tea, you may have something to learn when brewing loose leaf tea.
How to Make Loose Leaf Tea
To begin, follow these basic steps:
The amount of tea used is dependent on the style of tea brewing (Eastern vs Western) you select.
Warm the teapot and cups first. Pour hot water in, swirl around and pour it off. This aids in keeping the finished brew hot.
Use freshly drawn filtered water.
Do not use re-heated water.
Pour hot water over the tea leaves to stir them up.
Water temperature, the volume of tea leaves, and steeping time are all part of the art of brewing tea. Different compounds are extracted depending on water temperature and steeping time.
Gongfu (Eastern) Brewing vs English (Western) Brewing
Gongfu brewing uses a large tea leaf to water ratio with short infusion times. Green and scented teas are not utilized in gongfu-style brewing. This method is for brewing black and oolong teas.
The teaware used for the gongfu brewing is a small vessel like this beautiful Gaiwan or a small teapot. The idea is to produce very short multiple infusions extracting different flavors from the leaf with each subsequent infusion. You will brew multiple tea infusions in one gongfu tea session.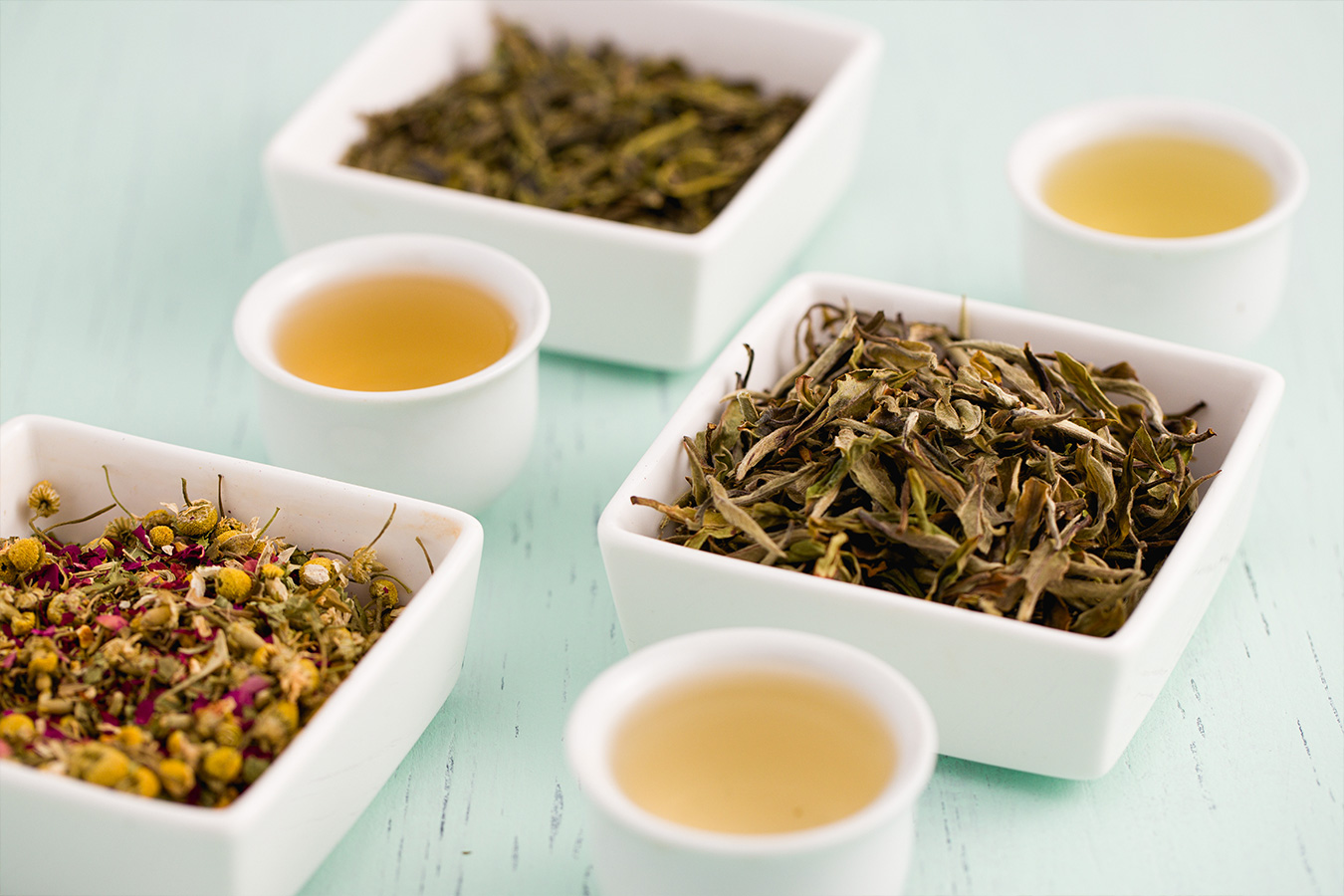 Western-style tea brewing, or English style as some call it, uses much less leaf and more water with longer brewing times. Western tea brewing extracts as much flavor as possible all at once.
Brewing Tea in a Teapot
The easiest way to make tea is by brewing loose leaf tea in a teapot. It's best to brew tea in a teapot or a mug that has a large tea infuser in it. This way, you can stop the steeping process and easily remove the leaves before pouring. Teapots and tea infusers for loose tea are readily available at any good tea shop or Amazon.
Try not to use the small ball infuser for more enormous leaf teas. The tea leaves won't have room to expand and infuse their full flavor. A French press works very well for brewing loose leaf tea.
My Wedgwood English-style teapot shown above has holes inside the base of the spout to catch the tea leaves as you pour. This treasured teapot is at least 60 years old - it may be older! It's such a beautiful and perfectly shaped design that Wedgwood still makes this teapot style today in various patterns.
The Perfect Teapot
Rishi makes a beautiful little glass Simple Brew Teapot, as shown here. It's made of borosilicate glass to avoid thermal shock. The glass pot allows you to watch your favorite teas infuse and expand. The built-in filter keeps all of your tea in the pot for future steepings.
The brewing guide below is for the Western style of brewing tea. All teas lend themselves well to this style of brewing.
How to Make Tea Without Tea Bags
In its simplest form, brewing tea is broken down into five main components: method, water, temperature, time, and type of tea.
How to Brew Tea
Brewing tea extracts flavors and nutrients inherent in the tea leaves through various steeping methods creating an infusion.
The words "various steeping methods" are where everyone gets tripped up. The truth is, even standard brewing methods can vary with each specific tea and with each person.
Part of the joy of tea is learning about different cultures and ways of brewing tea. Should I brew the English style in a teapot or mug? Perhaps I want to make a concentrate and brew with a samovar or brew a powdered tea with a Japanese bamboo whisk, or maybe brew Chinese gongfu style?
The choice is yours. There's no right or wrong. But there are some general guidelines you can follow to help you brew a better cup of tea.
Water for Brewing Tea
Good water is as essential for brewing tea as the tea itself. The ideal water for brewing tea is spring water. Tea is delicate and can be affected by water with too high a mineral count or a chlorine content.
Most municipal waters fall into this category. The best way around this is to use a good water filter. I used this simple Brita filter for years. A Pur filter also works well to eliminate chlorine and reduce the mineral content just fine.
On the other hand, soft or distilled water has little to no mineral content, leaving the brewed tea tasting flat. Some minerals are good.
If you use well water, be aware of the pH level. Some well waters have a very high pH count, and ideally, you want a neutral pH as close to 7.0 as possible.
I learned this one the hard way. My first co-packer for producing MaryAnna's Tea was in upstate New York. They only had well water, and we couldn't adjust the pH for proper bottling and had to buy hundreds of gallons of spring water to complete the production run!
Minerals in water are measured as Total Dissolved Solids or TDS. The ideal TDS is 100 - 300 parts per million or PPM. When purchasing spring water, look for a pH of 7.0 and TDS of 300 PPM. TDS is sometimes measured in milligrams per liter. If that's the measurement used, below 300 mg/l is excellent.
Water Temperature and Tea Brewing Times
Green teas do better with shorter infusion times and lower water temperatures. Most green teas and greener oolong teas taste best when brewed at temperatures 30° - 40° F below boiling point (180° - 170°F).
Water temperature below boiling (212°F) is ideal for black tea and oolong tea. Green tea is more delicate and requires a more mild temperature.
Selecting the proper water temperature for the specific tea type will yield the desired characteristic flavors.
If you want to be very precise, there are some excellent kettles with built-in thermometers for steeping tea. I like the Bonavita or the Cuisinart model because they have variable temperatures and elegant designs.
A simple trick is to boil the water and let it sit for five minutes. The approximate temperature will drop to the desired 180° F in that amount of time.
Tea Type Determines the Volume
The leaf's size helps determine the brewing time, and the amount of tea used.
Smaller cut leaves have more surface area and will infuse faster, requiring a shorter steeping time and smaller amounts of tea per cup.
A larger leaf size requires a larger volume of leaf and longer steeping times.
Measure volume in weight instead of teaspoons for best results: 2 - 2.5 grams for a 6-ounce cup is ideal. Because a large full leaf tea at 2 grams of weight may be much larger than one teaspoon in volume. A digital kitchen scale comes in handy.
The art of tea takes all of this into account and helps you determine the precise time, volume, and temperature at which your tea provides your favorite aromas and flavors.
Don't stress about this! Experiment and have fun with it. Start with this guide but in the end, making tea is all about the way you like it.
For example, my daily morning tea is Black Dragon Pearl. The instructions say to use 2-3 pearls per 8-ounce cup and steep for 3 – 5 minutes. I use twice that and steep for 5 minutes.
How To Make Tea Step by Step
Note: Water boils at a lower temperature at higher altitudes, so adjust your temperatures accordingly.
When to Add Flavorings to Tea
Adding any flavorings or enhancements is optional. Just be mindful of the taste profile of the tea.
Honey, sugar, or mint can be added to black or green teas. Lemon, lime, or other fruit flavors can be added to black teas and some green teas. Milk should only be added to strong black tea.
Other teas, such as oolongs, smoked teas, or floral-scented teas, usually don't need enhancements.
When to Break Tea Brewing Rules
I use a strong brew when mixing tea-inspired drinks or cooking with tea. I will also tell you another secret. When you make iced tea, you need a strong mixture.
When the tea is cold as in iced tea or a tea cocktail, the flavor does not come through as much. So you must have a stronger than usual brew. The same goes for cooking with tea.
You want to taste the tea, and it must be evident in the food or drink. Each tea has its flavor and fragrance. Let it come through.
The tea you select should be harmonious with the ingredients used in cooking or mixing cocktails and iced teas. The tea should maintain its identity while enhancing the recipe.
The trick to making a strong brew is not by steeping longer. The secret is to use more tea leaves.
How To Brew Tea Leaves
There's no set rule. These are all guidelines that will help you figure out the best way to make tea without teabags. Start by following the tea vendors' guide on the package and brew your tea to your taste.
Now that you know how to make tea from tea leaves, it will open up a whole new world of tea for you!
Many tea pros have great advice. So tell me, what's your favorite way to brew tea?
---
Tea for Beginners Start Here >>