Do you love tea but have caffeine sensitivities? Low-caffeine tea may be hard to find. Here are five types of green tea low in caffeine.
Japanese green teas have a reputation for being high in caffeine, but there are a few Japanese green teas with naturally low caffeine levels. Compared to the heavy hitters like Gyokuro and Matcha, the teas on this list have a fraction of caffeine content.
Whether you're trying to cut back on caffeine or want a good-tasting tea to drink in the evening, chances are you'll find a tea with the lowest caffeine content on this list.
(Today, I have a great post to share with you from Will at Nio Teas. Nio Teas sells organically grown Japanese Tea. If you decide to purchase tea from Nio Teas, use my custom CODE: LIFEISBETTERWITHTEA to save 5%).
What makes tea have lower caffeine content?
Before we start, let's look at several factors that make teas low in caffeine. This will help you identify low-caffeine teas even if you still need to look them up. Pure caffeine-free teas are from herbal tea called tisanes, except for yerba mate. All true tea has some caffeine present.
Unshaded Teas
Different factors affect the caffeine content of a particular type of tea. Shaded teas like kabuse, sencha, gyokuro, and fine powder matcha are much higher in natural caffeine.
During the shading process, the tea plant undergoes a lot of stress, producing more caffeine to defend itself. The plant uses caffeine as a natural defense mechanism to protect itself from insects. The caffeine can be very bitter or even toxic to small insects, making it an excellent protective barrier around the leaf of the Camellia sinensis plant.
Teas Made From Older Leaves
Because the young leaves of the tea plant are more tender, they are sensitive to insects. The plant produces more caffeine to protect these leaves; the older and tougher leaves contain the least caffeine. Teas made from these older leaves will have low caffeine content.
Stem Teas
The stems of the tea plant contain around one-third of the caffeine as the leaves. As a result, a tea made with a combination of stems and leaves won't have as much caffeine as a tea made only from leaves. Some teas are made with no stems, and some are made entirely from stems and everything in between! The ratio of stems to leaves will significantly influence a tea's caffeine content.
Blended Teas (mixed with other ingredients)
A few different types of Japanese green teas are blended teas. Different methods mix tea leaves with cherry blossom flowers, roasted rice, buckwheat, and barley. Because these ingredients do not contain caffeine, these blended teas tend to be much lower in caffeine than if they were just made from tea leaves.
Japanese Roasted Green Tea
While it may not significantly impact, roasting tea leaves can burn off some caffeine. The roasting process is used to drastically change the flavor of Japanese green tea, as it trades these fresh citrusy notes for warmer notes of coffee and caramel.
Related:
What Are Some Low Caffeine Japanese Green Teas?
Now that we covered why certain green teas are low in caffeine let's get into a few of our favorites. These teas have a caffeine content lower than 40 milligrams of caffeine per serving, depending on how much tea is used and the brewing process. We measure the amount of tea in a serving as 5 grams of loose leaf tea leaves brewed three times.
Hojicha
Hojicha is a roasted Japanese green tea. As mentioned, the roasting process can impact the tea's caffeine content, but most of the reason for it being a low-caffeine tea comes down to the selection of the leaves.
Hojicha tends to be made from the older leaves and stems of the tea plant. In the 1920s, a tea merchant in Kyoto wanted to find a use for parts of the tea plant that weren't used in sencha.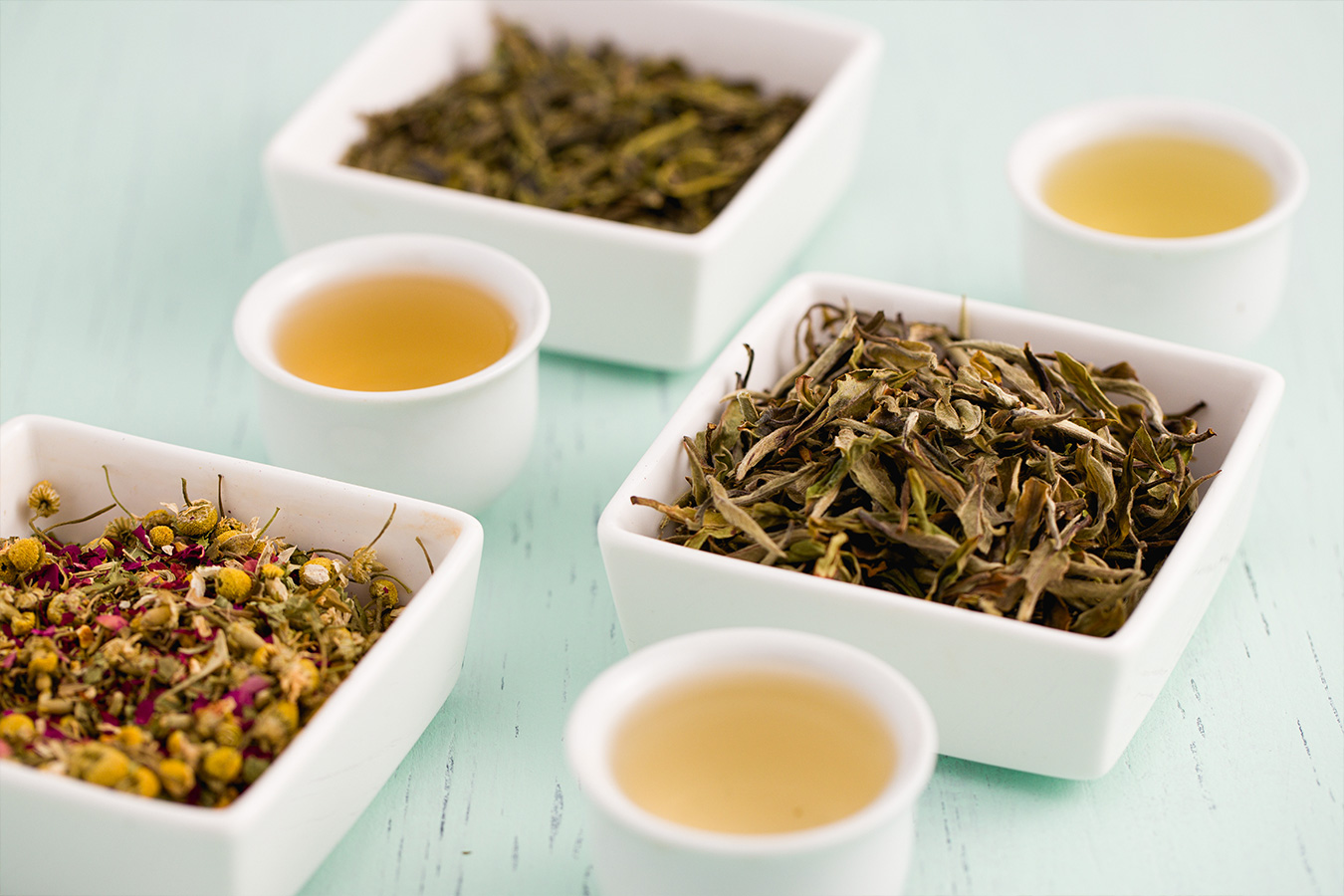 He found that roasting the tea plant's older leaves and stems produced a wonderful flavor and aroma. Soon, Hojicha became a popular tea in its own right, and now it is enjoyed at tea shops and restaurants all around Japan.
Kukicha
Kukicha is the most common type of stem tea. It's also called a "twig tea," and as the name suggests, it's made from the stems of the tea plant. The ratio of leaves and stems can vary, and so can the flavor and caffeine content. The more stems included the lower the caffeine content and the more of this mild straw flavor the tea will have.
Kukicha was a tea developed by tea farmers. Because farmers have to sell all of the top leaves they grow, they often aren't able to drink their own tea. To get around this, a few farmers started to dry the stems of the tea plant and infuse them into water. This way, they could still enjoy the tea they produced without limiting the quantity of tea they could sell.
Karigane
Karigane is another stem tea that is lower in caffeine. What differentiates karigane from a normal kukicha is that it is made from shaded tea plants, like those used to make Gyokuro and matcha. The shading raises the caffeine content slightly, but because there are so many stems in this tea, it still has less caffeine than regular leaf tea.
As a result, it will likely have less caffeine than a sencha but more caffeine than a normal kukicha.
In terms of flavor, Karigane has a much sweeter taste compared to kukicha. This comes from the higher concentration of theanine in the leaves. Theanine gives the tea its smooth and sweet flavors, and the tea plant can retain more theanine if it has been shaded.
Bancha
Bancha is Japan's second most common type of green tea after sencha. While Sencha is made from the youngest leaves of the tea plant, Bancha is made from the more mature leaves, lower down on the tea plant. These leaves are lower in caffeine and higher in minerals and have more of an earthy taste profile.
Bancha tea is a great tea to have with a meal. It's lower in caffeine, so you can drink it later in the day. It has a mild flavor that pairs well with lots of foods and is thought to help digestion. Whatever reason you have for enjoying it, this is a tea you'll want to have in your cupboard!
Genmaicha
Genmaicha is one of the better-known types of Japanese green tea. As mentioned, some Japanese green teas blend the tea leaves with other ingredients, and genmaicha is Japan's most common blended tea. Genmaicha is created by combining green tea leaves with toasted rice.
Because toasted rice does not contain caffeine, this decreases the green tea's total caffeine content significantly. Genmaicha also tends to be made from older tea leaves, which lowers the caffeine even further. Genmaicha can also be made with younger sencha leaves, and this version will have a higher caffeine content.
Where Can You Find These Low Caffeine Japanese Green Teas?
All of these teas can be found at Nioteas.com. Over the past few years, we have traveled around Japan, meeting with small farmers and searching for the best green teas grown without pesticides.
---
New to Tea? Start Here >>