A perfect cup of tea doesn't require swaying palms and gentle waves to create the ideal getaway. With a few tea secrets, every cup can be a retreat, no matter where you call home. 
Tea is known to promote a sense of calm and clarity. By learning how to relax and savor a brew, a simple tea session becomes a short spiritual and energetic retreat. But did you ever wonder why tea is revered as a relaxing and healing beverage?
These 20 tea secrets will give you a better understanding of the chemistry behind the romance of tea and why we often seek out tea to create our special oasis.
Tea Wisdom
From secret ancient wisdom to modern science, the unique chemical properties in tea make it the best drink on the planet for body, mind, and spirit. The Buddhist monks knew there was something richer to the human experience and utilized tea as a meditative conduit allowing them to reach a deeper understanding of life.
Go Tropical
The tea plant, Camellia sinensis, is a tropical to subtropical plant. In the wild, the Camellia sinensis plant can live for a thousand years or more! Cultivated tea plants have a productive life-span of about 30 years but are more susceptible to pests and disease. The tea plant has developed some exciting natural defenses that give us the most remarkably flavorful teas.
Caffeine Content in Tea
Tea is a winner for its soothing and mood-boosting qualities, in part due to caffeine. But the caffeine in tea can vary widely. Caffeine acts as a poison to many insects. The easy to digest younger tea leaves are prime targets for attack, so the younger leaves produce more caffeine.
Tea processing and brewing methods can also alter the caffeine content. The longer the steep, the higher the amount of caffeine - and bitterness. A cup of black tea, for example, contains about 40 milligrams of caffeine, which is nearly half the amount of caffeine as a cup of coffee.
Young Shoots Are The Most Flavorful
Do you ever wonder why specialty teas are made primarily from the first two leaves and the newest bud? Tea secrets reveal it's all in the DNA of the Camellia sinensis plant. L-theanine gives a sweet and savory flavor to tea, while caffeine protects against insects. The catechins in the tea protect against too much sunlight, and the terpenes give teas their aromatic qualities.
Caffeine and catechins are in higher amounts in the most vulnerable tender shoots of the tea plant while l-theanine remains the same throughout all parts of the plant.
Tea Benefits From Insects
In the heat of the summer, insects are active in the tea fields. It's the perfect time to harvest Oriental Beauty Oolong or Second Flush Darjeeling. Most teas are at their best when plucked in the spring during the plants' first flush. However, the second flush harvest gives the tea leaves time to be bitten by bugs.
The attack forces the plant to create its own bug repellent: hotrienol and dimethyl-octadiene-diol (DOD). These compounds have a muscatel aroma and give the teas a warm grapey richness. Processing the leaf further increases these compounds.
The Feel-Good Amino Acid in Tea
There are two ingredients in tea that have an extraordinary effect on the brain. Tea contains a unique combination of caffeine and an amino acid called l-theanine. Caffeine and l-theanine make a good pair. While caffeine increases energy, l-theanine promotes mental focus, reduces anxiety and stress.
L-theanine helps you achieve a relaxed mental state through a direct influence on the central nervous system by increasing alpha brain activity. Alpha brain waves are more active when you are in a relaxed, aware, and attentive state. Similar to a meditative state. It's one of my favorite things about tea.
Processing Effects Tea Flavor
The tea cultivar, growing conditions, and plucking methods all contribute to the chemistry of the leaf. The subtle, elegant tea processing methods are all designed to change the chemical makeup of the final product. The six tea types of white, green, yellow, oolong, black, and Puer all go through different processing. The flavor compounds developed in each tea depends on their process.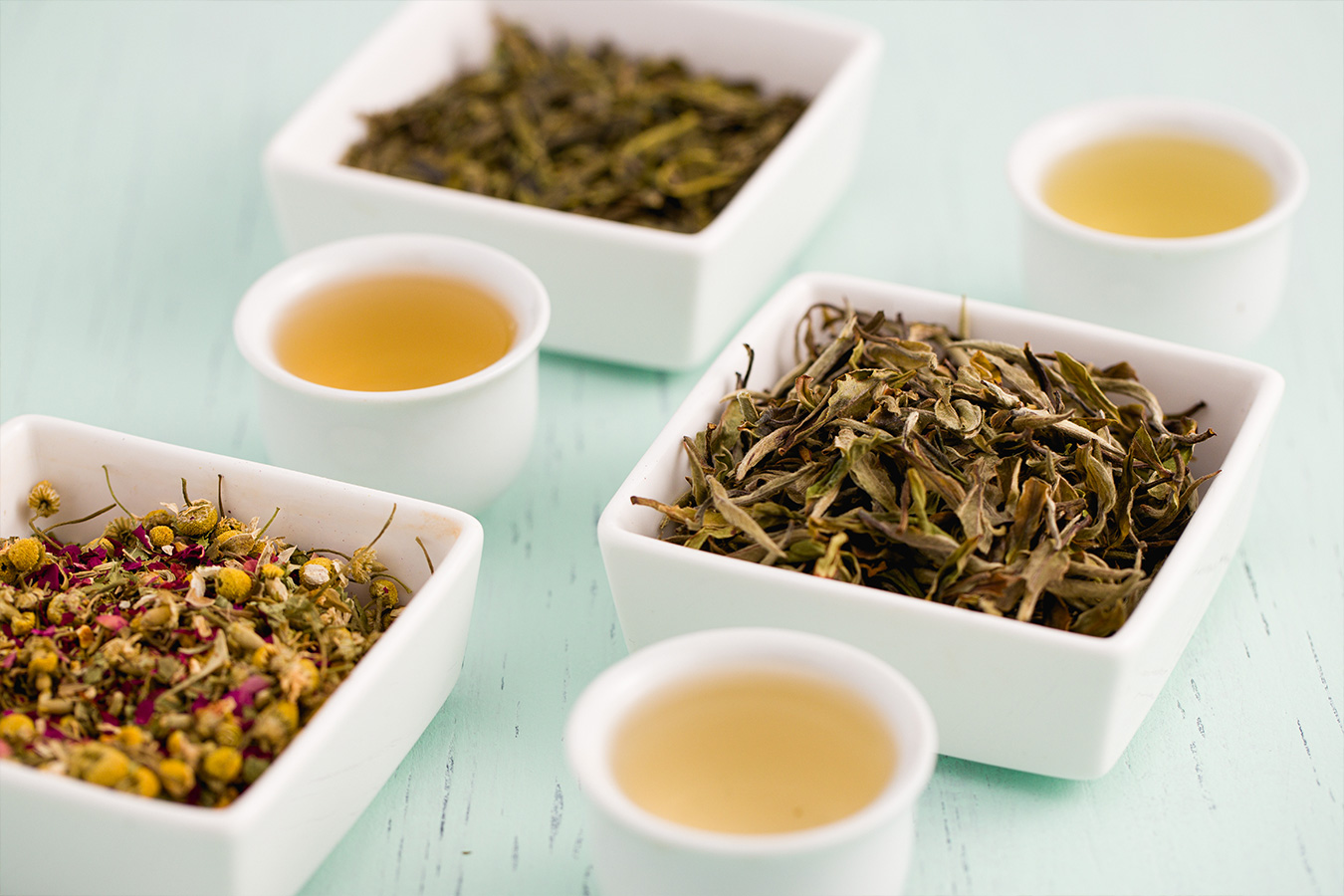 Flavor Compounds in Tea
Painstaking tea making consists of carefully plucking and gently handling the tea leaves to bring out the more desirable flavor compounds in the leaf. The flavor of the tea leaf has two categories: taste (non-volatile compounds) and aroma (volatile compounds).
The better quality teas contain volatile compounds such as linalool and nerolidol that have a floral aroma.
Plucking The Tea Leaf
The type of leaf plucking determines the chemicals available to the processor for creating the tea flavor profile. Plucking initiates the damage to the leaf, setting off oxidation. Plucking can be by hand or machine. Hand plucking is more selective of the bud or first two leaves and bud and creates less damage to the leaf.
In most machine harvesting, the selection of leaves is less discriminate and mixes older and younger leaves. This process results in a harsher, less aromatic tea.
Withering The Tea Leaf
Withering dries the leaf and begins the enzymatic transformation of the cell as the leaf dries. Enzymes create chemical reactions. When the cell walls shrink, the enzymes that were once separated start to mix with the compounds they break down.
Wow With White Tea
The leaves for white tea are minimally processed. They are plucked, withered, and dried. Other teas are fired and rolled after withering, but for white tea, the process stops at withering. Withering, firing, and rolling are all designed to breakdown the cell walls mixing enzymes and chemicals.
Most white teas are withered for a short time outdoors, where leaves produce a host of flavorful compounds to protect it from sunburn. White tea gets its name from the downy white hairs of the young tea leaves used to create good-quality white tea.
Silver Needle white tea is made of only shoots, resembling needles, with no leaves. Silver Needle white tea may be tiny in size but striking in flavor with very little bitterness. The dominant flavor compound in white tea is the terpene geraniol giving it a rosy aroma.
Benefits of a Gaiwan
You should get a gaiwan! A gaiwan is a Chinese vessel for brewing loose leaf tea, primarily oolong and black tea. The gaiwan infuses loose leaf as the tea chemicals move out of the leaf into the water. It's a little more compact than a traditional western teapot. Gaiwan brewing typically uses a higher leaf to water ratio. The small size allows the water to come in contact with the loose-leaf but not as thoroughly as a large teapot, hence brewing a less bitter tea.
Best Water For Tea
Good water is as essential for brewing tea as the tea itself. It is imperative to use good water. Nothing affects the extraction of catechins, amino acids, and theanine more than water quality. Tea is delicate and can be affected by water with too high a mineral count or too high a chlorine content.
In general, hard water with high mineral content (calcium and magnesium) extracts lower amounts of amino acids and catechins, including epigallocatechin (EGCG), which tends to be bitter. Purified water increases catechin extraction. The ratio of amino acids to catechins determines sweetness or bitterness respectively.
Sweeten Tea With Lemon
Tea drinkers, rejoice! Here's another solution for sweetening your tea without adding sugar. Bringing down the pH of tea to a more acidic range makes the tea seem sweeter. Adding lemon to your tea after brewing will lower the pH. This phenomenon is likely due to the more significant effect of sourness on bitterness perception.
However, bitterness and astringency are not indicators of acidity.
What's pH Got To Do With It?
For a foolproof tea, start with neutral to slightly acidic water. Pure water has a pH is 7.0; anything below 7.0 is acidic. Brewed black tea is mildly acidic, with a pH of around 4.9.
More alkaline water (pH greater than 7.0) has a higher lime content and more calcium than pure water, as is often the case with well water. A higher pH limits the extraction of tea leaf compounds yielding lower caffeine and polyphenol levels.
Simply put, water with a lower pH makes tea taste better.
Hot vs. Cold Brew Tea
A delicious tea depends on brewing time, temperature, and the ratio of leaves to the water. Brewing tea extracts amino acids and polyphenols from the leaf. A higher proportion of amino acids to polyphenols makes a tastier tea.
Catechins and polyphenols are barely soluble at colder temperatures. Amino acids are water-soluble and easily extracted in a cold brew tea. Oolongs have an abundance of amino acids, including theanine, that give a sweet umami flavor.
Hot brewing extracts more catechins and polyphenols, which provide the astringency and many health benefits of tea. Overextraction of catechins contributes to bitterness.
About Green Tea
From Japan to China, green teas are the hard-working daily tea of the culture. A Japanese Sencha is steamed to halt oxidation while a Chinese Dragon Well or Longjing is pan-fried. Japanese Sencha has a grassier flavor. Chinese Dragon Well has a more roasted and nutty flavor as a result of the chemical changes caused by the pan-fried heat.
The standard Longjing consists of two leaves, and a bud with the best quality plucked in the spring. The young leaves contain fewer chloroplasts resulting in less grassiness after pan-firing. These tea leaves have higher quantities of theanine, which adds to the sweet and savory taste.
Shade Grown Green Tea
Some Japanese green teas are shaded for one to three weeks before harvesting. Shade-grown tea shrubs increase chloroplast and chlorophyll production. Shading turns on the switch from chloroplasts making carbohydrates to breaking them down. Catechin production slows, while flavor compounds derived from the amino acid phenylalanine increase. The resulting high concentration of amino acids adds delightful aroma compounds.
Embrace The Tea Secrets of Black Tea
Black tea is beloved throughout the world. Black tea's secret to world consumption is its high level of oxidation, which makes it easily transportable over long periods of time. You never want a tea that's too precious to enjoy.
Black teas are fully oxidized. Once withered the leaves are damaged by crushing, tearing and curling either by machine or by rolling the tea leaves. The goal is to break up the compartments of the cell and mix the enzymes and their substrates together.
The leaves are then spread out to cool while the chemical transformation of the leaf takes place. Catechins are turned into theaflavin, thearubigin, and theabrownin molecules. Finally, the leaves are heated, halting the chemical process producing rich nutty flavors.
The activated compounds in black tea give it the sweet, spicey, woody, floral cast known as "brown" flavors. These compounds also contribute to its astringency. Blending black teas reduces their astringency.
Chinese Black Tea
Chinese black tea is quite different from black teas grown in other regions. The processing and cultivars are different. The process of oxidation is slower and longer, concentrating thearubigins. In addition to using more golden tips, it gives the black tea a more rounded and milder flavor.
Keemun, China's famous black tea has fewer catechins and tends to be less astringent. It has a peachy almond flavor due to the high levels of the terpene geraniol.
Tea Secrets
Chinese teas seem to be more elusive to me than any other. So often the origins of their teas are cloaked in folklore. I often wonder if this wasn't a ruse devised by the Chinese to guard their ancient tea secrets.
The process of teamaking is quite complex providing us with some very special teas. I hope these secrets of tea help you to understand and enjoy your tea better!
---
Source: Tea: A Nerd's Eye View
Virginia Utermoohlen Lovelace MD is a scientist, a physician, and a tea lover. Dr. Lovelace recently published this well-researched book teaching us the science behind tea, giving insight as to why tea is one of the most beloved beverages on the planet for thousands of years.
You can find more of Dr. Lovelace's work at Taste Science.
Source: The Influence of Water Composition on Flavor and Nutrient Extraction in Green and Black Tea
---
TEA FOR BEGINNERS