Darjeeling tea has a delicate fruity essence, quite like champagne. Darjeeling tea is a light black tea grown in the Himalayan foothills.
Why is Darjeeling tea so prized?
Darjeeling's light and fruity essence is often referred to as the Champagne of Tea. This Himalayan tea develops the aromatic characteristic of muscatel grapes due to its terroir and small leaf variety.
Although classified as a black tea, Darjeeling black teas are less oxidized than most black teas. Darjeeling tea is lighter and less astringent than an Assam grown tea from the Camellia sinensis var. assamica.
How Does Darjeeling Tea Taste?
The aroma from a cup of Darjeeling tea greets you with a soft flowery scent. The taste is delicate with a fruity apricot peach flavor. You have just experienced a tea like no other. Darjeeling's first flush spring tea is widely regarded as some of the world's finest black tea.
If you have recently entered the world of fine loose tea, Darjeeling is a must-try. Darjeeling may seem a bit confusing at first, but once you know about Darjeeling's three cropping periods, First Flush, Second Flush, and Autumnal Flush, you will have a better understanding of this beautiful tea.
Tea Growing Regions of India
India has three major tea-producing regions - Assam, Darjeeling, and Nilgiri. Like the wines of France, tea in India is named after the region in which it is grown.
Where the tea is grown and produced has much to do with how the tea will taste. This sense of place is called terroir; it is the idea that the soil, rain, sun, moon, and climate all impact the finished tea.
Assam is the world's single largest tea-growing region. Assam teas are prized for their rich, malty, robust character. They make good breakfast teas and go well with milk. Assam teas with golden tips in them are of the finest quality.
The Darjeeling district, with its high altitude and heavy mists, is nestled in the foothills of the Himalayas. Darjeeling produces much smaller yields with three distinct cropping periods. Darjeeling teas are the prize of India.
Nilgiri is often referred to as the Southern Darling. Nilgiri, literally translated, means 'Blue Mountain.' It is the most spectacular mountain range in south India. Nilgiri teas produce bright and brisk liquors that are flavorful and fragrant.
Growing Darjeeling Tea
In the cold high foothills of the Himalaya mountains lies the Darjeeling district of India. Once a transcendent place for Tibetan Buddhist Monks, Darjeeling is the northernmost district of West Bengali in eastern India.
Tea growing here is said to produce some of the highest quality teas on the planet, often called the Champagne of Tea. Many plants are over 150 years old and still flourishing. The highly acclaimed aromattea is made from the smaller-leaved variety of the Chinese Camellia sinensis plant.
The Darjeeling tea-growing region has nearly ninety tea estates within seventy square miles. In addition to its small size, production is low due to its colder climate. Plant growth is slow, and harvesting is difficult, with tea plants growing on sixty or seventy degrees slopes. Less than one percent of all India's tea is produced in Darjeeling, so there is never enough tea for demand.
What is Darjeeling Tea?
The higher elevations of eighteen hundred to sixty-three hundred feet account for the tea's thinner body and more concentrated flavor. The warm sunny days and cool evenings of the growing season, soil chemistry, rainfall, and cloud mist, are all factors synergizing to create the intense Darjeeling tea flavor.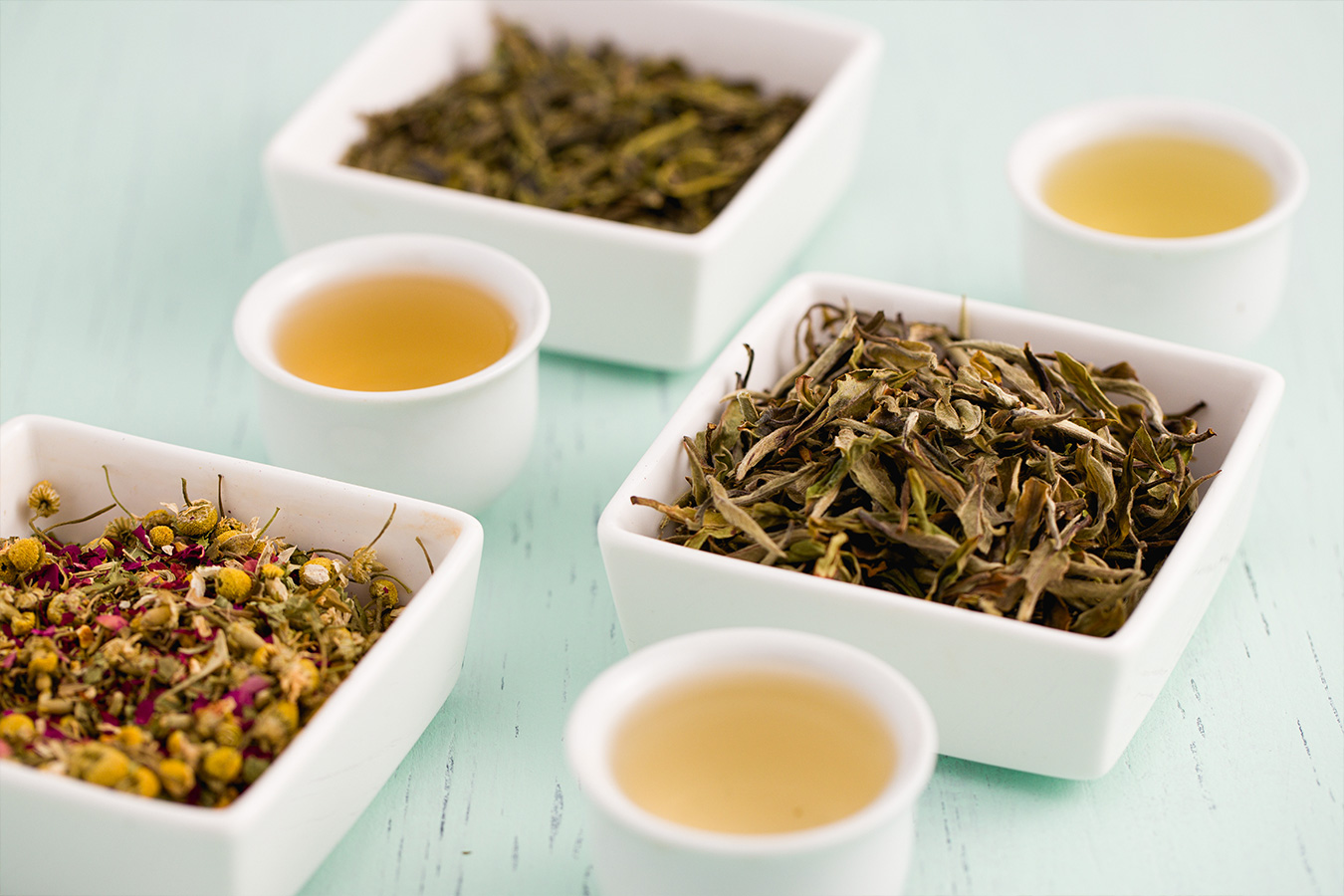 Darjeeling tea is hand-plucked mainly by women, while the men process the tea in the adjoining factories. Workers harvest the tea by hand, plucking the top two leaves and buds of the tender young shoots over three harvesting seasons. Each bush is harvested every four to eight days during the growing season.
All of these factors create tea unlike any other. Traditionally processed into fully oxidized black tea, the brewed tea yields a golden amber color with delicate flowery flavors and hints of peaches and apricots.
First Flush Spring Darjeeling Tea
First Flush refers to the first harvest of spring, which begins in March through April. The first new growth or "flush" pushes nutrients into the young plant tips as the plant comes to life after a long cold dormant winter.
The new growth contains the most catechins, which have antioxidant properties. They also contain the highest amount of L-theanine, an amino acid found only in tea, known for its calming effects, and caffeine, a stimulant.
Spring tea is typically a light yellow to coppery red cup color, with a delicate flowery aroma. It is a brisk tea and very delicate with a short shelf life.
Every year the spring season is much anticipated by tea connoisseurs. And every year produces a slightly different tea, all depending on climate conditions. The quality and character of Darjeeling tea vary drastically throughout the growing season.
Brewing Spring Darjeeling Tea
Brewing Spring Darjeeling tea is more like brewing green tea than black tea, even though they are produced as black tea. The tea leaf is slightly green in color and taste as well. The first flush Darjeeling is quite delicate and should be drunk before autumn arrives. Steep in hot water below the boil for under three minutes as you would a green tea for the best results.
As the growing season progresses, the first flush teas are quite different from the second flush teas produced in the summer months.
Second Flush Summer
May through June, the second flush teas are harvested and have a more robust body and muscatel character with powerful aromas.
Second flush Darjeeling teas are more complex and unlike any other tea.
Second flush teas are excellent, well-rounded, mature, and fruity flavored tea. It is slightly less astringent tea, and some think even better than the first flush. These are my personal favorites.
Third Autumnal Flush
Autumnal teas are produced from October through November following the late summer monsoons. They are similar in character to second flush teas.
The tea plants resume their growth after the monsoon season ends. The leaves are darker and produce a full-bodied, fruity flavored tea. It is stronger than the second flush and brews a more coppery-colored tea.
Darjeeling Tea Estates
Darjeeling tea is traditionally produced as black tea, but many tea estates have begun making white, green, and oolong teas.
Of the nearly ninety estates, some of the most popular are Castleton, Glenburn, Puttabong, Rohini, Singbulli, Sungma, and Margaret's Hope. If you haven't heard of these, that's alright. Know that all teas from the Darjeeling region are among some of the best in the world.
In addition to its outstanding tea, the beautiful Glenburn Estate is famous for its visitor's hotel and tourist attraction. I've never been but certainly wouldn't mind going. At 3,200 feet, the views look breathtaking. I can see why the Tibetan Buddhist Monks called it their transcendent place.
Where to Buy The Best Darjeeling Tea
If you're going to try Darjeeling First Flush spring teas, now is the time to buy.
Tea Box: Now offering first flush Darjeeling tea. They source teas from the Goomtee, Jungpana, Samabeong, Margaret's Hope, and Castleton Tea Estates.
Vahdam Tea: Now offering first flush Darjeeling tea from Gopaldhara, Castleton, Glenburn, Giddapahar, Okayti, Goomtee, and Arya Tea Estates.
Adagio Tea: Now offering a spring Darjeeling tea from the Glenburn Estate.
Golden Tips Tea: Specializes in Indian teas from Darjeeling and all the principal tea-growing regions since 1933. They are now offering spring Darjeeling tea from several tea estates.
Darjeeling teas have a distinctly delicate and sweet-smelling fragrance and flavor, but they are not overwhelming. There is a good reason they are well known as the world's best teas.
Don't miss the opportunity to enjoy this classic tea.
FURTHER READING:
---
Tea for Beginners Start Here >>