The mango peach smoothie is an easy recipe that is outrageously healthy and delicious. I've made healthy eating even better with my secret ingredient!
Can't decide between a peach smoothie or a mango smoothie? Why not both? Mango and peach make a great flavor combo. I might be late for the mango party, but I'm glad I didn't miss it. These superfruits are jam-packed with nutrients.
The great thing about fruit smoothies is they are generally healthy recipes and perfect for a quick breakfast or light lunch on a hot day.
What is Mango?
The mango is an ancient stone fruit of India, mentioned in Sanskrit literature 4,000 years ago. In the US, mangoes in southern Florida only go back 100 years. There are many different mango varieties, but the sweetest mango in the world is the soft Philippine variety.
Choose a mango that smells sweet and is slightly soft. Mangoes vary in color depending on the type, so appearance is not always a reliable ripeness test.
The mango was always a bit of a mysterious tropical fruit to me. I discovered it out of curiosity and found it sweetly indescribable—a mingling of peach, pineapple, and honey. I can't think of a better way to get your mango on than with a superfruit mango peach smoothie.
The mango contains over 20 different vitamins and minerals and has only 100 calories per cup. Mangoes are fat-free, sodium-free, and cholesterol-free. What's not to love?
How to Cut a Mango
There is a specific way to cut and eat a mango. I found detailed instructions on mango.org. If you want to learn more about mango, you should visit their website.
First, slice the mango on either side of the center pit and expose the golden-orange flesh.
Cut the flesh into a gridlike pattern. Be sure not to cut into the skin.
Use a spoon to scoop out the tangy flesh, leaving the skin behind.
Or you can omit all of this and use a mango slicer. I have this one from Amazon. Peeling mangoes can be a mess. This mango slicer easily cuts through mangoes—a must for any mango lover.
Ingredients
plain or peach yogurt
flax seed
chopped mango
diced peaches
banana
honey
tea
See the recipe card for quantities.
Mangoes and peaches are perfect together. Smoothies are a great way to get in all your fruit and protein without eating a heavy meal, making them a flawlessly easy summer staple. It doesn't get much easier than cutting a peach, dicing a mango, and tossing everything into a blender!
Equipment
Pro Tips
FROZEN FRUIT - If you don't have fresh peaches available, the next best thing is to buy frozen peach slices and frozen mango chunks.
Or dice and freeze your fresh fruit in the summer to use in the offseason.
Adding banana makes a creamy smoothie. For a thinner smoothie, omit the banana.
Best Tea For A Mango Peach Smoothie
You could always use a tea with a more robust flavor profile than the Blue Mountain Nilgiri tea that I use here. Any strong black tea would balance well with the fruit flavors in this recipe.
Substitutes
You can use this recipe to make a mango peach smoothie, peach smoothie, or mango smoothie. Just eliminate one of the fruits and double up on the peach or the mango.
The lovely peach may be native to China, but the US grows peaches in Florida, Georgia, and California. Although I have to tell you, I bought the most deliciously sweet and juicy peaches grown on a farm in New Jersey. You're looking at Jersey peaches right here!
There's nothing tastier than buying local fresh fruit in season.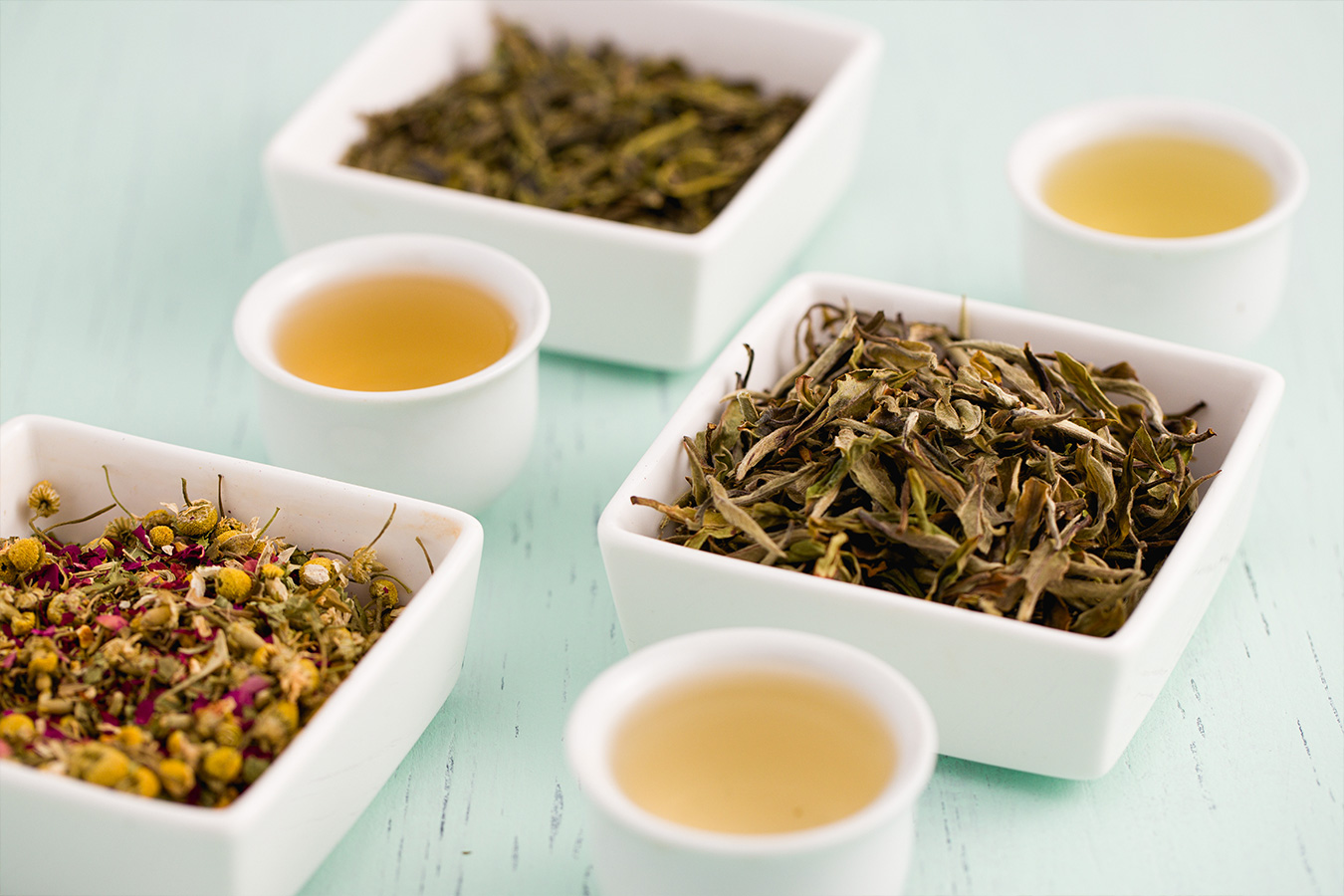 Healthy Smoothie Recipes With Tea
Some of my favorite smoothie recipes are made with tea. Many people don't realize you can cook with tea. Tea is essentially an herb. We infuse the tea leaf in water and then drink it most of the time, but you can also add the tea infusion to many food and smoothie recipes.
The smoothie will not taste like tea. You're just using tea in place of milk or juice. The tea will accentuate the fruit flavors. Much like the addition of lemon juice enhances the taste of peach or raspberry iced tea.
Related:
So instead of using a cup of fruit juice, or almond milk, use a cup of tea. Plus, you get all the fantastic health benefits of a cup of tea right in your mango peach smoothie!
Mango Peach Smoothie Recipe
Recipe
Mango Peach Tea Smoothie
The superfruit mango peach tea smoothie is jam-packed with deliciousness and nutrition.
Instructions
Add black loose leaf tea and steep for 5-10 minutes.

Remove tea leaves - set aside to cool.

Peel and dice fruit and add to blender.

Add flax seeds, honey, yogurt and cooled tea to blender.

Add a few ice cubes to blender.

Blend all ingredients until smooth.

Pour into 2 glasses and serve with a straw.
Notes
You can use this recipe to make a mango peach smoothie, peach smoothie, or mango smoothie. Just eliminate one and double up on the peach or the mango.
Nutrition
Serving:
1
serving
Calories:
150
kcal
Carbohydrates:
36
g
Protein:
2
g
Fat:
1
g
Saturated Fat:
1
g
Sodium:
5
mg
Potassium:
492
mg
Fiber:
4
g
Sugar:
28
g
Vitamin A:
1175
IU
Vitamin C:
40
mg
Calcium:
9
mg
Iron:
1
mg
Mango Peach Smoothie Benefits
Mango Benefits
One cup of mango is high in vitamin C, Vitamin A, Folate, Fiber, Vitamin B6, and Copper.
Vitamin C is a potent antioxidant supporting cognitive neurologic function, collagen formation, increased iron absorption from food, promotes immune function important for wound healing, and keeps gums and teeth healthy. If you have severe bleeding gums all the time, you may be deficient in Vitamin C. Scurvy results from Vitamin C deficiency.
Vitamin A is critical for vision and essential for immune function, reproductive health, healthy skin, and bone growth.
Folate consumption before and during pregnancy may help reduce a woman's risk of having a child with a brain or spinal cord defect known as spina bifida. Folate helps the body make red blood cells and DNA. Folate also supports healthy cardiovascular function.
Fiber makes you feel full faster and may help support weight management. Fiber aids digestion, controls constipation, and slows the absorption of sugar into the bloodstream.
Vitamin B6 is involved in immune function, plays a role in cognitive development, helps maintain normal nerve function, and helps the body maintain normal blood sugar levels. Vitamin B6 also helps the body make hemoglobin, which carries the oxygen in red blood cells to tissues throughout the body.
Copper helps form red blood cells, supports healthy immune function, and helps to maintain bone health.
And that's just in the mango! There's more nutritional goodness to come.
Peach Benefits
A large peach has fewer than 70 calories and contains 3 grams of fiber. It's also a good source of Vitamins A and C.
Banana Benefits
They are full of potassium, fiber, and vitamin B6. Vitamin B6 is essential for healthy brain function and keeping your immune system strong.
Greek Yogurt Benefits
Made from fermented milk, it has twice the protein of regular yogurt at 13g, with a nice dose of calcium in each serving. Greek yogurt adds a creamy texture to your smoothie. Yogurt also contains probiotics. These live organisms can help improve your digestive system absorb nutrients and improve immune health.
Probiotics help you maintain a healthy level of friendly (normal flora) bacteria in the gut or the intestines. This keeps you healthy and minimizes the buildup of toxins absorbed into the bloodstream instead of being correctly eliminated, wreaking all kinds of havoc on the body.
Flaxseeds Benefits
According to Dr. Patrick Quillin, nutritionist, and author of The Wisdom and Healing Power of Whole Foods, flaxseeds are an excellent source of omega-3 fatty acids that promote eye health and help prevent dry eye syndrome, macular degeneration, and cataracts. They are also high in fiber, iron, and protein.
Honey Benefits
Raw honey is packed with vitamins and antioxidants. Studies have found honey to contain an antimicrobial peptide called bee defensin-1. The antimicrobial properties of honey have been used to heal wounds. Honey also has a low glycemic index.
Black Tea Benefits
Tea is high in polyphenols, a potent antioxidant. Antioxidants have proven health benefits for cardiovascular health.
Black tea contains an amino acid called l-theanine, which is unique to tea and has some fascinating effects on the brain. L-theanine increases alpha brain waves inducing a calm and deeply relaxed state. Combined with the caffeine, which is about half the amount found in coffee, the overall effect is a focused calm.
You can read more about the health benefits of tea in the Top 10 Health Benefits of Tea.
Have a fruitful day and enjoy this mango peach smoothie recipe ♡.
---
New To Tea? START HERE >>