A signature blend, this amazing mango chai smoothie is filled with the sweet tropical notes of mango topped off with the warm spicy notes of chai. This is an exceptional blend.
Have you ever thought of adding masala chai to a smoothie? Let me tell you, this is one outrageously refreshing and healthy mango chai smoothie you don't want to miss.
The mango chai smoothie couldn't be any healthier made with a few simple ingredients: black tea, ginger, cloves, cardamom, cinnamon, pepper, mango pieces, banana, flaxseed, and yogurt. Adding the chai spices to a smoothie not only provides added health benefits but adds a nice complexity to the sweet mango flavor.
Blending Flavors
Masala chai is a powerful blend of tea and spices cherished for centuries in India. Some people think it's too complicated to make but I will show you a very simple way to make chai right here.
Chai is basically a sweet spiced tea from India made from a blend of rich black tea and spices. Each blend is unique but most include cardamom, cinnamon, ginger, cloves, and pepper. Traditional Indian chai spices are designed to promote health and peace of mind.
Spices and Tea Used In Chai
Using these spices in your mango chai smoothie doesn't just add flavor but they have amazing health benefits.
All chai spice blends use cardamom. It's the most important and also the most expensive spice in the chai mix. In fact, cardamom is one of the most expensive spices in the world. The good news is you don't need a lot of it to flavor your chai.
For the tea, I recommend a strong black tea such as an English Breakfast, an Indian Assam or a nice Chinese Keemun. You want to select the type of black tea that holds up well to milk and sugar to balance out the strong spice flavors.
Making Smoothies with Tea
Many people don't realize you can cook with tea. Remember, tea is essentially an herb. Most of the time we infuse the leaf in water and then drink it, but you can also infuse the leaf into foods.
You are just using tea in place of milk or juice. The tea will accentuate the fruit flavors.
The Mango in the Mango Chai Smoothie
Did you know mangos contain over 20 different vitamins and minerals and have only 100 calories per cup? Mangoes are fat-free, sodium free and cholesterol free. What's not to love? If mangoes are out of season you can always find frozen mangoes at the market.
Adding banana thickens up the whole drink without watering it down. The addition of Greek yogurt adds protein and you can even add a shot more protein with the addition of a tablespoon of protein powder.
How To Cut A Mango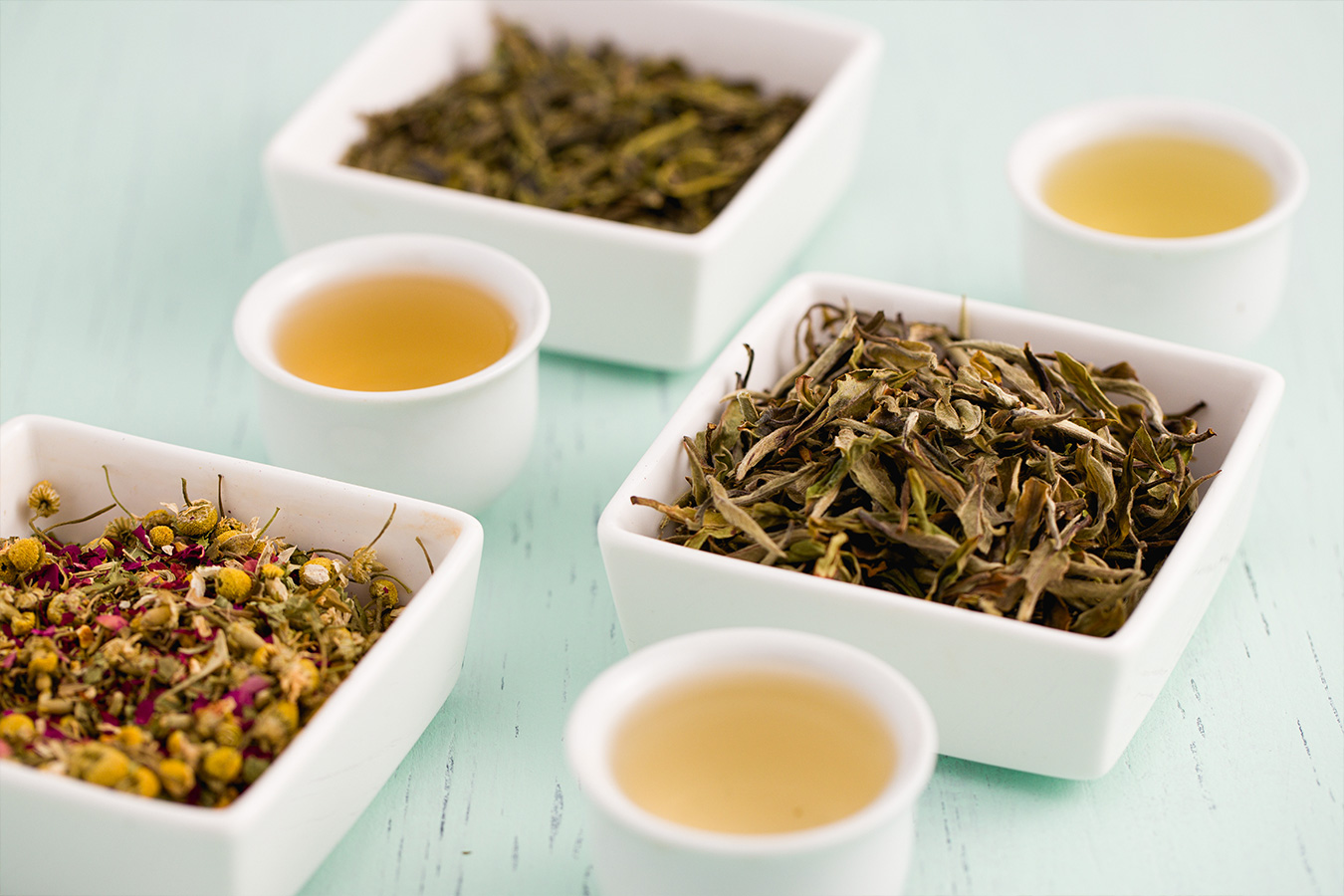 Did you know there's a specific way to cut and eat a mango? I found detailed instructions on mango.org. If you want to learn more about the mango you should visit their website.
First, you slice the mango vertically on either side of the center pit and expose the golden-orange flesh.
Cut the flesh in a gridlike pattern as shown above.
Use a large spoon to detach the flesh from the skin and scoop out the cubes.
Or you can omit all of this and simply use a mango slicer. I have one from Amazon. Peeling mango's can be a mess. This mango slicer cuts through mangoes with ease. A must for any mango lover.
Smoothie Basics
The basics of any smoothie are one-part liquid to three-parts fruit or vegetable. So for this smoothie, my liquid is the chai. I like to put a banana in my fruit smoothies since that adds a touch of sweetness and a creamy dessert-like texture.
If you're having a tough time getting your kids to eat a nutritious meal or snack, try a smoothie. They'll sometimes drink that before eating any one of the single ingredients in it. It's amazing.
Pro Tip: If you're in the market for a new blender - I love my new Blendtec Designer Series Blender. My old blender recently conked out so I finally splurged on a Blendtec. I get the best results with my new Blendtec, I love it. I can't believe how much easier it is to use than my old blender. (No more burnt motor smell when I try to blend up frozen fruits!)
Pro Tip: You can make the chai concentrate ahead of time and refrigerate. You'll have enough for two smoothies. It will keep for a few days.
Recipe
Mango Chai Smoothie Recipe
A signature blend, this amazing mango chai smoothie is filled with the sweet tropical notes of mango topped off with the warm spicy notes of chai. This is an exceptional blend.
Instructions
Chai Concentrate
In a saucepan, add all the spice ingredients to 10 ounces of water.

Bring to a boil. Reduce heat and simmer 20 minutes.

Turn off heat. Add tea. Steep for 5 minutes.

Strain into pitcher and cool.
Mango Chai Smoothie
Place fruit, chai, flaxseeds, yogurt and protein powder in a blender.

Blend on medium for 5 minutes.

Pour into glasses and enjoy.
Notes
You can make the chai concentrate ahead of time and refrigerate. You'll have enough for two smoothies. It will keep for a few days.
Nutrition
Serving:
8
ounces
Calories:
375
kcal
Carbohydrates:
75
g
Protein:
12
g
Fat:
8
g
Saturated Fat:
4
g
Cholesterol:
3
mg
Sodium:
66
mg
Potassium:
870
mg
Fiber:
13
g
Sugar:
28
g
Vitamin A:
1080
IU
Vitamin C:
49.3
mg
Calcium:
498
mg
Iron:
12
mg
Health Benefits of a Mango Chai Smoothie
Banana: They are full of potassium, fiber, and vitamin B6. Vitamin B6 is important for healthy brain function and keeping your immune system strong.
Black Pepper: One tablespoon of ground black pepper contains moderate amounts of vitamin K, iron and manganese, with trace amounts of other essential nutrients, protein, and dietary fiber.
Cardamom: One of the world's most expensive spices, right next to vanilla and saffron. It's a seed from India. The seed pod is a member of the ginger family and is good for enhancing digestion and reducing gas. It increases mental clarity and when added to milk neutralizes mucous forming properties.
Cinnamon: Contains large amounts of highly potent polyphenol antioxidants. Some studies show that the antioxidants in cinnamon have anti-inflammatory activity.
Clove: Often used for an upset stomach. It is also a good source of Vitamin E (Alpha Tocopherol), Calcium and Iron, and a very good source of Dietary Fiber, Vitamin C, Vitamin K, Magnesium, and Manganese.
Flaxseeds: According to Dr. Patrick Quillin, nutritionist, and author of The Wisdom and Healing Power of Whole Foods, flaxseeds are an excellent source of omega-3 fatty acids that promote eye health and help in preventing dry eye syndrome, macular degeneration, and cataracts. They are also high in fiber, iron, and protein.
Ginger: A good source of Vitamin C, Magnesium, Potassium, Copper and Manganese. Ginger is used frequently for dyspepsia, slow digestive motility symptoms, constipation, or colic.
Greek Yogurt: Made from fermented milk, it has twice the protein of regular yogurt at 13g, with a nice dose of calcium in each serving. Greek yogurt adds a creamy texture to your smoothie. Yogurt also contains probiotics. These live organisms can help improve your digestive system to absorb nutrients and improve immune health.
Probiotics help you maintain a healthy level of friendly (normal flora) bacteria in the gut or the intestines. This keeps you healthy and minimizes the buildup of toxins that could be absorbed into the bloodstream instead of being properly eliminated, wreaking all kinds of havoc on the body.
Honey: Raw honey is packed with vitamins and antioxidants. Studies have found honey to contain an antimicrobial peptide called bee defensin-1. The antimicrobial properties of honey have been used to heal wounds. Honey also has a low glycemic index.
Mangoes: One cup of mango is high in vitamin C, Vitamin A, Folate, Fiber, Vitamin B6, and Copper.
Tea: Tea is high in polyphenols, a potent antioxidant. Antioxidants have proven health benefits for cardiovascular health.
Black tea contains an amino acid called l-theanine, which is unique to tea and has some very interesting effects on the brain. L-theanine increases alpha brain waves inducing a calm and deeply relaxed state. Combined with the caffeine, which is about half the amount found in coffee, the overall effect is a focused calm.
Isn't it amazing that we can get all of these wonderful health benefits from just one smoothie? That's why I love them so much - they are jam-packed with so much nutritional goodness!
---
NEW TO TEA?