White Tea has a smooth, delicate flavor making it perfect for any occasion. Only the fresh new leaf bud of early spring is selected for the famous Silver Needle tea.
White tea is the least processed of all the tea types. Many varieties of tea and flavors are created from the Camellia sinensis plant.
What makes this tea so different than others from the same plant?
What is White Tea?
White tea is a tea style from the Camellia sinensis plant, the least processed type of tea. It is not oxidized like black and oolong tea. In most cases, the young buds are selected for white teas alone.
Emerging leaves and budsets in the spring contain the highest nutrients, volatile oils, and chlorophyll, making this tea the sweetest and most coveted.
Traditionally loose white tea came from the Fujian Province of China. Today it is produced in other Chinese provinces and tea-producing regions throughout India, Sri Lanka, South Asia, and Rwanda.
White Tea
Only young tea buds, which are the immature leaves, shoots, or tea plant tips, are harvested. Traditionally white tea, one of the true teas in China, could only be produced from the Camellia sinensis cultivar Da Bai.
While some styles of white tea are steamed and some are rolled before packing, most are not. This makes it the least processed tea. Once the tea is harvested, it is processed through a withering and drying phase to reduce moisture. For white tea, this takes about two to three days.
The tea chart below illustrates the minimum level of processing for each specific tea category.
Photo credit: worldoftea.org
Types of White Tea
Most white teas are produced in China with two primary varieties of Chinese white tea:
White Peony tea
Silver Needle tea
Looking closely at the Silver Needle pictured below, you can see it is produced from the plant's fresh new bud with its characteristic fine white hairs.
Six of the best white teas are identified by style and place of origin: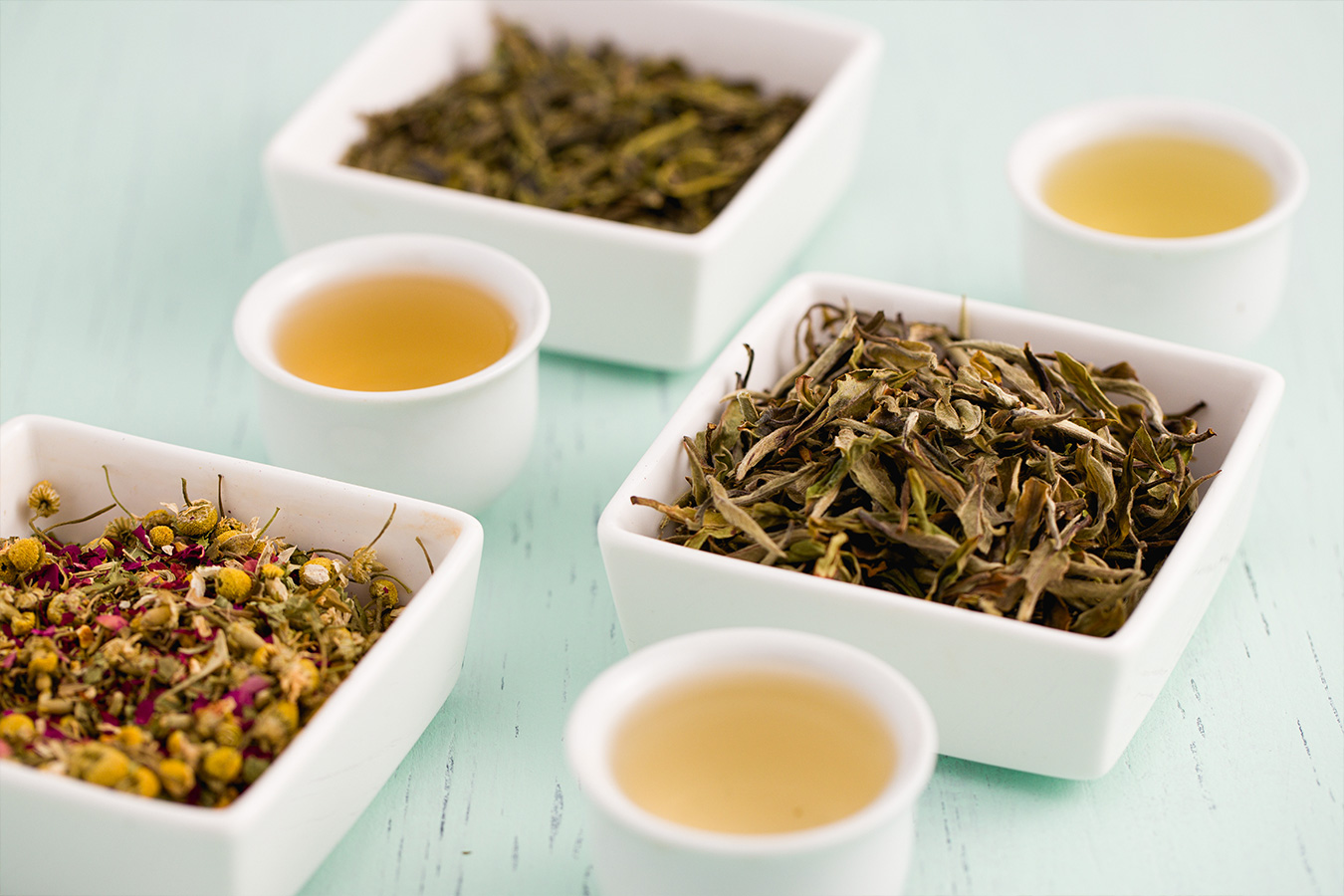 Bai Hao Yin Zhen - Silver Needles or Flowery White Pekoe. Made from 100% buds. Fujian Province, China.
Bai Mu Dan (Pai Mu Tan) - White Peony. Made from buds and the first leaf together. Fujian Province, China.
Shou Mei  (Long Life Eyebrow) - Eyebrow teas are named for their delicately curved shapes. They are made from the leaves only. Fujian and Guangxi Province, China.
Gong Mei (Tribute Eyebrow) - Historically, tribute tea comes from giving the emperor the finest tea.
Monkey Picked White Tea - High-quality Chinese tea from the buds and young leaves of the plant.
Darjeeling White - Himalayan White is from the Darjeeling region of India.
Does White Tea Have Caffeine?
The caffeine levels and polyphenols can vary widely, but white tea leaves contain caffeine.
It's a myth that a cup of white tea has less caffeine. How much caffeine in any tea will vary depending on the processing methods, the amount of leaf used in brewing, and the length of time the leaf is infused in the water.
For tea drinkers who must watch their caffeine intake, as a reference, black tea leaves are reported to have about 40 milligrams of caffeine per cup. This is half the amount of caffeine as a cup of coffee.
What Does White Tea Taste Like?
The flavor is very mild. It's light with an almost honey-like sweetness. White tea has a clean, fresh taste, sometimes floral and often sweet. It is very smooth with no astringency.
If I were to compare this tea to wine, I would say it's delicately light and sweet, like a Prosecco or a Cava without the addition of sparkling fermentation.
Like wine, the tasting notes can vary widely depending on the leaf origins and style and the processing and brewing methods.
Brewing White Tea
Brewed white tea, despite its name, is a pale yellow. The fine silvery hairs on the unopened buds of the tea plant give white tea its name.
You can brew white teas at various temperatures depending on the flavors you want to extract. Most tea connoisseurs will suggest brewing these delicate teas at the same temperature as green tea to preserve their delicate flavor profile.
However, white teas do not turn bitter, so you can brew them at slightly higher temperatures, from 185 - 200°F (85-93°C), with 190°F (88°C) the ideal.
Leaf quantity: 2-3 grams
Brewing time: 4-6 minutes
Temperature: 185 - 200°F (85-93°C)
As always, it's best to use filtered water.
White Tea Benefits
The health benefits of tea are well documented. The young bud used in white tea contains higher levels of antioxidants with a high concentration of catechins and polyphenols, making it one of the healthiest teas. These antioxidants are known to help support the immune system.
A healthier immune system functions better in guarding against disease.
We know that an immune system imbalance can lead to various diseases. And nutrition plays an essential role in immunity. Polyphenols play a vital role in nutrition.
Polyphenols are the most abundant chemicals in the plant kingdom and support immunity to foreign pathogens. The great news is tea is abundant in a variety of polyphenols.
Simply put, polyphenols help to regulate your immunity. Source
Where to Buy White Tea
Most good tea shops will have high-quality tea. Shop your favorite tea store or try some of my recommended tea shops.
Adagio Teas has a variety of white teas and some flavored ones. I like Adagio because they have an extensive rating system to read what others liked or disliked about a particular tea. I find this very helpful when shopping online. The majority of their teas are of outstanding quality.
If you are looking for premium artisan teas, try Adagio's Masters Tea collection. The variety is much smaller, but the quality and freshness are very high.
The Tea Spot offers a variety of white teas in blends and orthodox styles. I like The Tea Spot because they always provide good quality tea while making it accessible to the everyday tea drinker. They include loose-leaf tea and sachets. The Tea Spot makes it very easy to incorporate tea into your daily life.
The White Anastasia Tea is a blend of white tea, orange blossom, bergamot, and lemon, producing a lovely delicate tea. It reminds me of an oolong.
Rare Tea Company is based in London and owned by Henrietta Lovell, author of the book Infused. In the book, she discusses her morning ritual with "bed tea," which I am a fan of. Her go-to tea is Silver Needle, so I had to try it. An excellent tea that I highly recommend. It's called Silver Tip. They ship internationally.
Smith Tea makes curated tea blends and loose-leaf varietals crafted in small batches in Portland, Oregon. White Petal Blend No. 72 is a lovely blend of China White Peony (Bai Mu Dan), osmanthus flowers, and chamomile. A sweet, refreshing floral tea.
Vahdam Teas has a lovely variety of Darjeeling and Himalayan white teas. Being an Indian tea company, they specialize in Indian tea, but they have a Silver Needle that is quite nice. If you're unsure which tea you like, try their variety pack.
---
New to Tea? START HERE >>