Have you been looking for a chocolate tea cake recipe that is moist, delicious, and better than any other? This recipe will delight and satisfy you.
My family loves chocolate, especially my daughter. So I wanted to make her the best chocolate cake for her birthday.
The recipe I found will delight and amaze you.
Instead of buying one from our local bakery, which is usually very good, I started my quest. I searched my cookbooks, recipes collected over the years, and favorite food blogs for deliciously moist chocolate cake recipes.
How to Make Cake Moist and Soft
I came across a triple chocolate cake recipe from Sally's Baking Addiction. It's triple chocolate because it adds chocolate chips topping the chocolate buttercream frosting. A true chocolate lover's heaven!
I follow her baking blog and have tried many of her recipes, and they were all delicious. So when I read this recipe, I knew it would be easy to make and delicious.
And I was right. It was excellent the first time I made it! Now that's a good recipe. The other thing I found intriguing about this recipe is that it called for adding coffee, so I substituted tea instead.
Perfect, a cake made with tea! You know I love the added tea. English Breakfast tea is a lovely strong tea to use. And the thing is, you can't taste the tea – but it's in there, just enhancing the chocolate flavor and secretly giving off its tea benefits.
I didn't know you could do this since I'm not a baker. So I asked Sally about her recipe. She explained that,
If a recipe calls for water use coffee, tea, juice or anything else to bring out more flavor."
I love this idea - more ways to add tea to my recipes!
Secret To a Light Fluffy Chocolate Cake
All bakers want the same thing from their cakes – light layers with a tender, uniform crumb. And this chocolate tea cake recipe delivers.
The most important thing I learned from this recipe is to use eggs and dairy at room temperature. Why?
Pro Tip:
The Culinary Craft explains the lightness in a cake is derived from air bubbles or carbon dioxide.
The leavening effect of baking soda and baking powder creates air bubbles.
Heat expands air, so the air bubbles expand when the cake batter is placed in a hot oven.
A more stable chemical bond or emulsion forms when you start with room-temperature ingredients.
As the batter warms in the oven, the liquid emulsion formed from the ingredients fills these air bubbles.
This little trick produces a light, airy, evenly baked cake.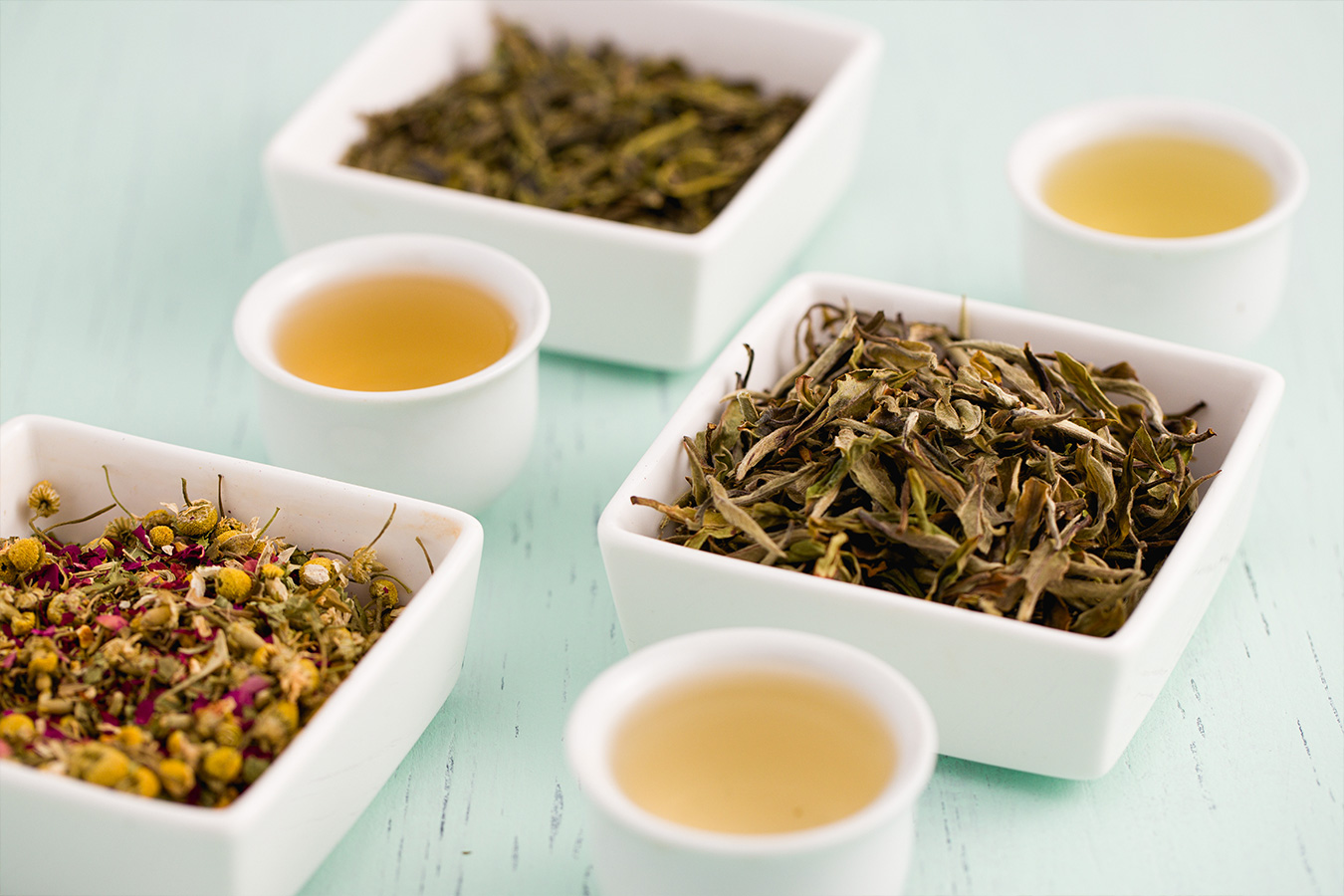 So, before blending anything, let all your dairy products sit at room temperature for at least an hour or until they warm to room temperature.
Chocolate Cake Ingredient Tips
For the unsweetened cocoa powder, I used Hershey's. Do not use Dutch-processed cocoa powder. Hershey's works best. The Dutch processed won't correctly react with the leavening agents, like baking soda, to produce carbon dioxide because it's not acidic cocoa; it's alkaline.
Tea Infused Cake
For the tea, select a quality loose-leaf tea for a better flavor. You want to brew it strong using one and half times more loose tea than you usually would for a cup of tea.
Because the recipe called for a strong black coffee, I substituted a robust black tea. Any Breakfast tea will work. You're looking for a black tea that is strong and malty, like an Assam. If it holds up well to milk, it will work well in this recipe.
The key to cooking with tea and getting a nice tea-infused flavor is to be sure you are using fresh loose-leaf tea. Quality loose-leaf teas are highly aromatic and will work best.
Infusing tea into a cake makes it moist and tender. Plus, it's fun to play with the flavors a bit. You could try a Chai or an Earl Grey tea-infused cake.
Every tea shop specializes in something different, and there are many choices.
Measuring Cake Ingredients
Measuring accurately is critical in baking. Some bakers are meticulous and measure everything by weight, so I've included the amount in grams with each ingredient if that's you. You will bake a better product.
Chocolate Frosting
This simple chocolate cake has become my go-to cake for every occasion. Last year I made this cake from scratch for Easter and added all the basket goodies as trimmings.
The frosting is a buttercream frosting, which makes it smooth spreading. I made a basket weave on the side of the cake, and it was pretty easy with this frosting.
There are many ways to frost this cake; the ideas are endless. You could top it with sprinkles or mini chocolate chips. Get creative!
Chocolate Tea Cake Recipe
Recipe
Chocolate Tea Cake
A chocolate tea cake recipe that is moist, delicious with the addition of a strong brewed black tea.
Instructions
Chocolate Tea Cake
Butter and flour, or line with baking parchment paper, two 8-inch round cake pans.

Sift together flour, sugar, cocoa powder, baking soda, baking powder and salt in a medium-sized bowl. Set aside.

Mix with electric mixer on HIGH speed the buttermilk, oil, room temperature eggs, and vanilla in a large bowl until combined.

SLOWLY add the dry ingredients to the wet ingredients on LOW mixer speed.

Add the hot brewed tea. Note the batter is very thin - this is the way it's supposed to be.

Pour batter evenly into prepared cake pans.

Bake for 30 - 35 minutes until a toothpick comes out clean when inserted in the center.

Cool before frosting.
Milk Chocolate Frosting
Beat butter on HIGH speed until smooth and creamy - about 2 minutes.

SLOWLY add confectioners sugar and cocoa powder to butter on very LOW speed until fully incorporated.

Add vanilla and cream on MEDIUM speed. Beat for 1 minute on HIGH speed.

Assemble and frost the cake. Decorate with chocolate chips if desired.
Notes
Let all your dairy products sit out at room temperature for at least an hour or until they warm to room temperature.
The cake will keep when covered at room temperature for 4 days and refrigerated for up to 7 days. Believe me, it won't be around for 7 days!
Chocolate cake recipe adapted from Sally's Baking Addiction with permission.
Nutrition
Serving:
1
slice
Calories:
490
kcal
Carbohydrates:
68
g
Protein:
4
g
Fat:
25
g
Saturated Fat:
16
g
Cholesterol:
66
mg
Sodium:
530
mg
Potassium:
210
mg
Fiber:
3
g
Sugar:
52
g
Vitamin A:
565
IU
Calcium:
54
mg
Iron:
1.9
mg
Chocolate Cake Nutrition
A cake isn't nutritious, you say? Read on...
Buttermilk:
It's rich in riboflavin, high in bone-building calcium, and packed with protein. Buttermilk is also an excellent potassium, vitamin B-12, and phosphorous source.
Did you know buttermilk is also a probiotic food? It contains the type of bacteria that aid in a healthy digestive process.
Buttermilk is made by adding Lactobacillus acidophilus, the probiotic bacteria that gives buttermilk its sour taste, much like yogurt.
The intestines contain bacteria known as "normal flora" or healthy bacteria. Probiotics are part of good intestinal bacteria.
So it's best to use real buttermilk if you can.
Black Tea:
Thousands of scientific studies show that regular tea drinking can have significant health benefits. After all, it is plant-based food. The same compounds found in fruits and vegetables are the major bioactive compounds found in tea.
In tea, flavonoids are found in very high concentrations. Because of this, tea has fantastic health benefits.
Vanilla:
A teaspoon of natural vanilla extract contains 5.5 mg of potassium and trace amounts of magnesium, calcium, and phosphorous.
Madagascar vanilla beans are reputed to have a sweet, creamy flavor associated with classic vanilla. Do yourself a favor and skip the artificial stuff.
Chocolate:
A good source of antioxidants and iron. Antioxidants are reported to prevent heart disease and cancer. They are also known to have anti-inflammatory properties.
Some studies have suggested chocolate could lower cholesterol levels and prevent memory decline.
Enjoy Your Chocolate Cake
If you want to score a victory with your chocolate lovers, bake this cake for them. And then celebrate!
---
NEW TO TEA? START HERE >>