Tea to go. Enjoy great tea anywhere, whether you're an overnighter, away for the week, at work for the day, or on a picnic. Here are some of the best ways to travel with tea.
Do you dread not having your favorite loose-leaf tea when you're away from home? There's nothing more comforting than a cup of tea, especially when it's your favorite.
Tea drinkers who want to take their tea with them can easily do so with a few insights and the right gear. You can take your tea to the park with friends or use a portable tea infuser for taking a cold-brewed oolong on a hike or bike ride.
I will show you some of the best ways to travel with tea by taking your teaware and tea to go. There are many creative ways to take your favorite tea with you!
Here's what you'll need for tea in the park, at the beach, on a hike, or any place you may picnic.
A thermos of hot water
A sturdy teapot or gaiwan
Teacups
A padded carrier to prevent breakage
Select a nice quiet spot and enjoy
If you need some travel teaware items, check these out:
Best Tea Infuser Mugs
I've used this tea infuser mug I bought from Tea Forte for years. It has a stainless steel infusing basket that sits inside and a lid that keeps the tea warm. The inverted top can then set the basket on to catch any drippings after the tea is finished steeping.
You can bring your favorite tea leaves to work and keep them stored in an airtight tin and use the hot water from the office coffee machine for steeping.
Another tea infuser travel mug I love is this steeping mug and infuser from The Tea Spot simply because of the beautiful design and generous size. It even has a steeping guide printed on the back. The mug is double-walled ceramic allowing for excellent insulation. I bought this tea travel mug set for my daughter, who takes it everywhere!
Best Electric Tea Kettle
The other option is to bring an electric kettle if you're going to be in one place for a while, such as an office. I like the Bonavita or the Cuisinart model because they have variable temperatures and elegant designs. Bonavita does make less expensive models that you wouldn't mind leaving at work.
Best Travel Tea Tumbler
A quality traveler tea infuser tumbler is a must-have when you're taking tea to go. Most are well-insulated, making them perfect for hot or iced tea.
What to look for in a good tea infuser tumbler:
Double-walled stainless steel to keep hot or cold for hours.
A good seal that does not leak.
A screw-on lid to survive accidental dropping or tossing in backpacks.
A large stainless steel removable infuser.
Easy to take apart and clean.
My daughter bought me a travel tea tumbler from Teavana, which has a built-in stainless steel infuser…it is the best thing ever. I bring this whenever I travel. I can even store tea inside the tumbler in a sealed bag while it's not being used. I highly recommend investing in a quality tea tumbler if you don't have one already. This tea thermos keeps my tea piping hot for hours.
The Tea Spot Mountain Tea Tumbler
Now that Teavana is no longer, I looked for a replacement tea tumbler to recommend to my readers. As you know, I love The Tea Spot, and I came across their Mountain Tea Tumbler from their Steepware collection, which I love. It checks off all of my must-haves for a great tea tumbler.
This tumbler won the 2018 World Tea Award for the best tea brewing device - (non-electric).
The stainless steel basket infuser is larger than the Teavana one, so it's perfect for infusing larger whole-leaf teas. Another plus to the infusing basket is that it's large enough to add fruit pieces to flavor your tea or simply flavor water for a cold refreshing drink.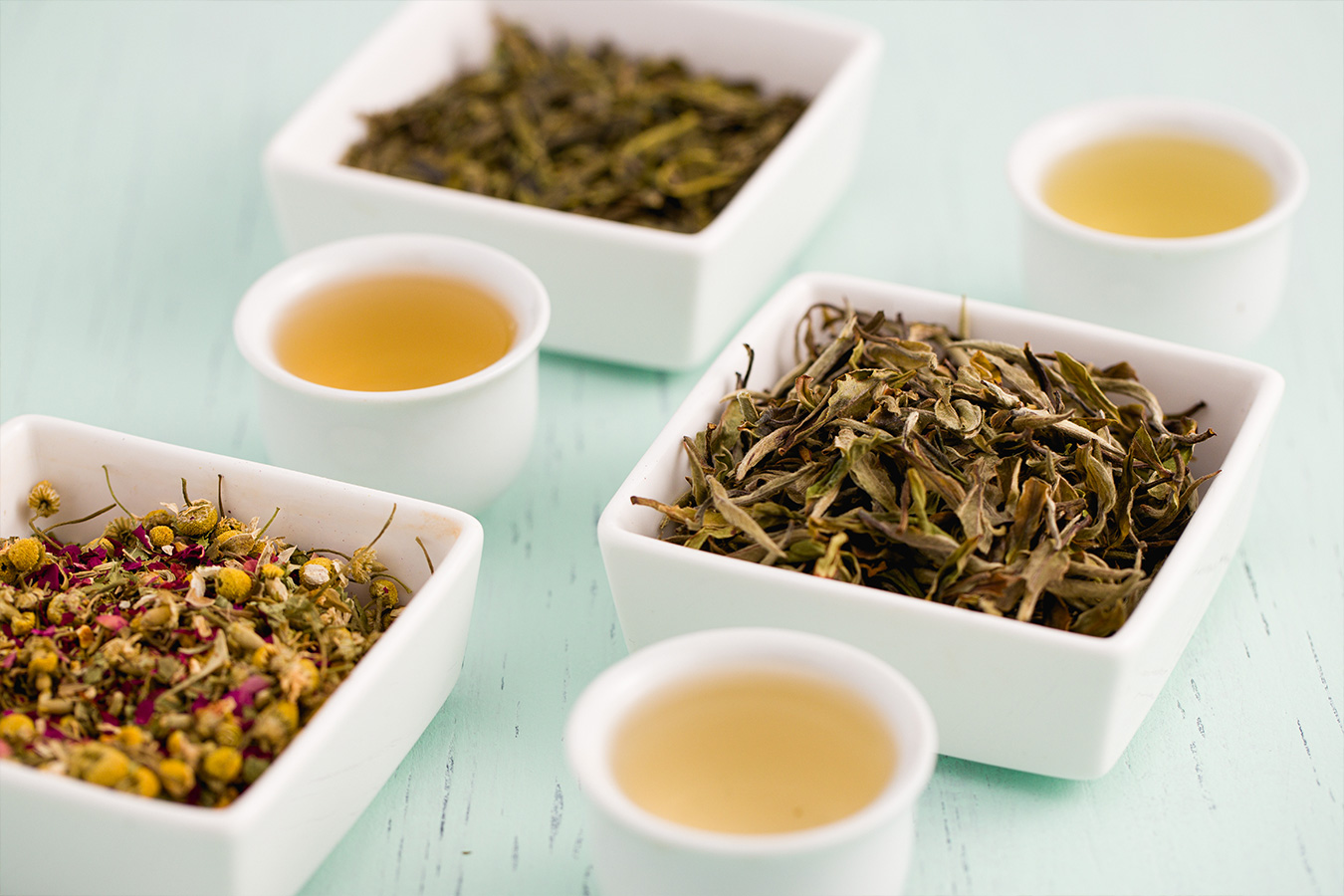 I much prefer the stainless steel-lined tumblers and the stainless steel infuser baskets. They're more durable and easier to keep clean. I'm not a fan of the plastic infuser baskets. They're harder to clean and stain too easily.
Food-grade stainless steel, glass, and porcelain are my first choices for any food or beverage because they are chemically inert. There's no need to worry about harmful chemicals leaching into your drink.
Best Glass Tea Tumbler
The urban glass tumbler from The Tea Spot is another of my favorites. I tend to use this for my cold-brew tea. I like the glass so I can see the cold tea infusions. The generous-sized stainless steel basket effortlessly infuses my favorite oolongs.
You can also use it for steeping hot tea since it's constructed of borosilicate glass. The stainless steel lids come off at both ends for easy cleaning. The cork sleeve and strap make this tumbler easy to hold and carry. The design is stylish and fits my car cup holders or bike beverage holders.
Best Travel Tea Set for Gong Fu Brewing
Taking a teapot, cups, and leaves can be a hassle when you're on the go, especially if you like to brew your tea gong fu style.
Generally, gong fu brewing uses more tea leaves than water, with considerably short brewing times. The process is repeated to extract the varying flavors released from the same tea leaves.
This is a style of brewing that uses a small teapot of some sort. It could be a Gaiwan (guy wan), Yixing (ee shing) teapot, or small porcelain teapot.
A Gaiwan is usually made from porcelain, while a Yixing is unglazed and made from red or purple clay. This is purposeful. The clay absorbs the tea flavor over time and continues adding to the brewed tea's complexity. This is why dedicating Yixing to one type of tea is recommended.
OMyTea sells this delightful portable porcelain gong fu style tea brewing set all wrapped together in a convenient travel pouch. I highly recommend this tea set if you must have your tea gong fu style while traveling. How cute is this set??
Best Tea Filter Bags
I don't mind the hassle of bringing my tea, but I want to keep things simple. Bringing bagged tea is the simplest solution; if you choose that route, you have a few options.
Buy a good quality bagged tea. I recommend several online retailers that carry quality bagged tea.
Buying quality loose-leaf tea packed in sachets and placing them in a travel tin is the easiest way to make tea on the road.
Usually, I will bring a good quality full-leaf tea in a pyramid bag from Adagio or The Tea Spot and brew my tea with whatever hot water is available from the hotel or café.
You can also make your own bagged tea from your favorite loose-leaf tea.
If you want to make your tea sachets, the best ones I've found are made by Bstean tea filter bags. I like these because they are large and easily hold a healthy teaspoon of loose-leaf tea with room for the leaves to expand.
They come in two sizes and are made of unbleached natural paper, so there's no funny taste in your tea. The drawstring design is better than the fold-over flap style. I recommend buying the larger size for loose-leaf teas.
Best Travel Tea Sets
Zens Lifestyle makes clean, straightforward design teaware. Many of their products have won design awards. Their portable teaware is excellent to use on short trips. They have two different sizes. The smaller one is for individuals, and the larger set is for two people.
The Mobile Moon Tea Set is designed for traveling with a companion tea drinker. It makes an excellent little carrier for picnics. The teapot is made of borosilicate glass with two double-walled glass cups and a traveling case.
Zens's other product is a portable borosilicate glass travel tea set and tea infuser all in one. It comes with a 7.7-ounce teapot, a stainless steel infuser, and a double-walled cup packaged in a trendy little tote bag.
Zens Lifestyle makes beautiful products if you're looking for a stylish product for tea on the go. It's so easy to use the Zens Lifestyle portable travel tea set. The travel set allows you to infuse your tea in the upper chamber and, with a button, release the brewed tea through a stainless steel screen into the lower chamber glass cup.
Best Hot Water Thermos
Don't forget the hot water! THERMOS makes a large-capacity tumbler stainless steel vacuum insulated to keep liquids hot for 24 hours. The stainless steel exterior remains cool to the touch with hot drinks. The king-size holds 68 ounces - enough to keep you brewing tea all day!
Best Practices When Traveling with Loose Leaf Tea
Only pack easygoing and simple-to-steep teas, like black teas or robust oolongs that can take boiling water.
Choose pre-packaged or pre-fill your sachets with premium loose tea.
Pack teas that use boiling point water since the hottest water available in hotels and cafés are boiling point temperature.
Think twice before bringing teas requiring lower temperatures or pack a thermometer.
Or leave the more delicate teas at home.
Learn to live with premade teas on the go. (I know, know).
Can You Bring Tea on a Plane?
In general, yes, don't worry.
I've never had any problems with tea sachets in bags placed in my carry-on.
You shouldn't have problems with dried food products as long as they are in sealed packaging.
Customs officials don't care unless the declared goods' stated value is exceptionally high or it's an agricultural product. Dried and processed tea is an agricultural product. However, it's not a live agricultural product.
To be safe, I would perhaps store the tea in a tea canister or bag instead of loosely in a ziplock sandwich bag, making it look like something else entirely. Until you smell it, of course!
International travelers are permitted to bring without restriction any quantity of products composed solely of tea leaves (Camellia sinensis: includes black tea, green tea, oolong, dark tea, white tea, and yellow tea). As with all agricultural products, you must declare the product at entry. Source
Forgo Tea to Go
Maybe you couldn't be bothered and have decided to just take your chances and not travel with tea. Truthfully, if you're traveling to a tea-drinking country, chances are you may find some excellent teas to try. Explore and drink whatever tea is available where you're going.
I have a friend who travels from England to the United States and always brings her tea. It's in the form of tea bags, which most Brits drink. But it is still so much better than the majority of black-bagged grocery store tea available here in the states.
On the flip side, when we traveled to Italy, I knew the chances of getting good tea were pretty slim. I was very excited when we came upon a specialty tea café in the Piazza Navona in Rome, but unfortunately, it was closed for renovations. As was the Trevi Fountain, an omen telling me I must return.
Instead, I discovered some excellent espresso, cappuccino, and red wine. My point is that a short time without your favorite tea won't hurt and may open a world of new beverage discoveries.
How do you take your tea to go?
What teaware do you find easiest to use on the go? Share your best tips for traveling with tea in the comments below.
---
Tea for Beginners Start Here >>