Tea organizers keep your prized tea fresh. Discover the shelf life of different teas and the best tea storage tips.
What is the best way to store your tea to keep it as fresh as possible?
Freshness is the most critical factor in your tea's flavor and nutritional potency. You want to avoid tea storage that harms your tea's freshness. Proper storage is not complicated once you know the basics. Here's my best advice.
Storing Tea
Avoid these six great enemies of tea freshness: time, heat, light, oxygen, humidity, and odors.
Let's take a quick look at each:
Time
By time, I mean the amount of time that passes when the tea leaves the farm and arrives in your kitchen. As you know, similar to vegetables, tea is a plant. Tea is best when it's fresh. Thanks to its healthy, flavor-preserving polyphenols, it will stay fresh from six months to a year or more if properly stored.
And this is why supermarket teas taste so dull and lifeless compared to fresh teas. Store-bought teas must travel a slow journey that begins at the farm, where tea sometimes sits in storage before shipping. Most tea shipped outside of the country of origin travels via slow cargo ships.
Then these teas are stockpiled at warehouses, where they wait months until existing retail inventories sell out. As a final indignity, they sit on supermarket shelves for additional months or even years. Sadly, all these delays between the farm and your teacup destroy tea flavor and nutrition, all the more reason for buying fresh tea.
The shipping period for tea starts approximately six weeks after harvest. The tea shipped at the beginning of a season is the most valuable. Always look for a harvest date and a "best by" date on your tea.
Keep in mind most teas are harvested in the spring and summer seasons. Shipping tea later after harvest may result in quality degradation during transport.
In general, tea has a long storage life of 18 months or more provided that proper transport and storage conditions are maintained.
Heat, Light, and Oxygen
Tea has an aversion to the oxygen content in the air. The tea leaf will oxidize when exposed to the air and continue to deteriorate with exposure.
When exposed to ultraviolet light and heat, tea leaves dry out, causing them to lose their color and fragrance.
To prevent these enemies from harming your tea, here's what to do:
Always store your teas in a cool, dark area away from heat sources. For instance, avoid storing them on a shelf or in a cabinet above your stove. Never keep your tea on a window sill or in direct sunlight.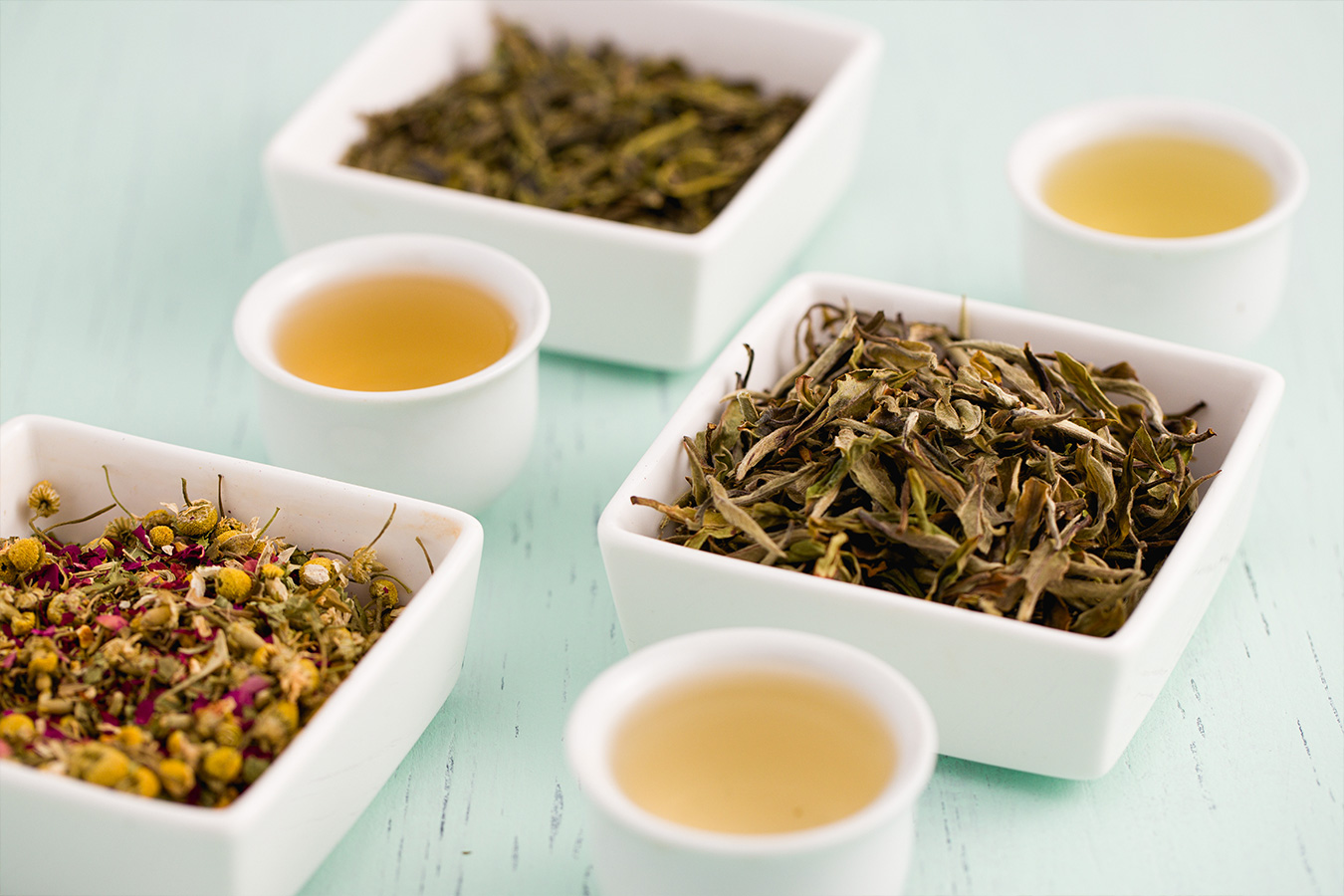 Always keep your teas in sealed containers, which block out light. And be sure to keep the cap securely closed to prevent additional oxygen from entering and diminishing flavor and nutrition.
Related:
Humidity and Odors
Store tea in opaque, waterproof containers. Tea rapidly absorbs humidity and odors, causing a significant decline in quality.
Tea leaves notoriously absorb surrounding scents. The ability of tea leaves to absorb smells is beneficial for creating scented teas, such as jasmine tea. Jasmine blossoms are stored close to tea leaves, resulting in a jasmine-scented tea.
Unfortunately, this same quality of tea can be detrimental if your tea comes in contact with unwanted odors.
Store your tea containers in a place free from strong odors. Whatever you are storing your tea in must be completely inert. Choose containers made of food-grade stainless steel, glass, or ceramic. Some wooden containers, airtight tins with strong-smelling rubber seals, and plastic containers can all leave your tea with a disagreeable aroma and taste.
Should You Refrigerate Your Tea?
I'm not a big fan of this practice. Your tea may retain moisture in the fridge that condenses inside the container when you remove it from the refrigerator or freezer. Even though the cold temperatures dramatically slow down oxidation reactions.
If you decide to store tea in the refrigerator, only do so if it's still in its original packaging and unopened, preferably in a vacuum-sealed bag. Don't keep opened bags in the fridge because the leaves can easily collect moisture or odors.
Tea Container
It is possible to keep your tea flavorful and flavonoid-rich for one to two years. As soon as you receive your tea, transfer it to an airtight tea container.
If you follow the precautions mentioned above, your teas will remain at their peak of freshness for about six months for green teas and up to a year or two for black and heavily roasted oolongs. Aged teas are a different story.
Tea Storage
Loose leaf tea should be stored in a cool, airtight location, away from strong odors or direct sunlight.
The different types of tea have varying internal moisture requirements. An airtight container maintains the proper atmosphere established during the manufacture of each specific tea.
Some very fresh green teas will maintain their flavor best in a very cool environment. Such as wine cellar conditions or in the refrigerator.
A well-sealed container at ambient temperature should be sufficient for the quantity of tea customarily kept at home.
Tea Storage Tips
The more oxidized and intact the dried leaves are, the longer they will last. Floral, herbal, and fresh teas have a shorter shelf life.
Black tea, highly oxidized oolongs teas, and budset white teas are best within one year of purchase.
Less oxidized oolong tea, leaf white teas, and standard green treas are best within six months to a year.
Fresh spring-picked green teas are best within the first 3 to 6 months.
Puerh tea will keep for years and may improve with age if it is Sheng Puerh.
10 Best Tea Organizers
Tea storage containers come in many shapes and sizes. Here are a variety of excellent tea containers to suit any tea enthusiasts' needs. Full flavor starts with fresh tea!
Adagio: Tea Storage Tin Stackable tins with a clear UV-coated lid to see the tea inside.
2. Tea Vivre: Beautiful Tea Storage Tins. The washi canisters are metal covered in traditional Japanese paper. The double lid makes them ideal for keeping tea in perfect condition.
3. Harney & Son: Wooden Tea Chest. A beautiful wooden tea bag organizer filled with eight teas. A total of 32 wrapped sachets per reusable tea chest.
4. Airscape Stainless Steel Containers: The Airscape Coffee, Tea, and Food Storage Canister have an airtight lid to preserve food freshness with a two-way valve and plunger to remove air.
5. Art of Tea: Art of Tea Canister products offer an assortment of beautifully designed glass canisters. Art of Tea's glass tea canister is lightproof and airtight to keep your tea leaves fresh.
6. Art of Tea: Also, check out their beautiful leatherette tea bag organizer with an assortment of delicious teas packaged in eco-friendly tea bag sachets. The tea bag organizer is reusable.
7. Tea Vivre: Beautiful! A Ceramic Tea Caddy to store tea in style without losing function. It's airtight, keeping tea fresh and away from moisture and light. A great choice to store most kinds of teas, TeaVivre's ceramic tea caddy can hold tea bags or loose tea.
8. Veken Food Canister: Airtight Stainless Steel Kitchen Food Storage Container with a date tracker and scoop for beans, grounds, tea, flour, cereal, sugar, and more. 
9. Oggi Tea Canister: The sizeable Stainless Steel Tea Cannister holds loose-leaf tea or plenty of room for over 100 tea bags. The flip-top locking lids with a silicone gasket seals airtight to keeps the tea fresh—tinted acrylic flip-top lid-BPA free material.
10. Evak Airtight Food Storage Container: Evak Tea Storage Container designed to remove air keeping your tea fresh longer automatically. Evak storage containers are made from odor and stain-free Borosilicate glass and stainless steel. Only glass and stainless steel touch the contents of the Evak.
---
Tea for Beginners Start Here >>