Blue and white tea sets are perfect for afternoon tea or any tea time. You will adore this post if you love blue and white porcelain and love tea. Every designer will tell you blue and white decor never goes out of style!
Two of my greatest passions, tea, and blue and white porcelain, were invented by the Chinese thousands of years ago. The enduring enthusiasm for blue and white china is universal.
What makes blue and white decor so popular?
As the interior designer Carolyne Roehm explains in her book, A Passion for Blue and White, the magical blue and white color combination has held significant meaning throughout history:
The Egyptians thought blue and white signified immortality and power.
It symbolized prosperity as few but royalty could afford the cobalt blue pigments.
Blue is the color of the heavenly gods representing the spiritual and divine in many cultures.
In Christianity, it stands for purity and is the symbol of fidelity.
Blue is restful and calming, while white symbolizes "light" and is pure and clean.
Blue and white are prevalent in nature and always look fresh.
The blue and white palette works beautifully with just about every color in the spectrum.
Drinking tea from blue and white China is legendary. The history of tea in ancient China dates back almost 5,000 years. The Chinese began making blue and white porcelain in the 14th century importing the cobalt pigment for the blue from Persia.
Whether you drink tea from a mug for one, a gaiwan, or an English teapot, there's something here for you. If you love blue and white porcelain, here are 16 ways you can incorporate the timeless look of blue and white into your tea service.
From 25 to 900 US dollars, anyone can have a classic blue and white tea service.
Blue and White Porcelain Teapot
Using blue and white in a tea service doesn't mean every piece must be blue and white. You can mix and match your pieces and center them around the one simply gorgeous blue and white teapot. Find a shade of blue that works with the rest of the pieces. Try to establish a balance so the color isn't overpowering.
This beautiful fine bone china teapot is a Wedgwood archive pattern from 1810 called Hibiscus. I love the classic design and gold highlights. You could purchase the full service or just the teapot and mix it with white teacups for a very modern look.
I can attest to the impeccable quality of Wedgwood as I own many Wedgwood pieces. It is fine bone china at its best. You will never go wrong owning Wedgwood bone china.
---
Blue Willow Tea Cup & Tea Set
Willow-Blue is an iconic blue and white porcelain pattern featuring the classic "Old Willow" design, adapted from the Chinese story of star-crossed lovers in the court of a Mandarin.
Johnson Brothers made the classic Blue Willow transferware pattern for over 100 years. In 2003, manufacturing moved to China from Great Britain. In 2015 Fiskars bought and sadly discontinued all Johnson Brothers production, making the iconic pattern challenging to find.
Churchhill China of England still makes the beautiful blue willow earthenware tea set. They have not forgotten this classic design as the trend for nostalgiac tea party sets continues to grow.
Earthenware is suitable for everyday use but tends to chip as it is not as hard as porcelain or bone china.
---
Blue and White Porcelain Royal Copenhagen
I love this teapot! The crisp blue and white porcelain hand-painted colors of Royal Copenhagen have spanned the centuries. Royal Copenhagen is synonymous with blue and white. Waking up to tea in my blue and white cup always puts me in a good mood.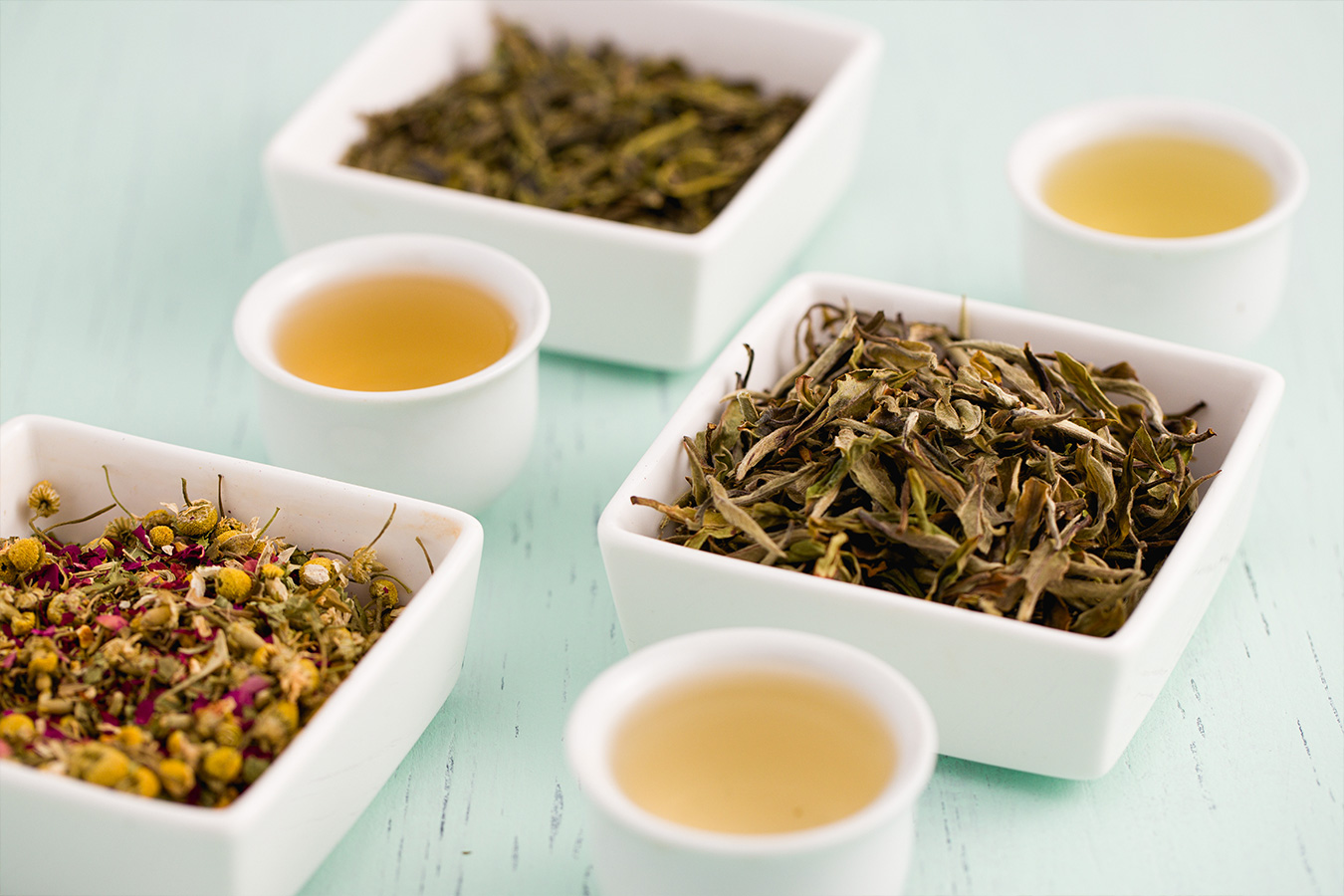 The teapot is always the main attraction of any table for afternoon tea. The handcrafted Royal Copenhagen porcelain teapot does not disappoint with its breathtaking pattern and classic shape.
---
Royal Dalton Blue and White Tea Cup Set
I love the coastal-inspired theme of these beautiful blue and white porcelain mugs with water-colored brushstrokes, splatters, and stylized waves. Royal Dalton Blue Pacific Accent Mugs come in a set of 6 and is perfect for those who like a nice large mug of tea in the morning. That's me!
---
Classic T Green Cornishware
I've recently discovered the iconic designs of Cornishware, first produced in England in 1924. T Green Cornishware has been a staple in English kitchens for 100 years.
When I first saw the pattern, I immediately loved it! Its beautiful simplicity reminded me of dishes you might see at a beach house. So it wasn't surprising to discover the designer's inspiration for the blue and white stripes came from the blue skies and white-crested waves of Cornwall - hence the name Cornishware.
The stripe pattern is created using a lathe. The turning technique scrapes the blue slip away from the ceramics to reveal white bands of clay underneath.
The Victorian pottery workshop closed down in 2007 but reopened under new ownership, and the iconic striped stoneware is produced in England. The large teapot is pictured here, but Cornishware makes a smaller teapot along with a full line of teaware and dishes.
---
Royal Albert English Tea Set
A beautiful new addition to the vintage patterns from Royal Albert, the vibrant Polka Rose 3-Piece Tea Set is the quintessential British tea set. The fine bone china tea set is perfect for English-style tea.
Royal Albert has a nice variety of traditional English-style fine china tea sets, perfect for an afternoon tea set. This makes a beautiful tea gift set.
---
Lomonosov Tea Cup and Saucer Set
Navy and white are some of my favorite color pairings. When combined, these two colors look to create classic sophistication. Royal blue and white make a statement like no other.
This lovely royal blue and white porcelain tea set from Lomonosov Imperial Porcelain is a classic and provides a beautiful setting that feels formal but not fussy.
---
Gaiwan Tea For One Set
You can't get more traditional than this blue and white porcelain rice pattern Gaiwan.
With this style of gaiwan, the tea can be brewed and drunk from the same vessel. Alternatively, the gaiwan can be used primarily as a teapot, and the tea is decanted into either a small pitcher or individual tasting cups.
---
Bone China Tea Set
Bone china refers to the type of china composed of bone ash. It's more expensive to make than porcelain or fine china, making it more costly to buy. The Chinese developed porcelain, while the English developed bone china.
Wonderlust 3-piece pagoda tea set features a beautiful iconic Chinese garden scene against classic French blue accents. This Wedgwood tea set also has a matching set of 3-inch tea bowls. The four tea bowls are in a variety of Wonderlust patterns. They are so cute!
The shape of this teapot is a Wedgwood classic. The design is perfect for brewing tea. I have this same-shaped teapot in the Ivy House pattern that belonged to my mother. My mother's teapot is now over 70 years old, and I still use it. A Wedgwood tea set is always a good investment.
---
Teapot with Chinese Tea Cups
Adagio Teas Personalitea teapot is a gorgeous sky blue with a white interior. The ceramic teapot comes with an infuser basket for loose leaf tea—perfect size and price for the office or dorm room.
You'll find it in the teaware section. I bought this teapot for my aunt and others, and they have all loved it! It's the perfect teapot for everyday use. You can't go wrong with this teapot set.
---
Teapot and Cup Set for One
I love this tea set! The Grace porcelain teaware service for one has everything you need for one person to enjoy a nice cup of tea elegantly.
---
Antique Tea Set Style
Vintage tea sets are gaining popularity. Blue Sorrentino is beautiful and well-priced by Noritake bone china tea set for two. The classic blue and white pattern makes an elegant antique-style tea service. This makes a perfect tea gift set.
With this floral tea set, the British teatime tradition never goes out of style!
---
Kate Spade Ceramic Tea Cups
How cute are these teacups? Birch Way Teacup in Indigo by Kate Spade is modern and fresh yet sophisticated. The beautiful blue and white bone china pattern makes an elegant statement.
---
Asian Tea Set
This cobalt blue tea set from TeaVivre is stunning. You can brew any tea in this Asian ceramic tea set. The bottom of the infuser is double-filtered for excellent clear tea liquor.
The set includes two matching teacups in the deep blue glaze decorated with ginkgo leaves. I'd like this for a nice portable set at the office.
Discontinued Tea Sets for Sale
If you have a blue and white porcelain tea set with a discontinued pattern and need to replace some broken or missing pieces, there are a few places to find replacements.
Two sites I have been successful with are Replacements and China Search.
China Search is perfect if you have British China. You can also sell your china to both of these companies.
It's been such fun shopping for blue and white tea sets! Some I already have, but I had to restrain myself from buying more. Blue and white combos are just so beautiful. It's no wonder almost every country that drinks tea has its versions of blue and white tea sets.
May your tea always be warm, your tea leaves extra fine, and your teaware blue and white! ♡
---
Tea for Beginners Start Here >>